It's been an interesting year for the world's biggest social network (to say the least).
Their leadership has taken losses, they've been accused of improperly harvesting personal data, election interference and their CEO, Mark Zuckerberg has taken a grilling from the Senate, House of Representatives and European Parliament.
The tumultuous year to date has culminated in their first shortcoming on quarterly expected earnings since 2015, missing the mark by $130 million.
But, they aren't panicking, and nor should marketers, advertisers and businesses who rely on Facebook.
This post will break down the Q2 report, bring you up to date with all the goings on and explain why the shortcomings aren't a surprise.
Usership

Zuckerberg kicked off 2018 by revealing changes to Facebook's newsfeed. The aim was to show "less public content like posts from businesses, brands and media." Encouraging users to have "more meaningful social interactions".
Facebook's founder even went on to admit that, "by making these changes, I expect the time people spend on Facebook and some measures of engagement will go down."
His prediction has come true for two geographical regions. US and Canada has seen no rise or fall in both DAU (daily active users) and MAU (monthly active users). The lack of growth was predicted in an already saturated market. Of the 579 million residents in North America, 241 million are active Facebook users, totalling 41.62% of the population.
2018 Q2 Monthly Active Users Report by Region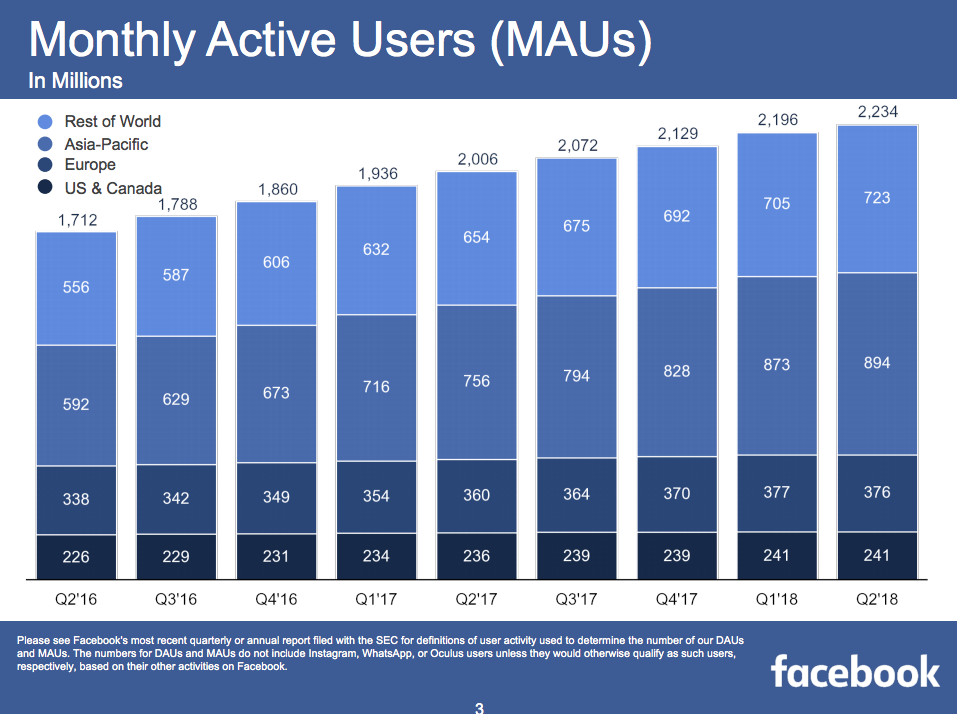 Europe has not only seen a stagnation, but a drop in MAU and DAU. The newsfeed changes were thought to contribute, but with the implementation of GDPR and a concern over privacy following a scandal involving the UK based company, Cambridge Analytica, the dip is not to be surprised.
Europe, much like North America, is also heavily saturated, with 376 million active users in a population of approx. 741 million.
2018 Q2 Daily Active Users Report by Region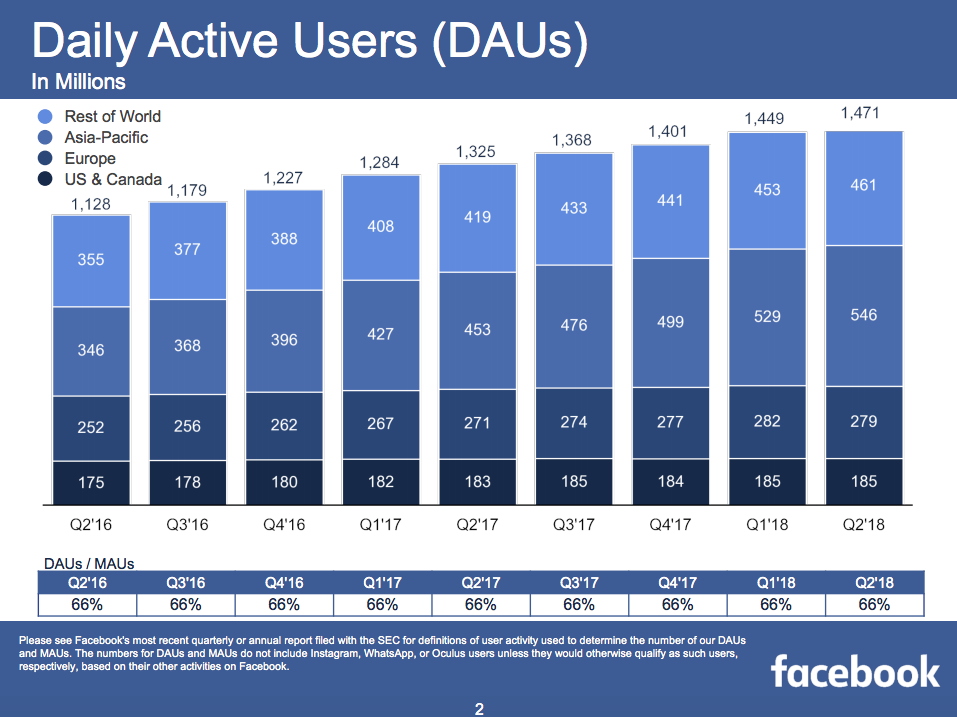 Despite the lack of growth in Europe and US and Canada, Facebook has seen an upturn in users in both Asia-Pacific and Rest of the World, demonstrating their aim to penetrate the Chinese market and have more of a presence away from the Western world.
This increase has seen a total growth in MAU's and DAU's by 1.7% and 1.5% respectively.
Revenue
They may have missed their estimated earnings projection by $130 million dollars, but Q2 of 2018 has seen Facebook's biggest ever quarterly revenue.
The revenue growth is up 10.5% from Q1, a large leap after the normal dip following the Christmas advertising period.
$130 million may sound like an enormous shortcoming, but for a business who have just posted a quarterly total revenue of $13.23 billion, it's a small miss given the events of the year so far.
The short on their estimated earnings was not a surprise to the company either, with Facebook executives indicating that revenue growth will slow to single figure percentages, especially in the next 2 years.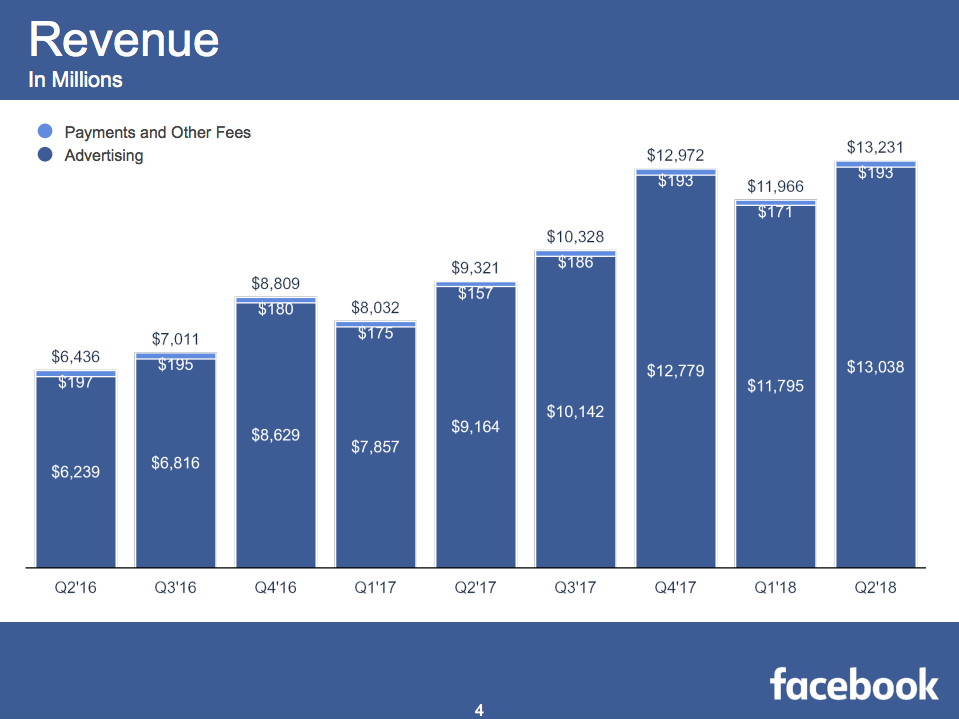 Value Per User
Facebook have announced several new ways for advertisers to promote on their network, including stories, messenger and video ads (placed on Facebook Watch). This means that despite the stagnation in usership in their most valuable regions (Europe and US and Canada), they should continue their advertising reach and revenue growth.
This shows in the increase of their Average Revenue Per User in both these geographical areas. US and Canada is up to $25.91, whilst Europe has grown to $8.76.
Despite usership expected to stay fairly similar for the rest of 2018 (in Europe, US and Canada), average revenue per user should grow, demonstrating the value of their market saturation. This is good news for advertisers, marketers and businesses, who can continue to adopt Facebook advertising to boost their own revenues.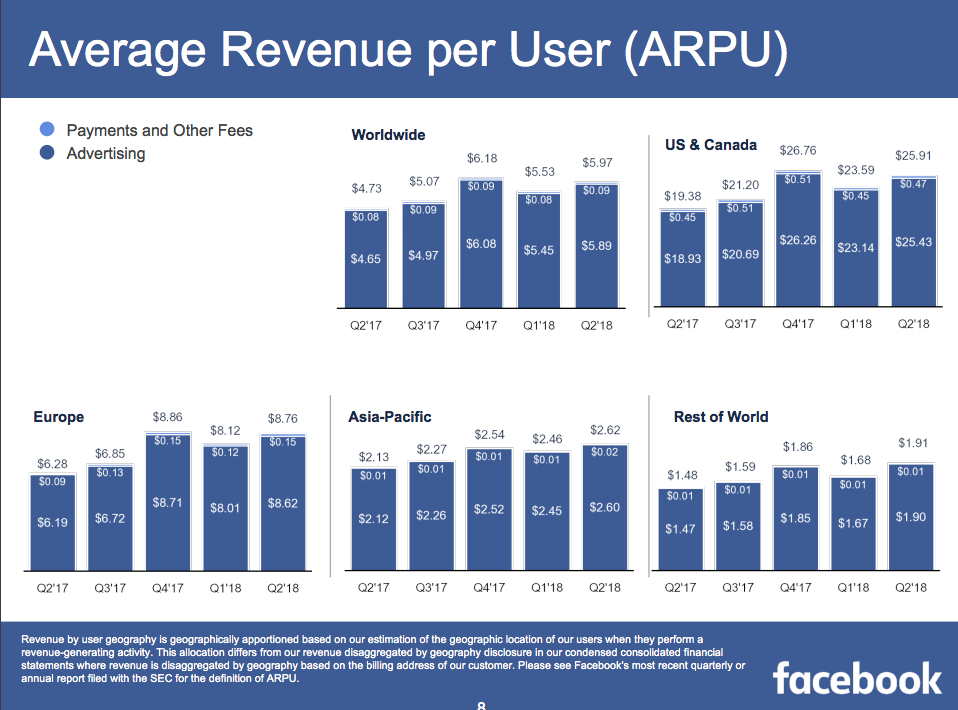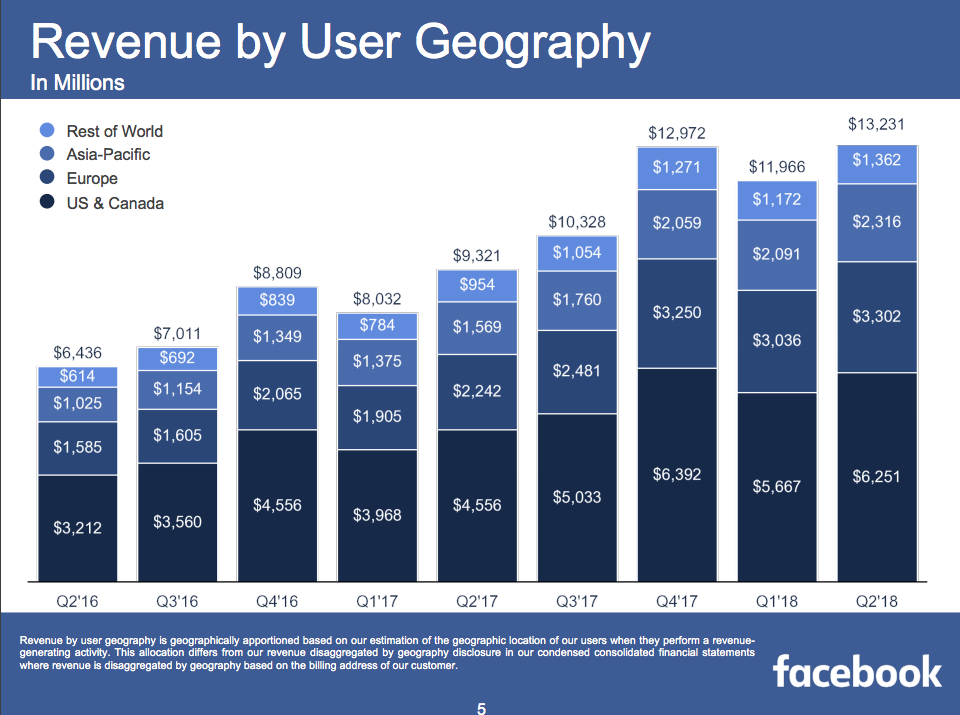 Share Price
Following the report, Facebook gained the unhappy record of being the company with the biggest ever single-day stock drop in history. The 20 per cent loss, cost investors £120 Billion.

The share plunge came directly after the Q2 report was released. As soon as the report was published, many investors hurried to sell their shares.
The fear that usership rates have plateaued in the company's most valuable regions, the implementation of GDPR, security concerns and Zuckerberg's own admission that users will see less content from businesses, is also thought to have contributed.
However, Facebook have seen year-on-year stock growth, and it's expected that many people will take advantage of the low price, bumping stock value up again. If the social giant can crack Asia, as is planned, the value of the company will skyrocket.
Conclusion
They may have had a difficult year in terms of publicity, but Facebook still managed to post their largest ever quarterly net income in Q2 of 2018. The figure of $5.1 billion demonstrates the social media giants ability to roll with the punches, and still come up as popular as ever.
Their shortcoming on estimated earnings and the lack of growth in key geographical areas, might appear as a negative to advertisers but these regions are actually more valuable now, than ever before.
The Average Value Per User (ARPU) has increased yet again, demonstrating the importance of Facebook to businesses and the willingness of users to spend after visiting Facebook advertising (businesses wouldn't continue to invest in the platform, if it wasn't successful).
In summary, there is no reason to worry. They may have hit the headlines for all the wrong reasons, but Facebook is still a stable and integral part of digital strategy.
What do you think of Facebook's Q2 report? Would you take a net income of $5.1 billion after a supposedly 'tough' year? Let us know what you think in the comments below.
If you'd like to learn more about Facebook's tough 2018, check out Zuckerber's Big Day: His 10 Wackiest Moments at Senate.
Josh is an award winning content marketer and the Director of Content at Einstein Marketer, previously working as a content manager, freelance copywriter and marketer. He writes, edits, proofs and strategises content for Einstein Marketer's agency and their clients, sharing the most successful tactics and strategies with his lovely audience. He hates writing in the third person, follow him on the social links (above) so he can get back to writing as himself.