Instagram launched IGTV on June 20th…
…it's very own video platform, built to go head-to-head with YouTube.
The social network, bought by Facebook in 2012 for $300 Million cash, and $700 Million in Facebook stock, has celebrated their year-on-year growth with a platform designed to harness the skills of the world's best creators.
IGTV promises to offer influencers, marketers and entrepreneurs a valuable new place to showcase their skills, build audiences and create awareness.
Video, Though… 
Instagram's move to video is no surprise. The launch of IGTV comes exactly 5 years (to the day) since they first introduced 1-minute videos on their app.
YouTube currently commands an audience of over a billion users, approximately 1/3 of all internet users, and there's no doubt that Instagram would like to tap into this audience.
Video has exploded in recent years, and is fast becoming the favoured medium for users to consume, and create…
…and when we consider that more video content is uploaded (to the digital world) in 30 days than the major U.S television networks have created in 30 years, it's clear to see just how far we've come.
IGTV Features
The new app uses existing Instagram profiles to display video from accounts who are followed, and recommends relevant content based on a user's preferences.
Video has been stretched from Insta's (usual) 1-minute format, to 1 hour for those with large followings, and a maximum of 10 minutes for everybody else (for now).
The app has been designed for MOBILE FIRST, making it easy to use, and leaves no wasted space, with its VERTICAL VIDEOS. This will suit an audience who prefer to consume social media videos on their phone, with over 50% of videos viewed on social being via mobile.
You are able to search for new content by keywords, and navigate a horizontal menu via the, 'For You', 'Following', 'Popular' and 'Continue Watching' tabs.
IGTV opens instantly playing video. Check out our recorded screen video:
No Ads…Yet
As is usual with the launch of a new social media app, advertising and monetisation plans haven't been released yet.
We expect Instagram to increase downloads and usership before releasing these strategies, but we can use an example from their owners, Facebook, to take an educated guess…
Facebook Watch was rolled out last year in the US and is expected to be released to UK audiences later this year.
They're testing advertising on this platform (that you'll all know from YouTube), among these monetisation methods are:
–Pre-roll ads- video ads play before the searched video begins
–Ad breaks- video's embedded with short ads
–Preview Trailers- short advertising trailers in the newsfeed, that link to the full video.
These video advertising strategies are known to all of us, and we expect to see something similar in the IGTV app.
We also expect creators to able to monetise their views and audiences with an advertising revenue split.
IGTV, the Verdict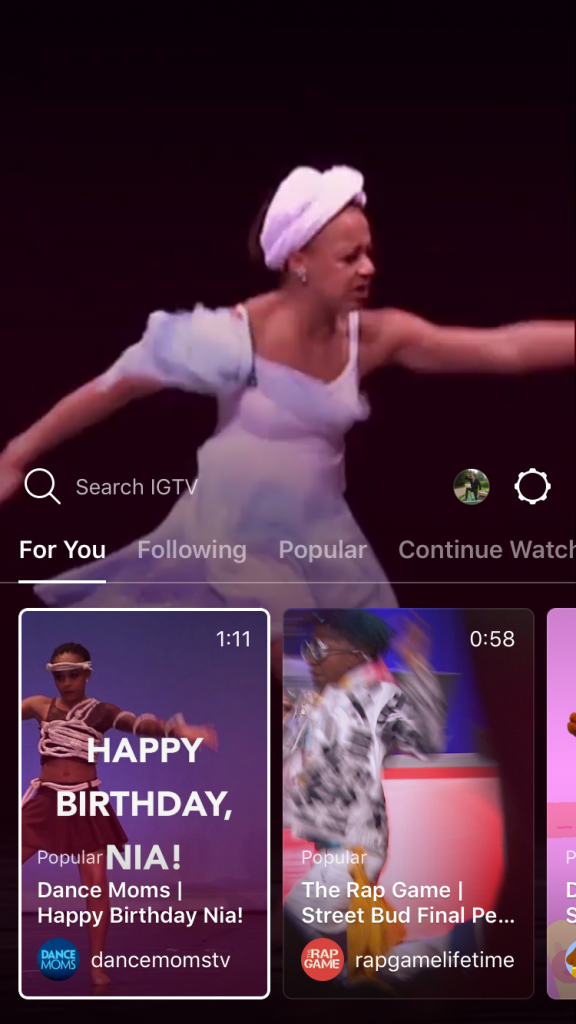 It's too soon to judge how huge this platform could become…
…but, with Instagram hitting the 1 billion user mark, and a VERTICAL VIDEO platform that's built for mobile, it's clear to see the plus-points over YouTube's app, which has the feel of a website that's been adapted for mobile.
If you're a marketer, entrepreneur or influencer who is looking to grow an engaged audience, IGTV could be the app for you. Video is predicted to go from strength to strength, and IGTV's format makes more sense for the increasing popularity of mobile consumption.
The app is brand new, so video creators who act fast are sure to get ahead of the competition on a platform that could become massive.
What do you think of IGTV? Follow us on Instagram to discover our latest videos about digital marketing news, tips and tricks, alternatively leave a comment or send us a message, and we'll reply as soon as our account manager has stopped WFH.
RELATED POSTS:
Google Chrome Update: Don't Get Labelled 'Not Secure'
The Best (and Worst) Times to Post on the World's Biggest Social Networks
Josh is an award winning content marketer and the Director of Content at Einstein Marketer, previously working as a content manager, freelance copywriter and marketer. He writes, edits, proofs and strategises content for Einstein Marketer's agency and their clients, sharing the most successful tactics and strategies with his lovely audience. He hates writing in the third person, follow him on the social links (above) so he can get back to writing as himself.