If you've been on the internet, you've used Google's search engine…
…but how many of you have used 'search' to its full capabilities?
Whilst the majority of digital marketers are desperately trying to rise to the top of the rankings (a worthwhile pursuit), they aren't actually using Google's search engine for anything else!
If all you're doing on Google is performing keyword searches, it's time you upped your game.
In this post I'm going to run through some super-valuable Google 'shortcuts', 'tips' and 'tricks' and their marketing applications, so you can truly get the most out of it.
And if you stick around until the end, I'll share a few Google Easter Eggs.
Click Here to open Google in a new tab! (Test these as you work through them!)
#1: Related:
I consider this Google search trick one of the most valuable (probably why it's at the very top).
By writing 'Related:' in front of a website's domain name, Google will show similar websites and exclude the searched site.
e.g. related:Wikipedia.org – this search will show sites similar to wikipedia, but not wikipedia.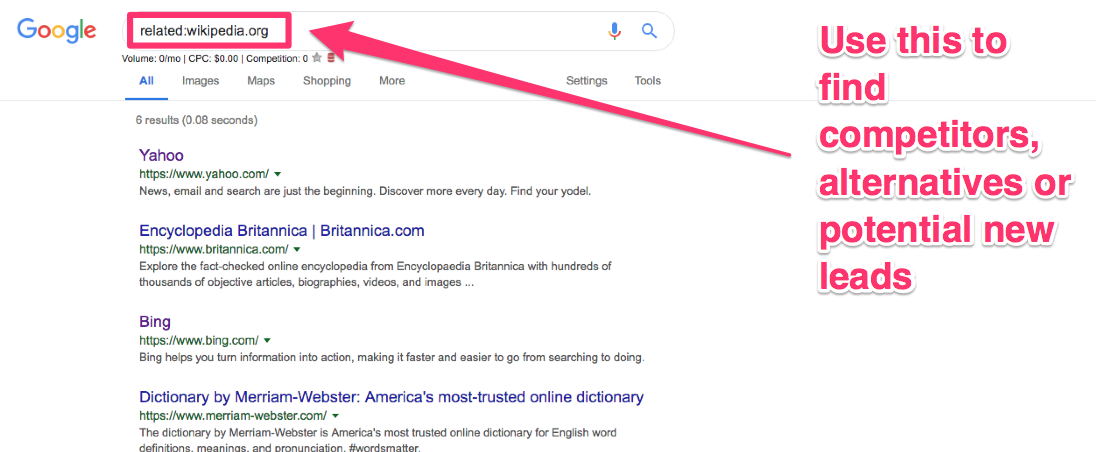 This 'related:' search is massively valuable. To date, I've adopted this trick for three main purposes (but I'm sure there are many more):
Competitor analysis: If you run this search on your own website, you will see sites that Google consider most similar to yours. These are competitors that you may have missed. Run an analysis on their site. What are they offering? How is their site designed? What are they posting on social?
Discover alternatives: This is particularly relevant for brands with suppliers, high volume referring sites and partnerships. Run a check on anybody associated with your site and discover alternatives!
Outreach Campaigns: If you're selling B2B products/services run a 'related:' check on your customers and find similar websites that you can reach out to!
#2: Intitle:
Anybody involved in content marketing should know how to use an 'intitle:' search and if you don't, it's about time you started.
Perform this shortcut by searching 'intitle:' followed by your keywords of choice. This will bring up pages with your exact keyword in the headline or URL.
e.g. intitle: write for us marketing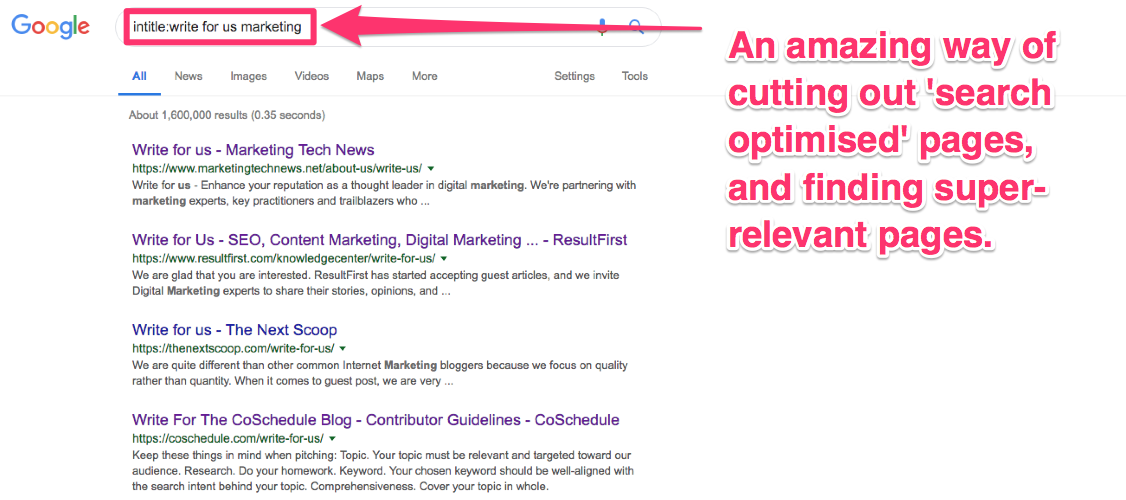 Performing a search like this cuts out a lot of stuff that isn't relevant, or has been optimised for search.
Google is very good at bringing up the most relevant results, but sometimes it can be difficult to find exactly what you're looking for.
As a content marketer, you can use this shortcut to find websites that are actively seeking guest contributors. Reaching out to sites who want your posts is the quickest and most effective way of gaining fast backlinks.
Search terms like:
'intitle: write for us' + your industry.
'intitle: guest submission' + your industry
'intitle: writers' + your industry
These searches (or anything very similar) will bring up a whole host of options, giving you the chance to supercharge your search rank.
The 'intitle:' search has many other uses, especially when you're looking for something specific. Give it a go!
#3: …
Searching for '…' won't do anything special, until you place numbers on either side of it.
If you're performing research or searching for something within a specific time-frame, this is the perfect way to do it. Simply insert your keyword, and the dates you'd like searched with '…' between them, to bring up results relevant to these dates.
E.g. marketing 1980…1990, brings up information about marketing between these dates.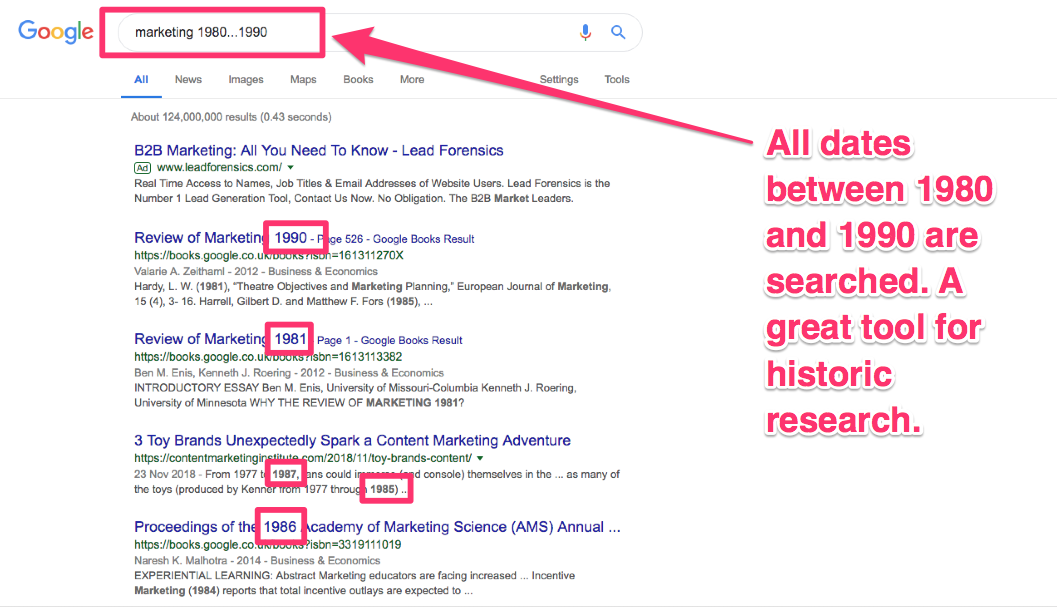 This is a fantastic tool for performing historic research within specific timeframes. It allows you to broaden a search from a specific year (e.g. from 2016 to 2012…2017) and can give content marketers a treasure trove of information.
When I'm creating content for Einstein Marketer or our clients, I love to use this tool for statistical purposes. Comparing two definite numbers is a great way to illustrate the key points in your article.
#4: " "
Have you ever struggled to find exactly what you're looking for within Google's search results?
Searching with " " brings up results that match your search term word-for-word and it has a ton of practical uses for marketers.
e.g. "grow audience on Instagram video"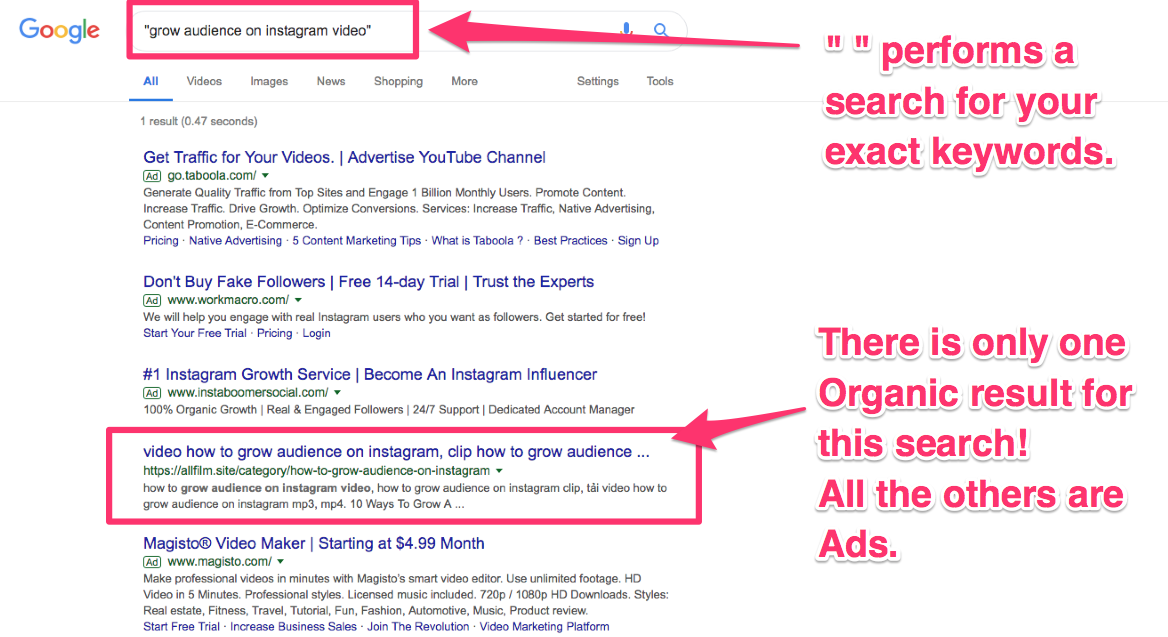 This type of search means that only super-relevant information appears in the results, so you don't have to wade through tons of search-optimised content.
I often use this type of search for our clients, running specific keyword checks for their products and those of their competitors.
#5: – 
I hate it when I perform a search and tons of irrelevant stuff comes up that's primed for my keyword. And, even when I adjust my search terms, the same rubbish keeps appearing!
It's for this reason that Google added the '-' feature to their search algorithm.
This allows you to exclude results that include certain keywords. Simply search your keyword, insert the '-' followed by the search terms that you'd like Google to ignore.
e.g. marketing books -sponsored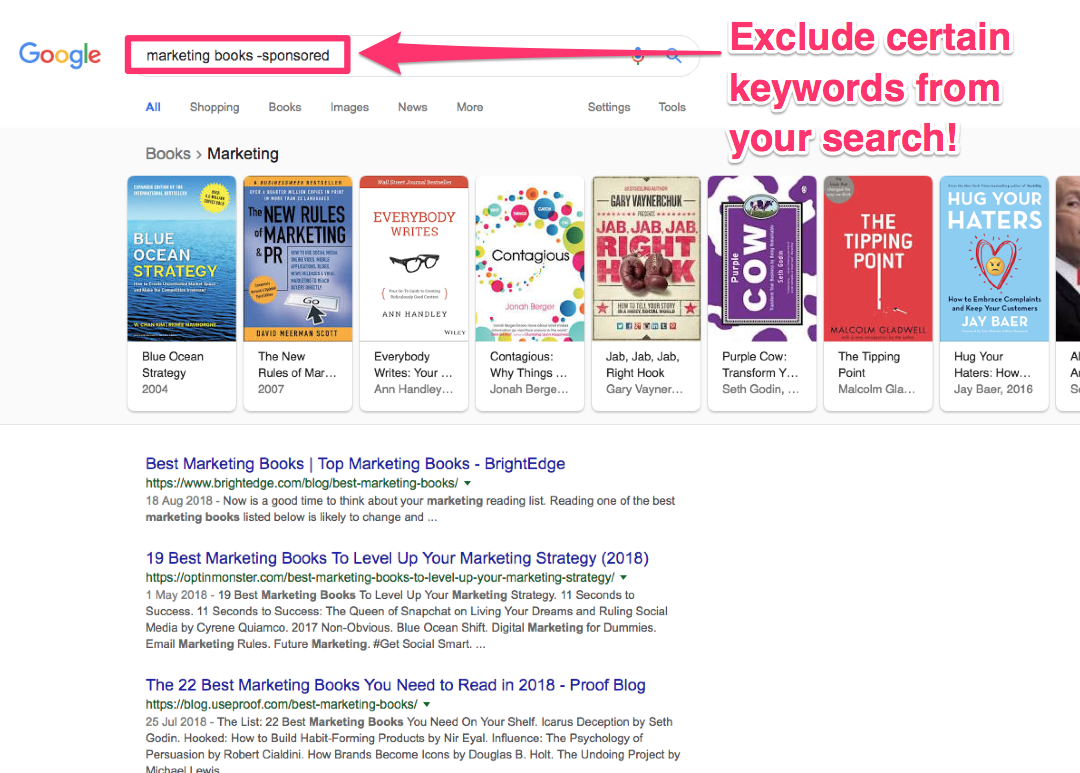 This search shortcut is one of my least used, but probably my favourite when I'm struggling to find exactly what I'm looking for.
Excluding certain keywords from your search can help you find what you're looking for much faster, especially when your keyword is bogged down with ads, landing pages and sales pages.
#6: Site Specific Search
If you know the site you'd like to visit but want a direct line to your desired topic, this search trick will help you find it.
By entering the domain name of the site, followed by the keyword, you can cut out the middle man and go straight to your destination.
e.g. einsteinmarketer.com content marketing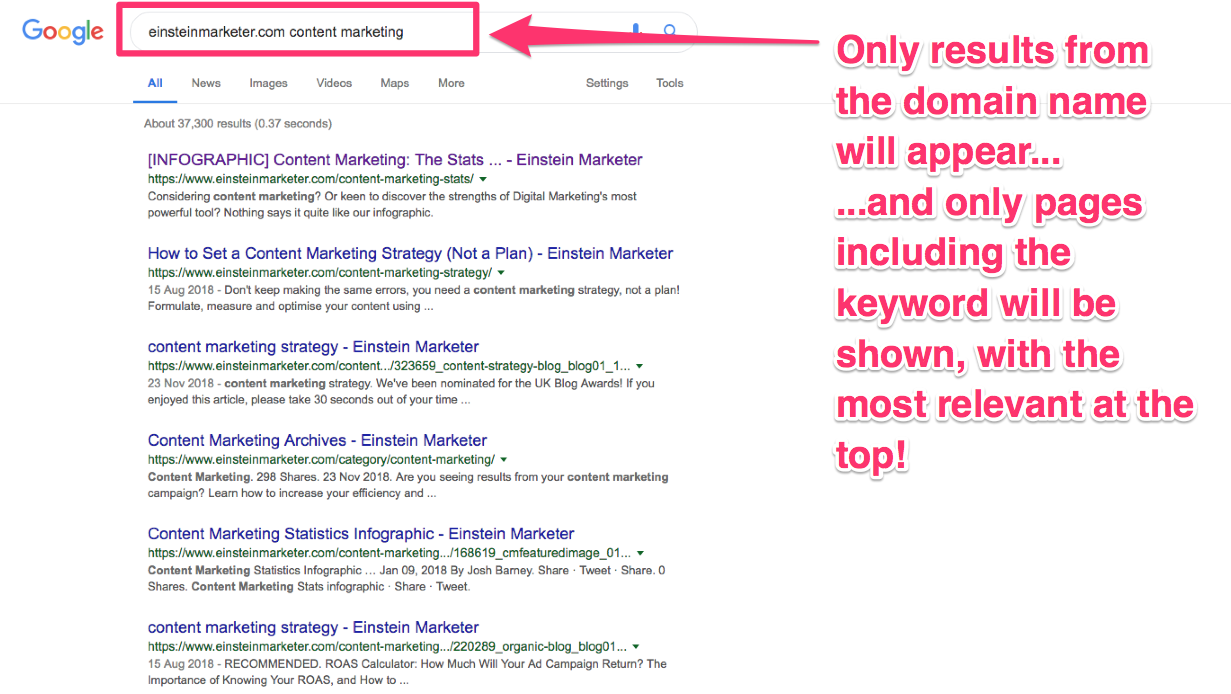 This site specific Google search is a great way to analyse your competitors, discover how well you've covered a particular topic or find specific content from a trusted source.
As a content marketer, I have to check out my competitors coverage of topics. It makes sense for me to discover what they've created and make sure I provide something of much greater value for my audience. If you're into content marketing, you should be doing the same!
I also use this site specific search to source places on my site for relevant crosslinks.
Every time you create a new piece of super-valuable content (that you'd like to rank on Google for), you should add crosslinks from relevant previous work. Doing this will show Google that this new article is very important (in terms of your site) and will help it rank.
#7: Define:
Occasionally a word can stump you. (Don't worry, It happens to the best of us!)
Google created their 'Define:' feature to quickly search for dictionary definitions. This search works by searching 'define:' + your keyword.
e.g. Define:penumbra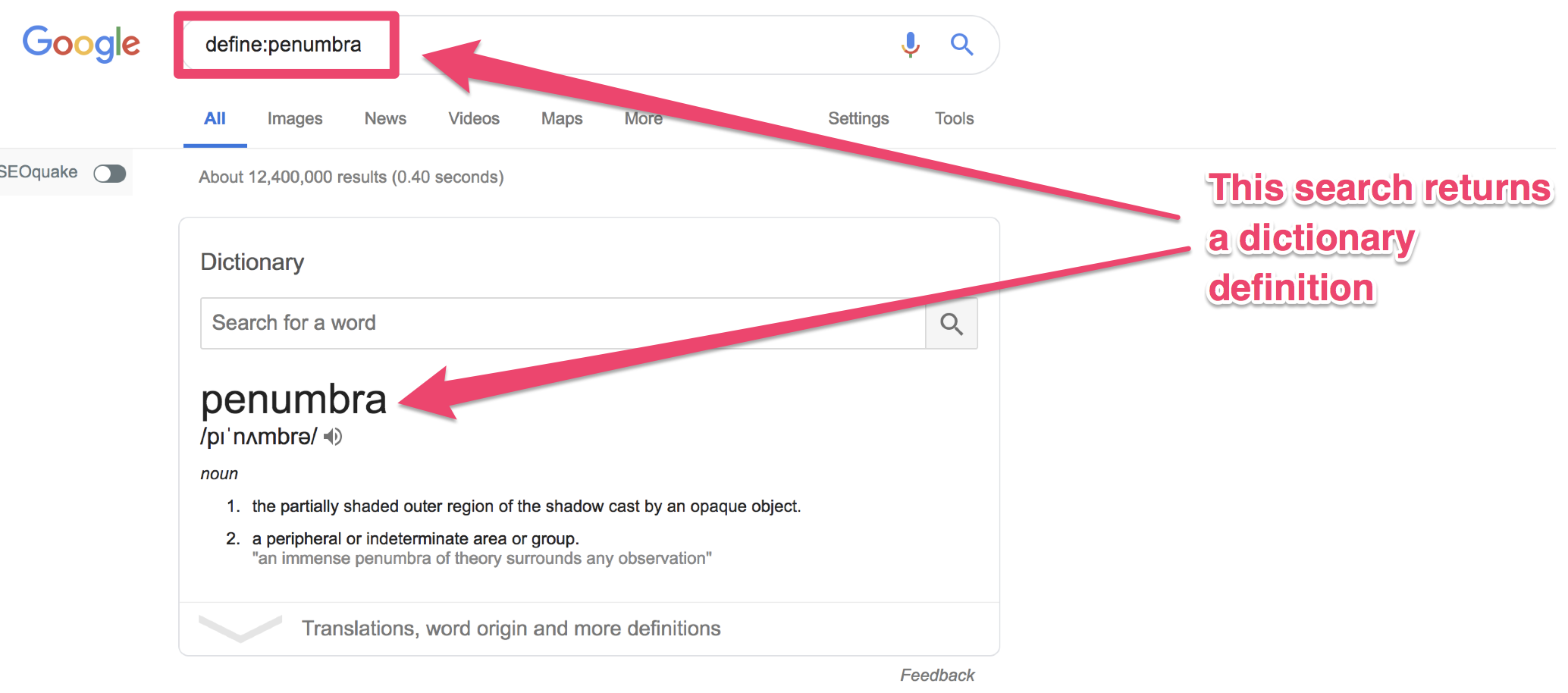 Although this isn't directly related to marketing and it won't result in any shortcuts for your marketing campaigns, it can be very useful when you're faced with a technical piece of content.
I use the 'define:' search feature when I'm strategizing content for a client in an industry that's new to me. When  you're focusing on a niche market, using technical terms is a great way to build trust and position yourself as an expert.
Google's Easter Eggs 
Google has a ton of other search tricks that can aid your performance, but I consider the 7 (listed above) as the most useful for marketers.
And now that you've been through the valuable stuff, let's (very briefly) check out a few Google Easter Eggs.
BTW: An Easter Egg is something hidden or extra that's been added for the user's enjoyment.
If you've got a few spare minutes, type one of the following terms into Google (without the quotation marks!):
'Do a barrel roll'
'Askew'
'Atari breakout' (follow this by clicking on Images)
'Tic-tac-toe'
 Conclusion 
Google's search engine has so many valuable features that you'd be stupid not to take advantage of them.
The 7 listed in this article have a ton of amazing benefits for marketers who are prepared to perform research, measure their site against competitors and reach out to relevant websites.
I'm sure that you use Google on a regular basis but now, you can REALLY use Google.
Try some of the features listed in this article and you'll be shocked that you've lasted so long without them!
What's your favourite Google 'secret' feature? Is there anything you use for marketing that you think I've missed?
If you enjoyed this article and would like to learn more about Google check out, The 35 most Important Google Ranking Factors 2018.
Josh is the Founder of We Imagine Media, an award-winning content marketer, best selling author and creator of the www.joshbarney.blog. He creates and strategises content, sharing the most successful tactics with his lovely audience. He hates writing in the third person, follow him on the social links so he can get back to writing as himself.