Would you like to land more backlinks at scale – for free?
Undeniably, backlinks are one of the most important ranking factors for your site…
But how do you get them? And what's the best link building technique for you?
In this guide, I'll reveal 3 tried, tested and proven link building strategies you can use to quickly land more backlinks to your site.
Here's what you'll learn:
The actionable steps to landing more links to your site (tutorials included for each strategy)

The pros and cons of each link building strategy

Which link building technique took my site from 0 to 180,000+ organic visitors

The link building techniques that are still working right now
Here we go…
1: Skyscraper Technique
The skyscraper technique basically uses content marketing to build natural, relevant backlinks to your website.
This is the same technique I've used to build thousands of backlinks to hundreds of sites.
In fact, here's one website I built recently that went from zero to 180,000+ organic visitors in 1 year:
(The only types of links I built to this site were with the skyscraper technique.)
And you can easily rinse and repeat it yourself with the following steps…
How The Skyscraper Technique Works
Here's how it works in 4 simple steps:
1: Research:
Find articles that your competitors are already getting backlinks from.
You can easily use a tool like Ahrefs Content Explorer for this.
First, start by typing in a topic relevant to your niche, select 'Title' from the dropdown and hit search:
Then sort your list by referring domains – so that the articles with the most link building opportunities are listed first:
Now start scraping all the potential article topics you could use and jot them down in a spreadsheet like this:
2: Prospect:
Create a list of all the websites that have linked to your competitors content – along with their email addresses.
Ideally you want to filter out the high quality, authoritative sites that are relevant to your niche.
How?
The below tutorial teaches you exactly how to find an unlimited number of link building prospects:
3: Content:
Now produce a superior article to your competitor's content in step 1.
The better your content is, the more links you'll attract.
How?
Make it more comprehensive – include a higher word count/more references

Keep it updated with lots of relevant tips for the current year

Actionable: Include step by step tips on exactly how to follow up on your guide's recommendations

Answer every single FAQ on the topic

Format your content nicely with lots of bullet points, sub-headings, pictures and videos
4: Outreach:
Finally, it's time to reach out to all your prospects via cold email, promoting your content and building links as a result.
Keep your emails short, concise and straight to the point.
Here's an example template that's worked well for me:
Why does the skyscraper technique work so well?
It's very scalable.
You can easily automate the whole skyscraper outreach process – for example:
With

Ahrefs

, you can easily prospect your competitors content

Hunter.io

helps you find emails in bulk

Outreach tools like

Lemlist

help you automate the outreach process
Plus the skyscraper technique works for almost every single niche:
Even highly competitive industries.
Not only that, but the types of links you'll get look very natural – like this:
Google wants natural links – anything that looks manipulative isn't good for your site.
So the most natural way to get links to your site is within content – which is why the skyscraper technique is so powerful.
2: HARO
Reporters are looking for websites just like yours to get opinions from.
And that's why HARO is one of the easiest ways to get backlinks to your website.
Plus it's very simple to use…
How Does HARO Work?
Sign up for a free account

here

You'll get daily emails with requests from reporters – asking for an opinion based on a certain topic

Reply to the HARO topics relevant to you

Some of the responses you send will be published – with a link to your site
All you have to do is provide an interesting, unique opinion to reporters.
It's a win all round, for you and the reporter:
They get free, valuable content that makes their article look well researched

You get a backlink to your site.
Obviously, your link isn't guaranteed.
You might be competing with 20-30 other websites to get your opinion featured.
So you need to hack the process to make your HARO pitch stand out from the rest…
How Do You Optimise Your HARO Responses?
Here's a few tips:
Don't just Google the answer – write from a perspective no one else is talking about

The more unique your response is, the better.

Also, don't say anything that's too self promotional – focus on helping the reader and creating something of value to them.

Keep your responses short and easy to read

Introduce yourself and why you're the right person to answer the query
The beauty of sending HARO responses is that you can do this in minutes.
That's no exaggeration!
The video below shows you exactly how:
The only issue with HARO is that you don't get much control over which page the website will link to.
Usually your link will go straight to your homepage – so you don't get much link diversity.
But if it's link diversity you're looking for, check out the next strategy…
3: Guest Blogging
Guest blogging is another proven strategy that still works.
The benefit is that you can get links straight to your product and sales pages, something HARO and the skyscraper technique can't really offer you.
How Does Guest Blogging Work?
Reach out to other sites in your niche

Offer to write a guest blog for them

Write the content (ask the site if they have any guidelines first)

Wait for your content to be published – with your backlinks inserted!
This tutorial walks you through the whole process:
How To Pitch A Website For A Guest Blog:
If you want to land guest blogs, you need to pitch properly.
Most websites aren't going to accept your guest blog if your pitch is lousy.
Here's an example of a guest blog script that's worked for me:
Keep the copywriting short. No walls of text!
Just make it concise, easy to read and scan through – like this:
Also, suggest 1-2 relevant, interesting topics you can write about. Make it easy for the website owner to say yes!
Finally, insert social proof of your social media channels or other articles you've written.
If your previous articles look good, other websites are more likely to trust you:
The Pros And Cons Of Guest Blogging:
You can get multiple links to different pages with guest blogging…
But the issue is, writing content is time consuming. It requires a lot of work to write each guest blog.
The best way to deal with this is to outsource your content, and find a good writer you can trust.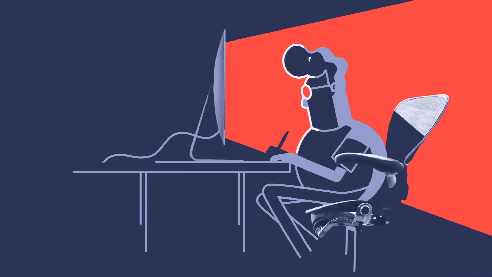 However, even once you've created a guest blog, there's no guarantee your content is going to be posted.
It could be months before your content is published!
And not just that, but the website you're guest blogging may have many revisions for your content.
They might not even include your links – or make them nofollow – in the process.
Either way, it's a big risk.
How To Guest Blog Efficiently:
Because of the disadvantages of guest blogging, I'd recommend only doing this for high authority sites.
If a website has a Domain Rating of 50+ then it's worth writing a guest blog for.
Plus, there's a few other ways to filter out a site including:
Relevance

: Is the website a closely related site?

Organic traffic: If the website is getting 1000+ organic traffic, it's a sign that Google trusts this site
Content quality: Is the site producing high quality content you'd like to be associated with?
Another reason why guest blogging works so well is that you can tap into an audience you didn't have access to.
And if they like your content, this audience is likely to check out your website, social media channels etc.
Why?
Because the fact that another website is publishing your content is awesome social proof, making readers more likely to trust you.
Want more?
Find more about content marketing, link-building and SEO in these marketing guides:
Hey, I'm Julian Goldie. I run an SEO link building agency designed to help you grow your website and boost your rankings on Google.