If you've got a healthy website with good traffic flow – you might have neglected the power of email marketing. It's not uncommon for many website owners to put all their efforts into converting traffic into a direct sale. If that's you – you might be making a mistake.
In this article, we're going to look at why email marketing could give your business the boost it needs and actually help you make more money.
If you're already getting a good amount of traffic but are losing it without making a sale, you're not alone. Thankfully – you've got the hardest part sorted already – you're getting a good amount of traffic. For many sites, if you don't make a sale straight away you often lose that visitor for good. Not with email marketing.
Email marketing has long been a cornerstone of the internet marketing industry – but if you built your site up from the ground, it might still be something that's unfamiliar to you. Many people have a perception of building an email list or sending out automated mails to subscribers as something that's spammy and unnecessary. But if you do it right – it could help revitalise your online venture. Let's look at how…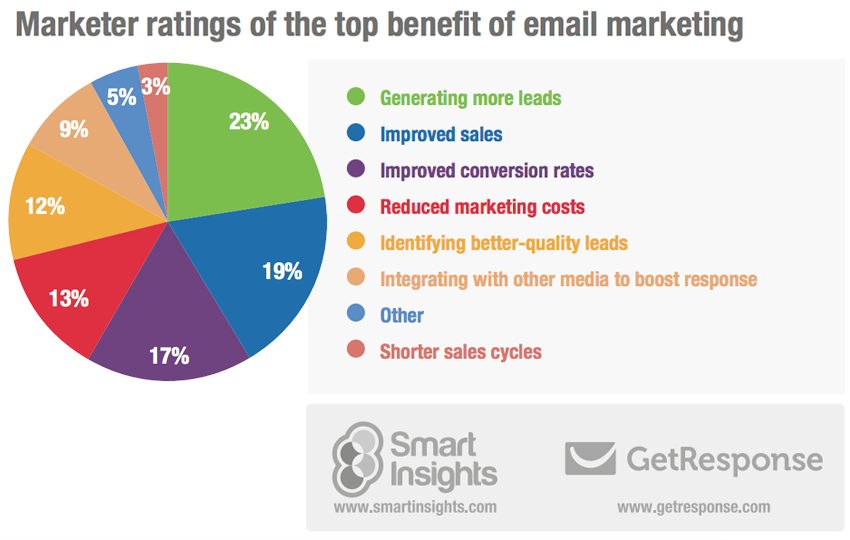 Source: https://smallbiztrends.com/2017/05/benefits-of-email-marketing.html
What is Email Marketing?
You've probably guessed the basics – email marketing is marketing over email. But it's actually much more than that.
Most email marketing campaigns start with a "list". The "list" is a big thing in internet marketing, and you'll often hear people say – "the money is in the list". Some estimates say that each email subscriber you get to your list could be worth $1 a month to you. While this may vary greatly – a list is a good way to start growing your business.
So, what do you do after you get your list? You send emails to them. You can set up an auto-responder that fires out a sequence of relevant emails to each new subscriber. You can also send out one-off offers to everyone at once.
You can either write all the emails yourself and send out promotional offers for things you're trying to sell, you could promote affiliates or you could even "sell spots" and let other people advertise to your list – but be careful with this.
Some email marketers take it a step further and actually buy spots on other people's list. This could be a good way of getting your business out there – but it can be difficult to know the quality of the clicks you're getting and the sort of list you're buying spots on (much of it might be worthless traffic). Although this can still be a viable strategy, we're mainly going to look at building your own list in this article.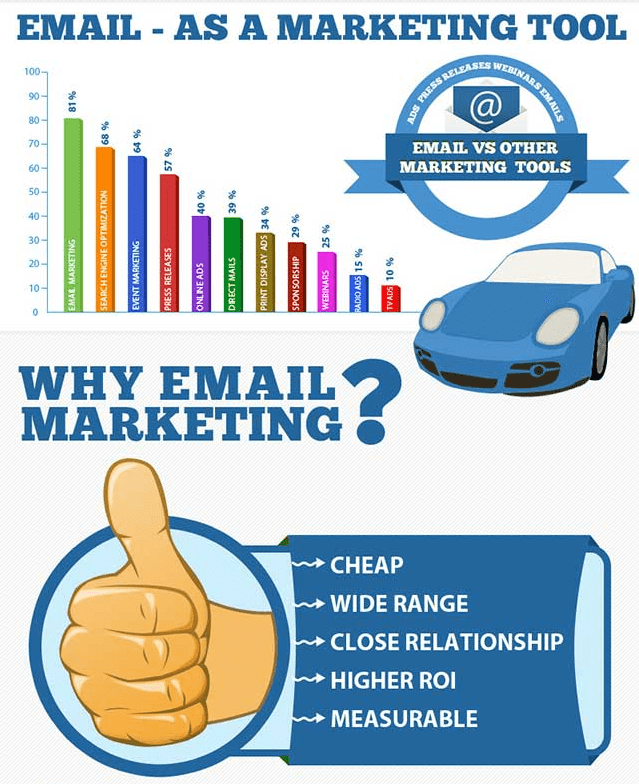 Source: https://www.searchenginepeople.com/blog/10-email-marketing-stats-that-will-blow-you-away.html
Why is Email Marketing so Effective?
If you're only trying to make a sale to your website visitors, it's a big ask. Whether you're selling your own range of products or are promoting an affiliate – people rarely make big purchases when they land on a site they've never heard of before. That means they might click away and never return.
However, if you can get them to sign up to your email list – you won't have lost them. You'll have a direct link of communication and will perhaps be able to make the sale later once you've built trust and offered them more information. While not everyone is going to sign up, it should be easier to convince someone to hop on your free list than it is to cough up cash straight away. That way you can build faith and hopefully make a sale later.
You'll also have a list of people who are switched on and relevant to a particular niche. That means if you find other relevant offers or products at a later date you could sell to them again.
To get people to sign up to their list many marketers promote "free" offers. Simply "signing up for more information" might work in some instances, but it's not the most effective way to promote your list. Offer value in something like a free report or download, something that's going to draw people in.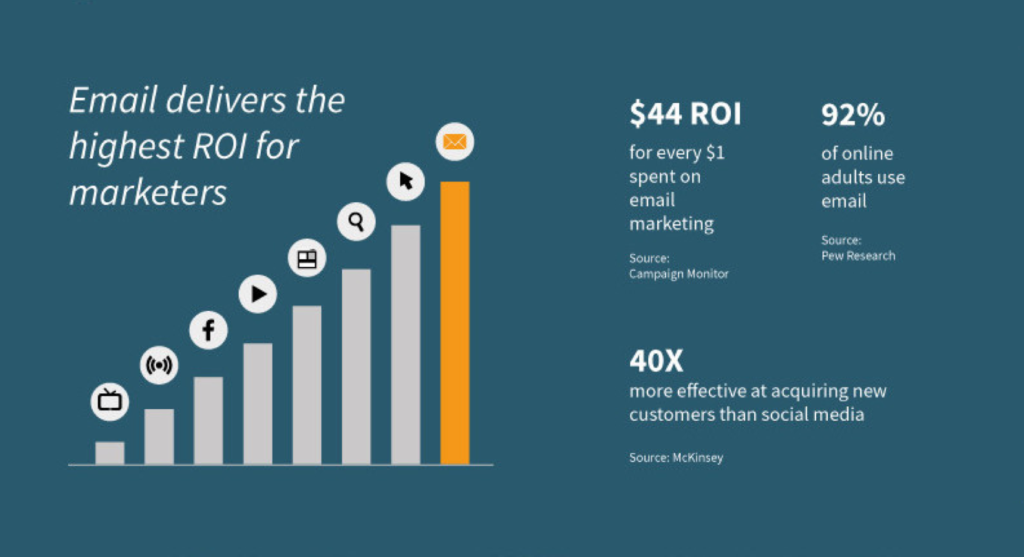 Source: https://www.revinate.com/blog/2017/09/infographic-email-marketing-cheat-sheet-complete-stats-action-items/
The Difference Between Good Email Marketing and Bad Email Marketing
When you get into email marketing, you'll be treading a fine line. Some people abuse this practice and end up spamming people – and you don't want to be one of them. Don't set up your autoresponder to send out too many emails – and make sure you keep them relevant and informative.
Try not to sell spots to other advertisers unless you've hand-picked them carefully. Make sure anything that's promoted to your list is super relevant. Ask yourself if you'd be happy receiving it as an email subscriber. If the answer is no – then don't send it to your subscribers. Simple.
Don't trick people into signing up to your list by offering something you can't deliver. That's a surefire way to get unsubscribed or sent straight to the spam bin.
One more important tip – make sure you test your campaigns and follow the results carefully. Don't simply pick one method and stick with it. Keep making tweaks, performing A/B tests and evaluating what really works for your business.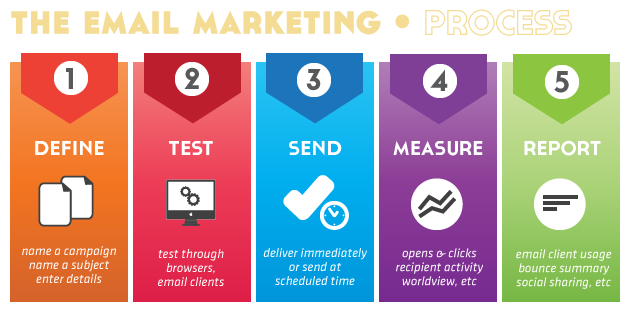 Source: https://soffront.com/blog/email-marketing-tips-tricks/
How to increase sign ups to your list
So, you want to start getting more sign-ups to your list? Here's how to do it…
Keep all your calls-to action clear and above the fold. Make it clear what you want people to do on your site and reduce distractions to your offer. If you've got an opt-in panel, use a sticky widget to make sure it's always visible even when scrolling down long posts. If you have to use pop-ups, you can use ones with time-sensitive offers. Exit pop-ups normally work better than entry ones which can be a huge turn-off.
Offer people something valuable and continue to offer value to your list.
The importance of offering real value
You don't just need to offer value to people to get them to sign up, you need to continue offering value in your follow up mails. Build trust by offering more of what they signed up for.
Make your offer something people will want – and make sure they're not disappointed when they get it. That way, when they finally see something that's been hand-picked for them – they'll already have more faith in what you have to say. Make sure people actually want to open your emails rather than simply ignoring them. If you do this right, you could see your business grow thanks to email marketing.
If you'd like to learn more about email marketing, check out Email Marketing: Get Opened, Read and Clicked 
Peter Ellington has years of experience in both the internet and education industries. He knows how important an education can be in order to get you into the business world, which is why he also writes for a private tuition provider based in Singapore that helps provide a number of different learning tips for students.