Facebook announced some massive news on August 29th, the launch of their video platform, Facebook Watch.
Some of you might already be questioning my choice of word, MASSIVE, but give me a few minutes and I'll explain exactly why it could have huge potential implications for your online presence, marketing and business strategies.
To help me explain the gravity of this platform, which most of you will know absolutely nothing about, let me first ask you to take out your phones…
…go into your App Store and complete the latest Facebook update…
…THIS ARTICLE IS BUFFERING…
…ready?
Now, open the Facebook app. At the footer menu, you'll notice a shiny new button, this my friends, is Facebook Watch.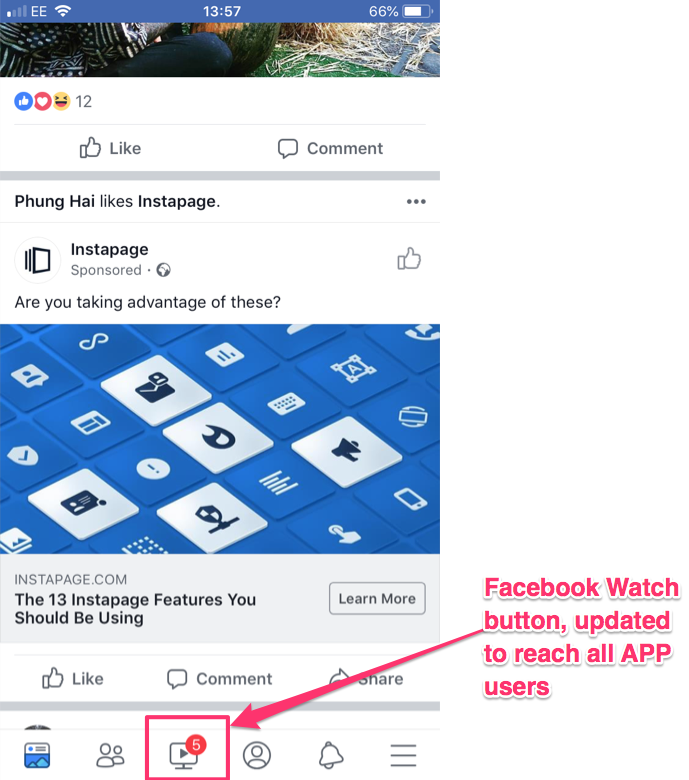 There are currently 2 Billion smart phone users in the world today, and of those 85% have (and regularly use) the Facebook App.
This means, (that when everyone is updated) the new Facebook Watch button will reach 1.7 billion pairs of eyeballs. In other words, a huge market to tap into.
If you've been able to resist the urge so far, hit the new button, you'll be brought to a display that shows all the pages you like and follow, as well as recommending new content for your viewing pleasure.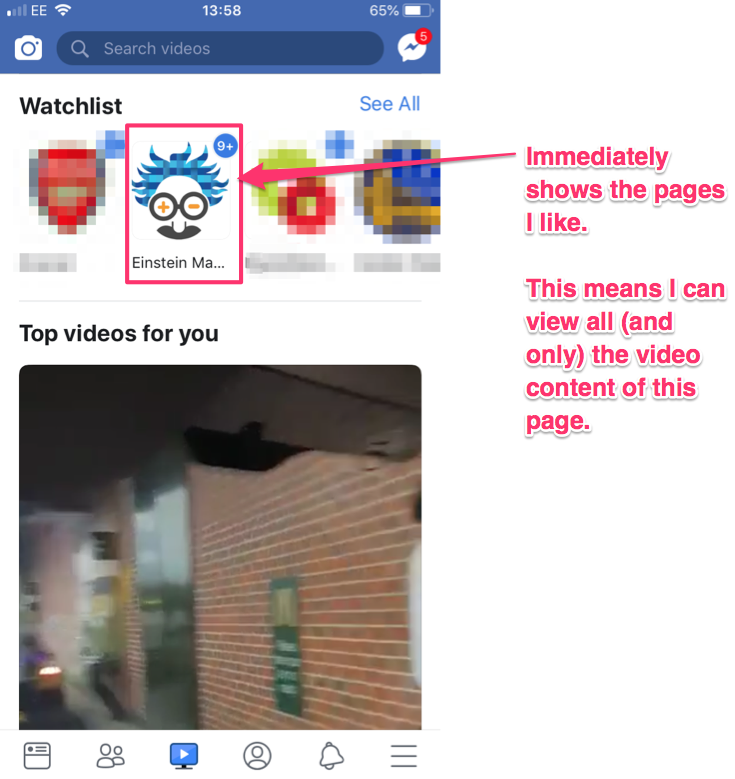 Please tell me there's somebody else out there who's equally excited? Leave a comment below!
This presents a huge opportunity to increase exposure, brand awareness and have video promotions viewed by more people, as well as growing engaged, loyal followings.
Just think about this for a second, how many people do you know, who endlessly scroll through their newsfeed in search of something interesting to watch or read?
Now imagine that there's a quick-link button at the bottom of their app, that will take them straight to videos…
…this is where we are folks. Facebook watch is going to cut the endless scroll (for many people), and take them directly to their favourite medium. This gives marketers and businesses a huge opportunity to get their stuff seen and, create a bank of all their videos, so new viewers can scroll through all their content (if they like the first video they find).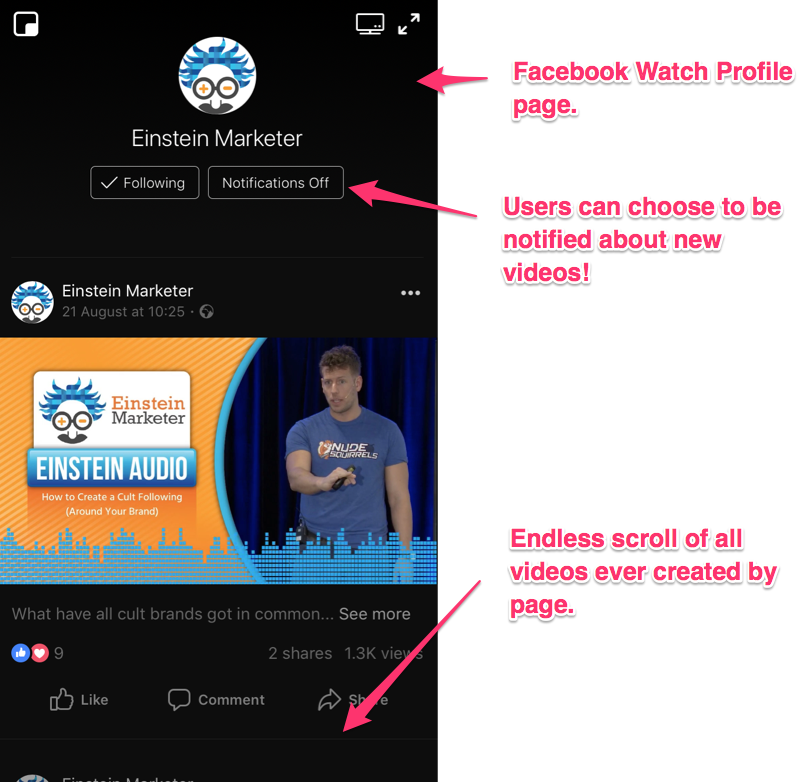 Facebook Watch For Marketers: A Brief History  
Readers in the US will know that Facebook Watch isn't a new thing. In fact, it was launched in the states a year ago.
During this time, Facebook have gained feedback and implemented updates and changes.
Its success, given its low key introduction, has been strong. Facebook announced 'Every month, more than 50 million people in the US come to watch videos for at least a minute in Watch – and total time spent watching videos in Watch has increased by 14X since the start of 2018'.
Not bad, eh?
And with the introduction of the new Facebook Watch button on their App, and the global launch, we expect to see these numbers soar.
Facebook Watch For Marketers: The Potential 
On first impression, it's easy to think of Watch as a direct competitor with YouTube and (Facebook owned) Instagram TV, but Facebook are thinking bigger than that. They've launched their platform on Apple TV, Samsung Smart TV, Amazon Fire TV, Android TV, XBOX One and Oculus TV…
…putting them in direct competition with media giants like Netflix, Amazon Video and BBC iPlayer.
This big-thinking distribution approach may take some time to gain traction, but if their ambition pays off, it could mean massive rewards for creators who've cultivated audiences ahead of the digital gold-rush.
As it stands, creators stand to make 55% of the advertising revenue their content generates, with Facebook keeping 45% for themselves. The ability to run ads in content will not be open to anyone, only creators who hit certain metrics. And to begin with this feature will only be available to publishers in the US, UK, Ireland, Australia and New Zealand.
But, Watch doesn't just hold massive potential for creators, advertisers can also use the video platform to increase awareness and capture new followers.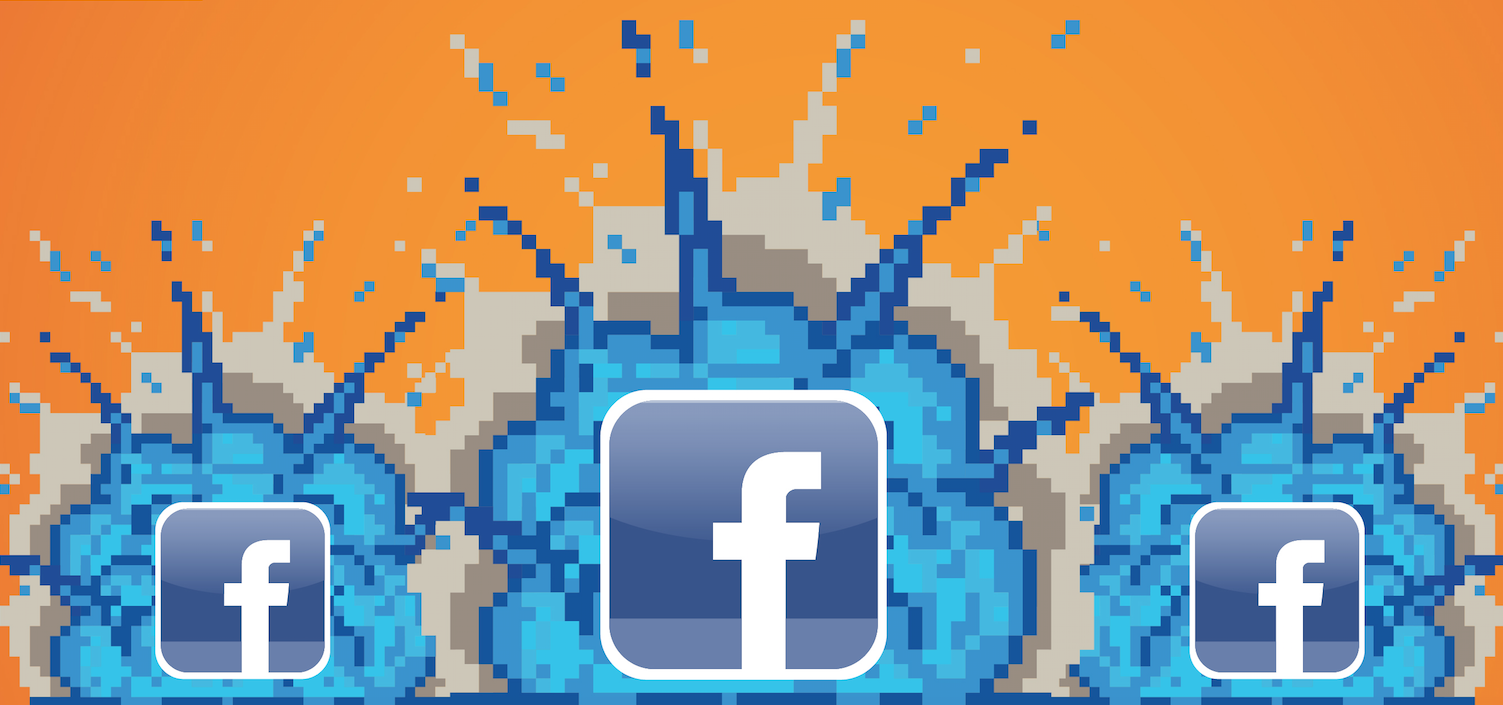 Facebook have announced a new Ad Breaks program, which will most-likely follow YouTube's tried and tested formula. This means ads run before content plays, and advertisement breaks during longer videos.
As I'm sure many of you already know, Facebook are experts at ads, allowing marketers and business owners to target ultra-specific audiences. There's no doubt that this feature will also be available to Watch advertisers too.
Facebook Watch For Marketers: Party Time
 It's an exciting time for video, especially in the marketing industry…
…but, it could get even more exciting.
Facebook have also announced the launch of Watch Party, which could provide huge advantages, especially for content creators on low budgets.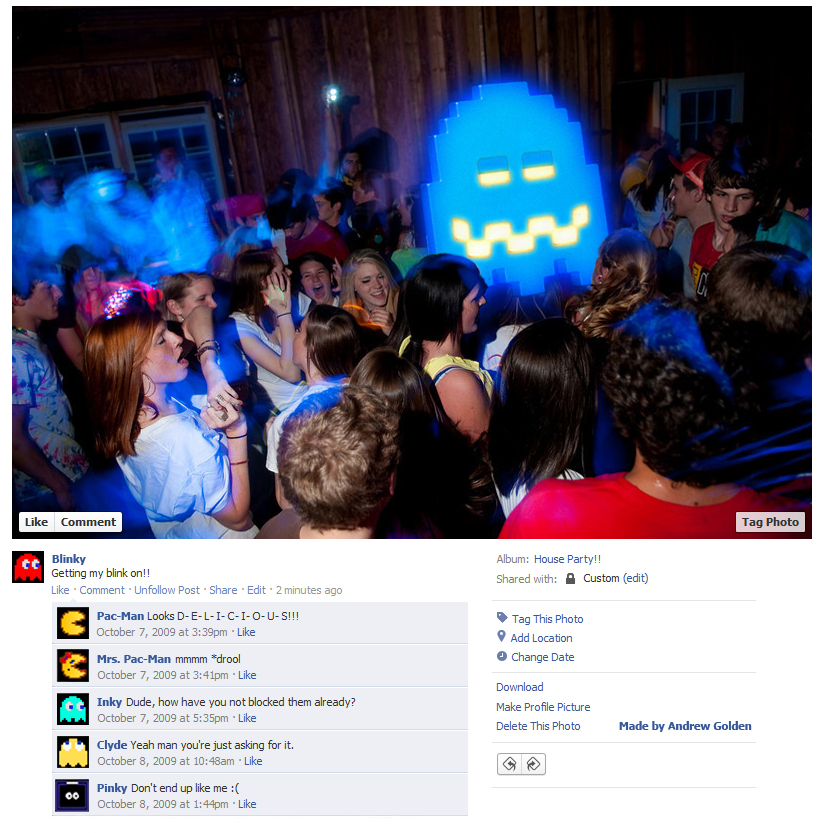 Watch Party is a new feature rolled out for group admins. It's the brainchild of a Facebook notion that watching videos doesn't have to be passive. The social media giants aim to make viewing a social experience.
This has led them to give group admins the power to schedule videos for groups (shown live at set times), so all members of the group can watch and make live comments to share with their peers.
If creators, marketers and entrepreneurs are able to build relationships with group admins who align with their target audience, they could hit a large audience of engaged followers in their niche. In other words, a social TV channel watched by people who all have an interest in their industry.
Creators can also provide live responses to comments and run polls, challengers and quizzes to boost engagement.
Where do I sign up?
Conclusion
Facebook Watch might be new to the global audience, but it's already proven its worth in the US. Growth was slow to start with, but it's now 14x bigger than the turn of the year.
It's clear to see the potential advantages for content creators and advertisers…
…but, whatever your Facebook plans, this emphasises a point we've been screaming at you for a long time now, PRODUCE AND PUBLISH VIDEO.
The medium is bigger than ever, and will continue to grow.
If you're able to get ahead of the crowd, Facebook Watch could be the goldmine you've been looking for.
What do you think about Facebook Watch? Will you use it? Leave a comment! Let us know what you think!
Josh is the Founder of We Imagine Media, an award-winning content marketer, best selling author and creator of the www.joshbarney.blog. He creates and strategises content, sharing the most successful tactics with his lovely audience. He hates writing in the third person, follow him on the social links so he can get back to writing as himself.