I've said it before, and I'll say it again, SEO IS BORING!!! 
I've always struggled to get excited about it. Moving up the search engine rankings takes (loads of) time, tedious work and leaping up 20/30 positions is pretty bland when you've put tons of work into moving from position 70 to 40. 
So, instead of retrospectively going through every page and blog, and optimising them for the latest updates (or SEO 'hack') I use a proactive approach that gives every page and blog the best chance of ranking. 
This page optimisation approach is quick (thank the digital gods!), effective and ticks the majority of Google's boxes. 
Today, I'm going to show you how I do it. By the end of this article, you'll be able to publish search optimised pages (and blogs) regularly and quickly. 
But first, I need to prove that it works. 
Einstein Marketer's Pages
We started the Einstein Marketer Blog back in January of this year. Before that, we had a website that featured just services, contact and clients. As an agency, we saw many businesses who either weren't ready to outsource their marketing, couldn't afford to pay an agency or weren't a good fit with our business…
…so we created our blog with the aim of providing them with FREE strategies, guides, tactics and marketing news. This way, we'd be able to reference pages, giving them a referable destination for help. 
Despite our website having already been up for quite some time, our organic traffic wasn't great (in January). This was down to a number of factors: 
-We weren't focussing on the website (we were already gaining more referrals than we could cope with!)
-We didn't have enough content (to rank for relevant searches)
-We didn't perform any of the steps I'm about to explain on our site (only for clients)

This had to change. Publishing articles would help us rank for specific searches, but to give us the best opportunity of hitting the (mythical) first page of Google, we'd have to use page optimisation tactics. 
Fortunately, this wasn't our first rodeo. We always implement these tactics for our clients. All we had to do was implement them as we published each post. 
This is what happened to our Organic Traffic in the following six months: 

And it's still growing, week on week.  
We also hold a first page (average) ranking on google, for 107 search terms. This is growing too, and I expect the results to compound (in growth) as we publish more page optimised articles.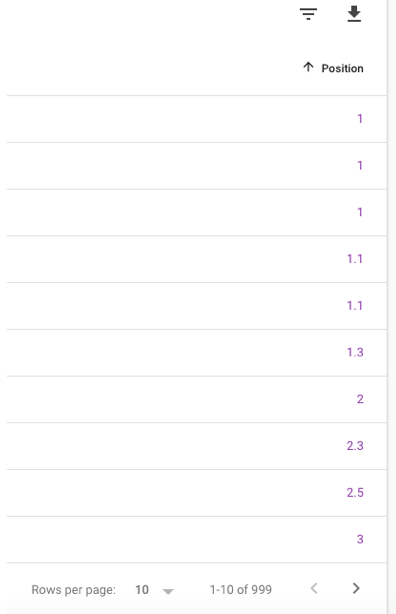 And, just in case that wasn't enough proof of what can be achieved with 5 minutes of page optimisation, over a short period of time (6 months), here are our top impressions from the previous week: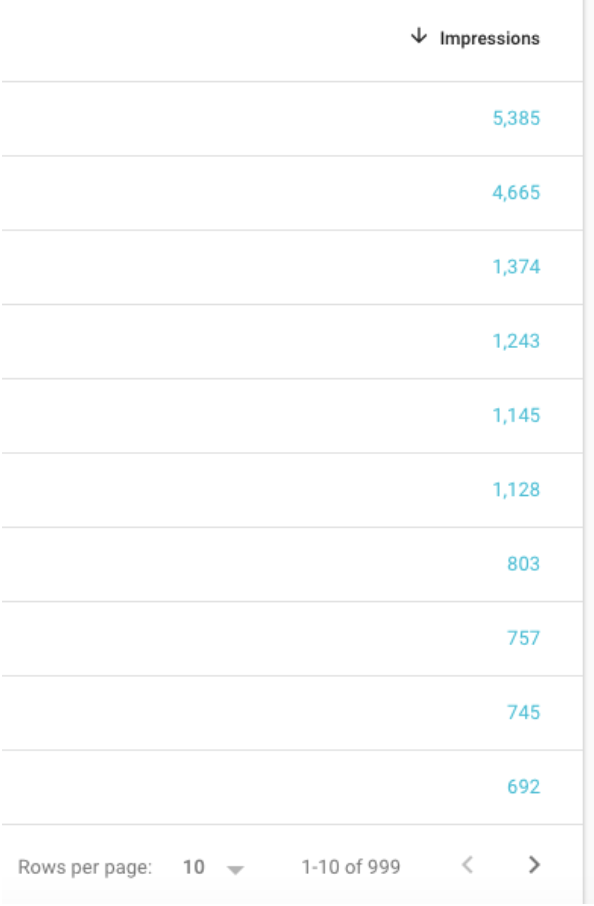 Pretty cool, right? 
Let's get down to this simple, actionable and quick strategy. So you can enjoy it's benefits too, and hopefully, double or triple your organic traffic. 
Clarity
We're going to kick into high gear in just a second, but first I want to make something clear, we use WordPress…
…that doesn't mean that these tactics won't work on other web hosting or creation softwares. 
All of the simple tactics I'm about to show will be available, you'll just have to look in different places to find them. 
Within WordPress, we've installed the Yoast plugin. This makes page optimisation even easier. If you can get it, I strongly recommend it. If not, no sweat, this article holds all the answers. 

Page Optimisation Tip #1: The First Step
The first thing you'll need to do is choose a keyword(s). This can be pretty straightforward, but sometimes a little more complicated. Don't worry, I've got a few tips.  
I always create CONTENT FIRST. That's because quality is crucial. If you're publishing content, it must serve a purpose. And that purpose is ALWAYS to provide insights, entertainment and knowledge to your audience. 
I wouldn't advise picking a keyword before creating an article. This can ruin your content, encouraging you to stack it with keywords. 
Never forget, you're writing for humans, not Google. 
Say what you want to say, then read the article back. This should give you a good idea of the keyword(s) that's most suitable. 
Throughout this guide, I'm going to explain how to perform page optimisation, using this article as an example. 
That means, I have to make some choices earlier than I normally would, or should. (Hopefully this won't affect the quality of the content!)
The keyword for this blog is 'page optimisation', now I'll show you how to use it. 
Page Optimisation Tip #2: The Headline
It's very rare for me to have a title, before I've written an article. This normally comes afterwards, along with the keyword. 
Many of you will already know that it's important for the keyword to feature in the headline. I recommend this, but again, not at the detriment of the article. If you can think of a title that's catchier, and stronger without the keyword(s), use it. 
But, even if you have managed to insert the keyword in your headline, there's a way of getting better results from it…
…move it as close to the beginning of the headline as possible. 
In this article, you can see that I've used ':' to separate the keyword, from a much more clickable headline. 

This is a handy tactic that gets the best from both worlds, and over time, might make all the difference. 
Page Optimisation Tip #3: Sub-headings
Whatever you do, make sure you break your content into smaller bite-size sections, this prevents skimming, indexes your page and encourages skim-readers to re-engage with the post. 
You should rarely, if ever, have more than 300 words in each subsection. This means (depending on the length of your content) plenty of opportunities. 
Use the same tactics as detailed in the headline section above- insert the keyword where possible and position it as close to the start as possible. 

It's imperative that you format the page so your sub-headings are actually sub-headings. I often see pages that are published with a line break, and formatted in BOLD, and nothing else.  
Page Optimisation Tip #3: Sub-headings
Google actually scans your webpages for relevant H2's, (sub-headings), if you're using WordPress, you'll see a dropdown menu that MUST BE USED for all content types. 

Page Optimisation Tip #4: The Slug
A slug is not just a slimy garden critter. It's the extension of your URL, and it's crucial that you shorten this to just the keyword. 

Long URL's look messy, don't illicit much user trust and don't anything for your page optimisation. 
And always make sure you use a hyphen to separate your keywords. Check out the URL of this page: 

Page Optimisation Tip #5: Meta Description
Another crucial, but often overlooked page optimisation tactic lies in the meta description. 
This is the grey text that Google presents to searchers, under the page headline. 

If no text is entered, Google uses the opening paragraph of the page. This is criminal. The first few sentences rarely explain exactly what's going to be covered in the content. And, Google only allows a limited number of characters to be used, effectively cutting sentences short. 
Always make sure you enter a meta description mentioning the keyword. ONCE is enough. Entering the same keyword(s) more than once looks sloppy, and doesn't read well. Keep it to one entry, explain the article and entice your audience to click the link. 
Page Optimisation Tip #6: Images
I'm a strong believer in visual explanations. Inserting images into written content breaks up the text, gives your audience a reference point and makes the page much more attractive. 
Adding images also gives us a chance to further optimise our page, and only takes ten seconds per image. 
For every piece of media I add to a page, I fill out the title and 'alt text' fields. These can be found here: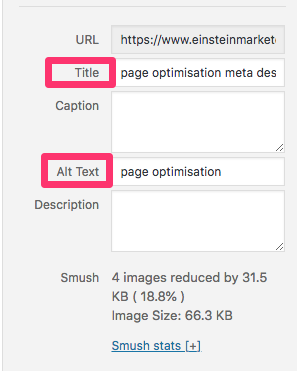 Always make sure you use your keyword here. I sometimes vary the keyword with an alternative search term: e.g. title- quick SEO, alt text- page optimisation. 
These 'optimised' images help the page to rank, and also show up in the Google Images tab, with links to your page. 

Page Optimisation Tip #7: Solid Links
Page optimised links come in two forms: 
#1: Internal (crosslinks)- links to other pages on your website
#2: External (outbound)- links to external websites 
Internal links are crucial for SEO because they help Google in a number of ways. First of all, they help search engines index your site, i.e. make a note of every page on your website. Secondly, they help Google discover the context of your content. The better and more relevant your internal links, the better you'll rank. Here's an example of a relevant internal link, that will help this page rank on Google- SEO: Boring, Irrelevant and Not Sexy.  
(That was cheeky, I know)
Solid external links to relevant content also help you rank. But don't overdo it. Link to sources that you deem relevant. This might also help build a relationship with another website owner, thus improving your chances of gaining a backlink. 
I would advise including at least 2 Internal links, and 1 external link in every article.
 If you don't want to include them in the text, attach a link to an image. But please, make sure that image is relevant. I sometimes use feature images from other blogs to promote content, and attach links to these. Just like this: 
Page Optimisation Tip #8: Once is Enough
Our blog predominantly publishes content about Digital Marketing, so you'd think I should use it as the keyword in every blog, right? 
WRONG!
Reusing keywords is a commonly made mistake, it puts pages (with identical keywords) in competition with one another, and doesn't give Google the best opportunity to pick one out and recommend it to a specific search. 
Always make sure you use keywords once, and once only! 
If you've got articles that are similar to one another, or you feel like they'd both benefit from the same keyword, use a tool like UberSuggest (here's my external link!). It's a free tool that will display similar search terms to the one entered. Use it to find variations, this will give all your pages the best chance of ranking, and will reach a larger number of searchers. 

Page Optimisation Tip #9: Keyword Density
Earlier, I touched on the importance of creating an article first, and then choosing a keyword afterwards. 
This is the SEO point that hammers that point home. Gone are the days when websites who stuffed keywords all over an article, would rank. 
The ideal percentage of keywords to text ratio is approximately 0.5% to 2.5%. For example, if this blog was 200 words long, that would mean using the keyword between 1 (0.5%) and 5 (2.5%) times. 

It's crucial that you spread your keyword throughout your article when using these page optimisation (there it is again) tactics. Don't force it into your article, or riddle the start or ending of your article with it. 
If you feel the keyword density is too low, read the content back and replace relevant terms. 
LSI keywords are a great way to improve your keyword density, find out more about using a LSI SEO strategy.
Page Optimisation Tip #10: Wait
The 9 tips above will massively help your pages rank higher, but it won't happen overnight. You'll notice that on a lot of Google searches, it's hard to find a page published recently (that isn't paid).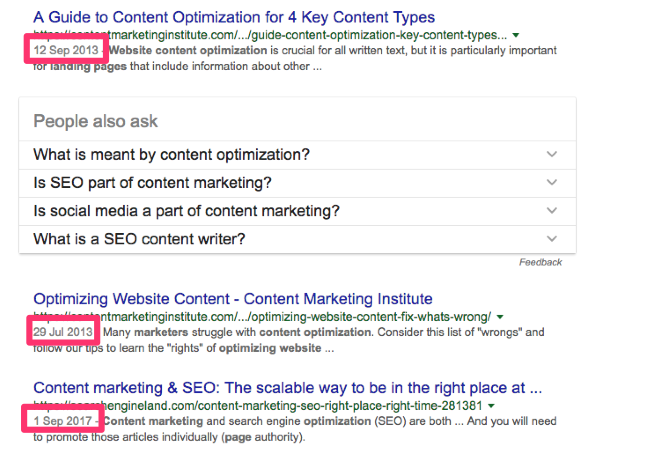 This is because age, and page-use is a key Google factor. Produce the content, do the right things and leave it. Trust me, be patient. 
If there's a particular page or piece of content that you're really keen to rank high for, use Internal Links on new pages to boost its chances, and see if you can get backlinks from external sites. 
Conclusion
Anybody who's ever got involved in content marketing, knows that nothing happened overnight. 
A mixture of quality (insightful, valuable, page optimised content) with quantity (regular posting) is the only way to win. Use this formula, and keep going. 
All of the hard-work you put in at the start will be worth it. People WILL read your old content.
I've kept this article light and simple, because you need to understand the basics of page optimisation before stepping up your game. So, make sure these 10 tips become a fluent part of your routine and keep your eye out, because I've got a loads more page optimisation tips in my locker. 
And, if you'd like to up your page-optimisation even more, check out our Blog SEO Checklist to never miss an SEO factor again!
Josh is the Founder of We Imagine Media, an award-winning content marketer, best selling author and creator of the www.joshbarney.blog. He creates and strategises content, sharing the most successful tactics with his lovely audience. He hates writing in the third person, follow him on the social links so he can get back to writing as himself.