I know I've been banging on (a lot) about the importance of video in your marketing campaigns recently…
…so today, for your viewing pleasure, I've rounded-up 8 VIRAL marketing ads that went share-crazy.
These advertising campaigns have all taken different paths to success. I've analysed their most successful strategies and (hopefully), if you're thinking of running a new video campaign (which you probably should), you can learn a thing or two. 
Kick back in your chair, chuck a pair of headphones on, and get ready for a rollercoaster of emotions.
Google photos
Wow…Google are good at making marketing videos. It's easy to point at their scale, or the budget their marketing team must have behind them, but…
…this video proves there's no need to break the bank to make a truly compelling marketing video. 
And it has a number of things going for it. 
Firstly, the short homemade clips are entertaining, evocative and (at times) astounding. Secondly, if a viewer has seen any of these clips before, it gives them a warm 'I remember-that feeling', that takes them back to wherever they were when they first saw it. 
But most importantly, it's relative. The stars of this ad aren't Hollywood superstars, or inhumanly-toned models. 
They're people we can relate too. It reminds us of relationships, good-times and thrilling emotions. 
If you're an Einstein Marketer follower, you'll already know how highly we regard content produced by your TARGET-MARKET. Consider creating a low budget video like this to build awareness and convert new customers. 
Troy Library
If ever you needed proof that strategy is much more important than budget, this video by Troy Library is it!
That's right, they're a LIBRARY! You know, one of those places that don't charge for the books you borrow. 
This is an amazing example of out-of-the-box strategic thinking. Troy Library conjured up a plan to target their audiences' pain points, with a shocking and attention-grabbing Book Burning Party. 
This hit such a sore spot with their audience, that they comfortably won their vote and drummed up tons of publicity for their…
…errr…
…library. 
Troy Library's campaign has many relative factors that we can take on board, especially their ability to hit a PAIN POINT in their target audience. They used shock to grab attention, and a variety of channels to cement their point. 
All in all, an awesome video about strategy that every MARKETER should watch.
Dollar shave club
If you read our Storytelling for Marketers series, you'll remember that I featured this there too…
…as much as I hate to repeat myself, this ad went too big to leave off our VIRAL VIDEO list. 
I love the walk and talk style of this ad. The constant progression is like a journey through the back-stages of Dollar Shave Club. 
But not just that, it takes a humorous spin on OBJECTION HANDLING. The entire script is pretty much a long list of reasons people wouldn't buy, and then a rebuttal for that problem. 
Tie in progression, humour and objection handling, and you'll be on to a winner too. 
Heineken
https://www.youtube.com/watch?v=_yyDUOw-BlM
I'm sure that most of you have seen the shortened version of this ad, but you won't understand why this video went viral until you watch to the end of the full version. 
It brings together contrasting emotions, literally putting them in a room together. 
Heineken set out to deliver a SPECIFIC MESSAGE and have executed it perfectly. 
The video uses REAL PEOPLE (it seems like this is becoming a recurring theme), with opinions that many audiences members will relate to. 
The finale is super-satisfying for watchers, leaving us with a positive viewpoint on the entire 4 minutes 25 seconds.  
If you can hook readers into your video content, and bring them to a KILLER ending, you guarantee yourself shares and plenty of LOVE. 
Canadian Tire
I'd never heard of Canadian Tire before I'd seen this ad…
…but I have now. 
The retailer has made no effort to promote their products. Instead, they've tried to hit the patriotic side of their viewers. 
And they've achieved that, with a bunch of other emotional triggers. 
The ad tackles deeper issues like inclusion and equality, and (maybe) had a plan to go viral with these themes before they'd even formulated the idea. 
Yes, this story is portrayed by actors, but exclusion is something 99% of us can relate to…
…and when it involves children, it provokes even more thought. 
If you can think up a clever way to communicate real world problems within a marketing ad, then do what Canadian Tire did, for the desired viral effect. 
Dallas Zoo
What's not to love about this video? 
There's a gorilla, a paddling pool and 30 seconds of unplanned footage. 
And that's the most beautiful thing about this marketing video, it wasn't ever meant to become one…
…this is some back-stage, real-life footage of a gorilla genuinely loving his time in a paddling pool. 
The video then hit even greater VIRAL heights when Twitter users put backing music to the gorilla's dancing. 
If anybody in your business has some crazy tricks or break dances like this gorilla, then film it…
…but if not, just remember that people love to look behind the scenes of a brand or business. It makes you seem more real and draws your audience into a closer relationship. 
Dumb Ways to Die
Would you believe that a RAILWAY SAFETY advertisement from an Australian Train company could go so viral, that it would be parodied over 100 times, win a few awards and become a popular game? 
That's exactly what Dumb Ways to Die achieved. 
The video's most viral feature is the soft-natured singing voice projecting lyrics about gruesome deaths. 
This comedic pairing alongside simple but smart animations has made this video a massive hit all over the world. 
If you've got a musical bone, or a good sense of humour, inject it into your next marketing campaign. 
Power to Achieve
(Video in the above link)
Before I say much more about this video, I have a confession to make…
…we market for this event. But that doesn't mean my opinions of the video are swayed in anyway 😉
Yes, the people (we filled the room with) were AWESOME and totally relatable, and yes, the video is wonderfully produced…
…but, that's not where its true strengths lie. 
The combination of uplifting music, with scenes of joy, POWER and fulfilment, has an emotionally touching effect…
…and makes it totally, watch-again-able. 
When making your own marketing videos, combine audio to visuals as closely as possible, and show off your customers REVELATIONS.
Viral Videos: The Key Takeaways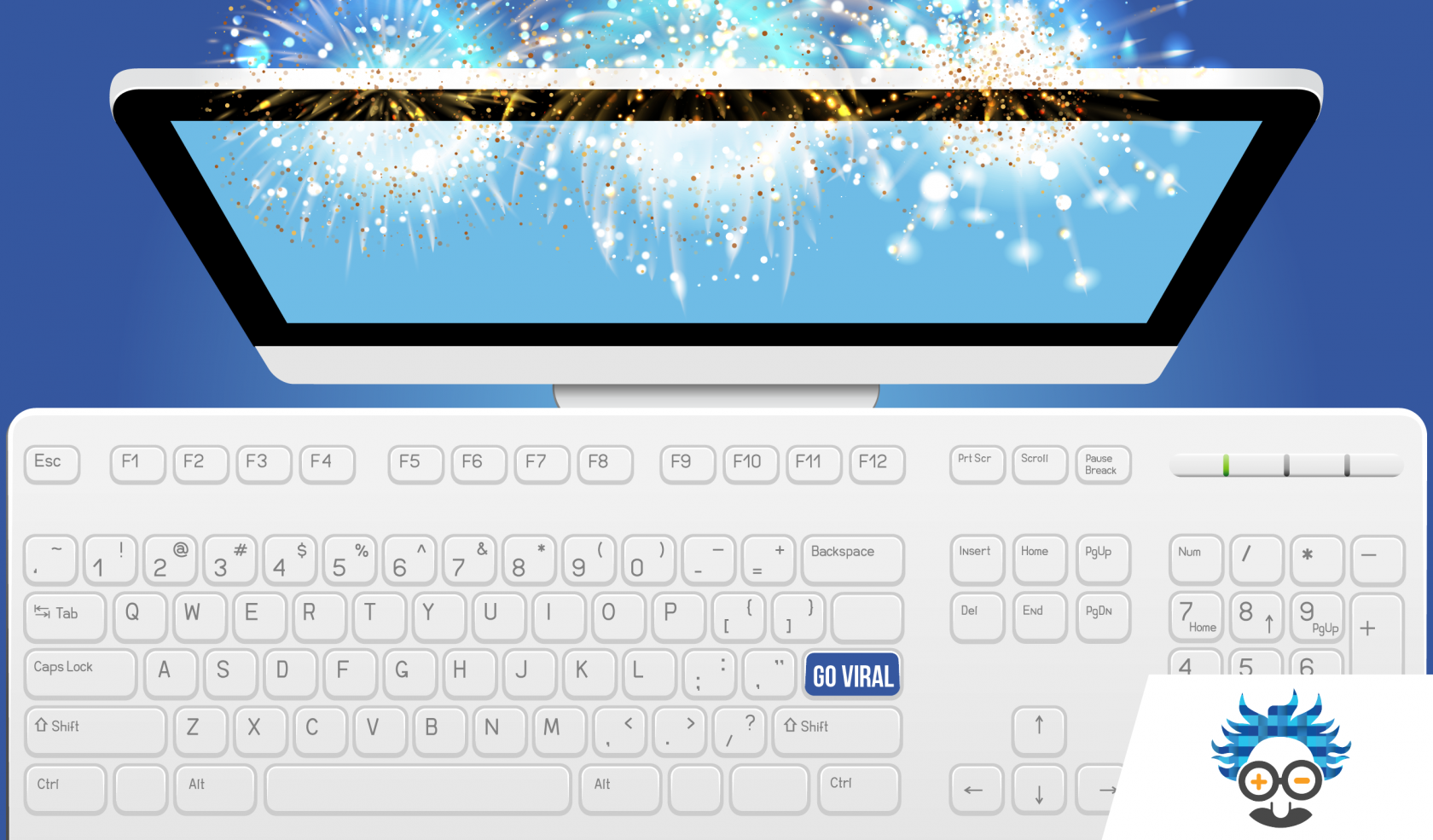 So, that's our top 8 VIRAL MARKETING VIDEOS…
…I can only hope you enjoyed watching them, as much as I have whittling down the shortlist.
All these videos have different strengths that have caused them to go VIRAL, but the MAJOR underlying factor that they all have in common is…
…RELATABILITY. 
Notice that 0 out of the 8 involve celebrities, or have been produced with MILLION POUND BUDGETS…
…this shows you, that although it might seem out of your reach, that VIRAL effect is closer than you think…
…and if you can come up with a clever strategy, and nail it, as these 8 have, you'll hit numbers you never knew possible. 
What did you think of the final 8? Were there any videos you think I missed? Leave a comment or send us a message and we'll reply as soon as our social media manager stops telling all the Einstein Marketer staff to 'shut-up'. 
RELATED POSTS
5 Must Read Marketing Books: Lessons that Can Change Your Life
Reading Round-Up: Marketing Articles Einstein Marketer Loved in May
Josh is the Founder of We Imagine Media, an award-winning content marketer, best selling author and creator of the www.joshbarney.blog. He creates and strategises content, sharing the most successful tactics with his lovely audience. He hates writing in the third person, follow him on the social links so he can get back to writing as himself.