Give your eyes a break, listen to the audio version:
Visitors to customers. That's what we're all about.
And that's what you should be about too.
But is your website converting? Are you seeing high levels of lead engagement but low sales? Are you gaining praise from existing customers, but very few new ones?
Your problem? THE WEBSITE.
Yes, we all love flashy designs and beautiful functionality, but business is not an art gallery.
BUSINESS IS CONVERSION. It's sales. It's solving problems for millions of potential customers, screaming for your product.

So, why aren't they hitting that big green BUY button?
The answer's simple, there are just TOO MANY big green buttons on your website.
Imagine your customers, wide-eyed and drooling over the About section, the Gallery or the Reviews page.
'This is amazing!' They tell themselves, and then the boss walks into the office and they shut your buying page never to return again.
Or dinner's ready.
Or the phone rings.
And by the time they've looked at your beautifully crafted product, hit the About section, scanned through your photos and considered purchasing…
…they're gone.
Just like that. A puff of smoke.
Bye-bye customer. Thanks for enjoying my website. I emptied my bank account to make it look this pretty. I employed designers, programmers and spent days revising it so you might buy something.
But I understand that you wanted to look through my charming back pages before something distracted you from opening your wallet.
A Traditional Website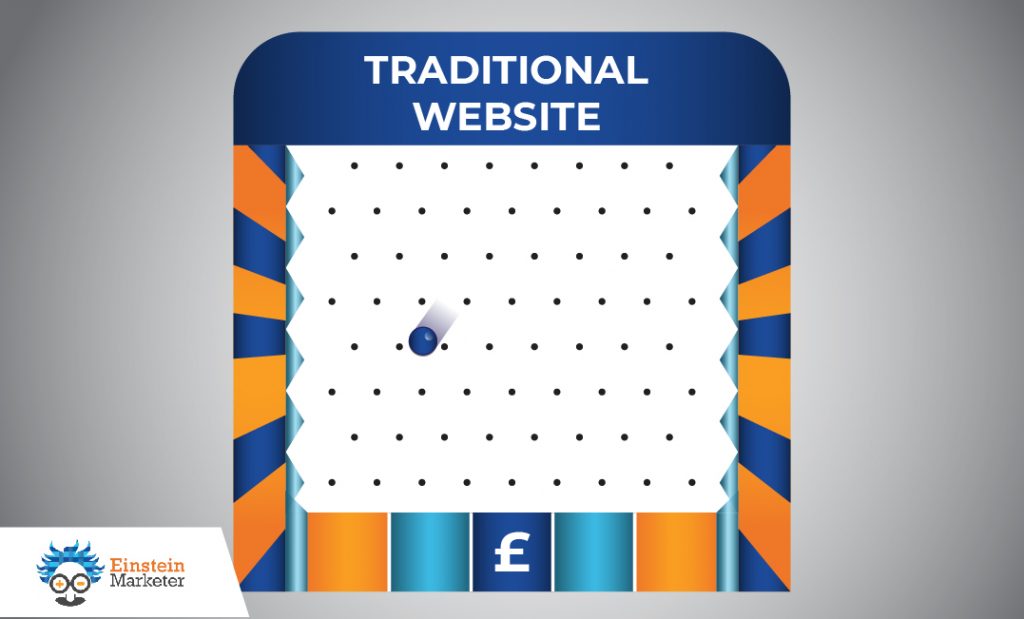 NO! It doesn't have to be like that. It shouldn't be like that. We don't want you to throw money at internet ads, driving traffic to your site, only for them to disappear.
We want them to buy.
And they will.
They'll CONVERT at a rate you've never seen before.
How? What? Why?
CONVERSION FUNNELS
Yeah, we know you're rolling your eyes, thinking, 'I don't wanna hear about any sales mumbo jumbo, I just want a beautiful website to showcase my beautiful products.'
If that's you, you can roll your eyes all the way to the pawnbrokers.
We don't care. We'll buy your stock at less than cost when your business closes, and make a conversion funnel for it all the same.
But if you are one of those smart, gorgeous, determined to change your luck kind of people, you need to follow Einstein Marketer's steps below, and convert visitors into customers.
Let's take a look at an EINSTEIN MARKETER CONVERSION FUNNEL.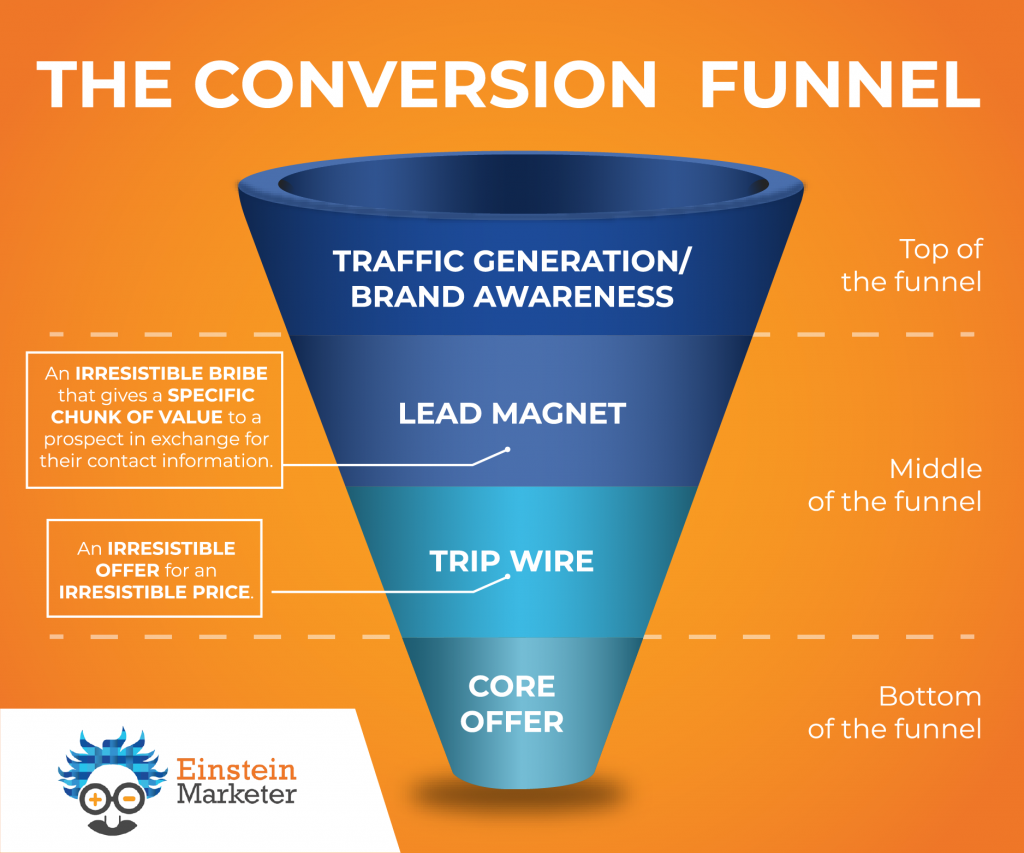 Cute, isn't it?
It will be when your conversion rate is at its optimum, your business is thriving and you've got a ton of happy customers.
But what kind of black magic powers this customer converting contraption?
The answer is none. Just a little elbow grease, a solid knowledge of your product and a good idea of your target market.
So, let's sharpen our knives, whip out the chopping board and slice that conversion funnel into three.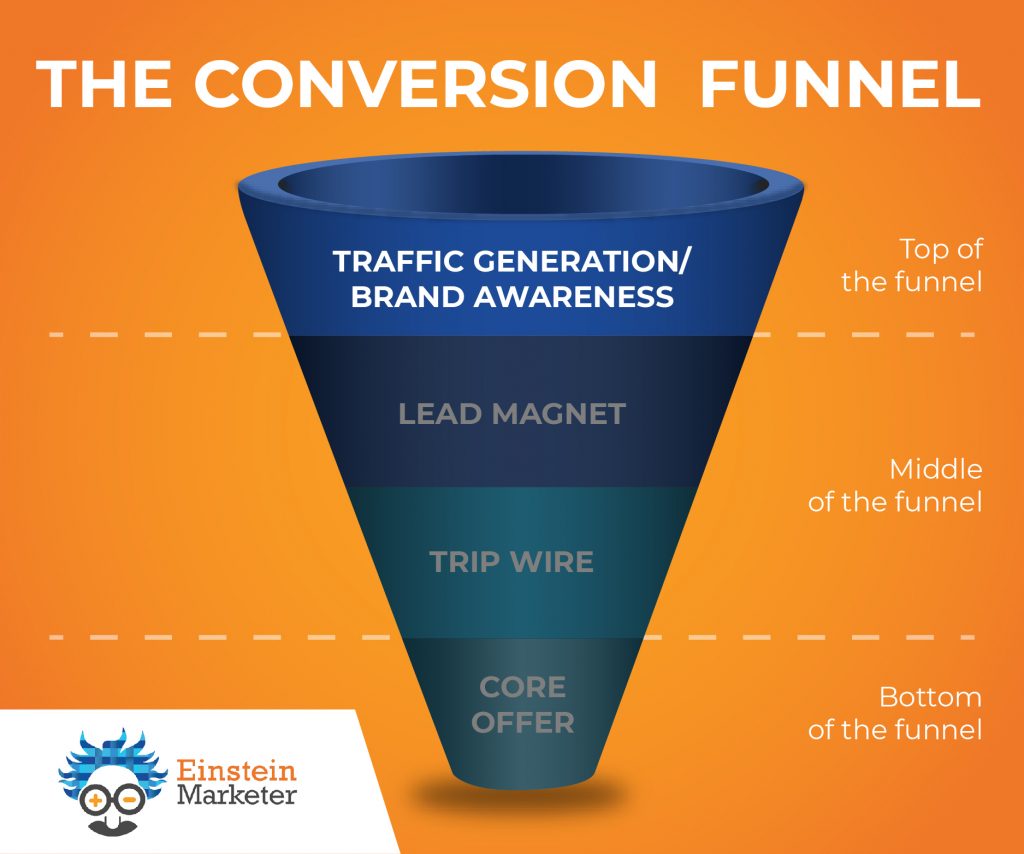 Awareness. You want people to know your product exists, don't you?
We thought so.
You want to broaden your net of potential customers? Grow traffic? And increase lead engagement?
Knowing smile? Gentle nod of the head? A quick eye into the office to check nobody's caught that grin and wondered if you're watching porn?
We thought so too.
But how do we do it?
A thousand different ways. Blogs, videos, social media updates, digital magazines, podcasts, newsletters, emails, photographs, infographics…
The truth is, it doesn't matter. As long as it appeals to our target market and makes them AWARE of the PROBLEM our product SOLVES.
And if we can grab their attention for a minute or two, we might just draw them out of the big wide web and into our conversion funnel.
[quote type="rect"]<strong>EINSTEIN MARKETER MOMENT</strong> –embedding links and placing ads around your content will drive visitors to where we want them most.[/quote]
Don't worry, you won't have to stand over the sink scrubbing the skin from your hands. It's not a trick. There's no deceitful juju involved.
You've just opened your customer's eyes to your product. And now they're AWARE of your business, they're going to visit your conversion funnel and BUY.
Still short on ideas? Let's pretend we're selling a gardening service. EinsteinMarketer would post a blog about gardens. Let's say, The 5 Most Interesting Garden Designs of the 21st Century (People love a Top 5).
We'd post it on social media, alongside an eye-catching image and share it with the list we've built.
People will flock to consume the content (and be besotted with it, of course), qualifying themselves as having an interest in our industry and they'd be drawn into our conversion funnel.
Want to know more about Top of Funnel strategies? CLICK HERE.
Remember that customer who spent too long looking at your gallery and didn't buy?
Say goodbye to them.
They're already over that stage. We moved them through our blog posts, photos, and wonderfully shrewd marketing content.
We've developed a beautiful relationship with this visitor. They've gained value from our first few dates, it's time to step things up.
So, now they've entered our conversion funnel, are we going to give them a handful of links to dilly-dally over? Are they going to size up our About section? Or check out mug shots of the staff?
No, they're not.
They're going to hit a page with two options, take it or leave. And believe Einstein Marketer, they'll take it.
We won't ask for a lot, just some basic contact information (name and email address) and in exchange, we'll offer a generous helping of value-rich content.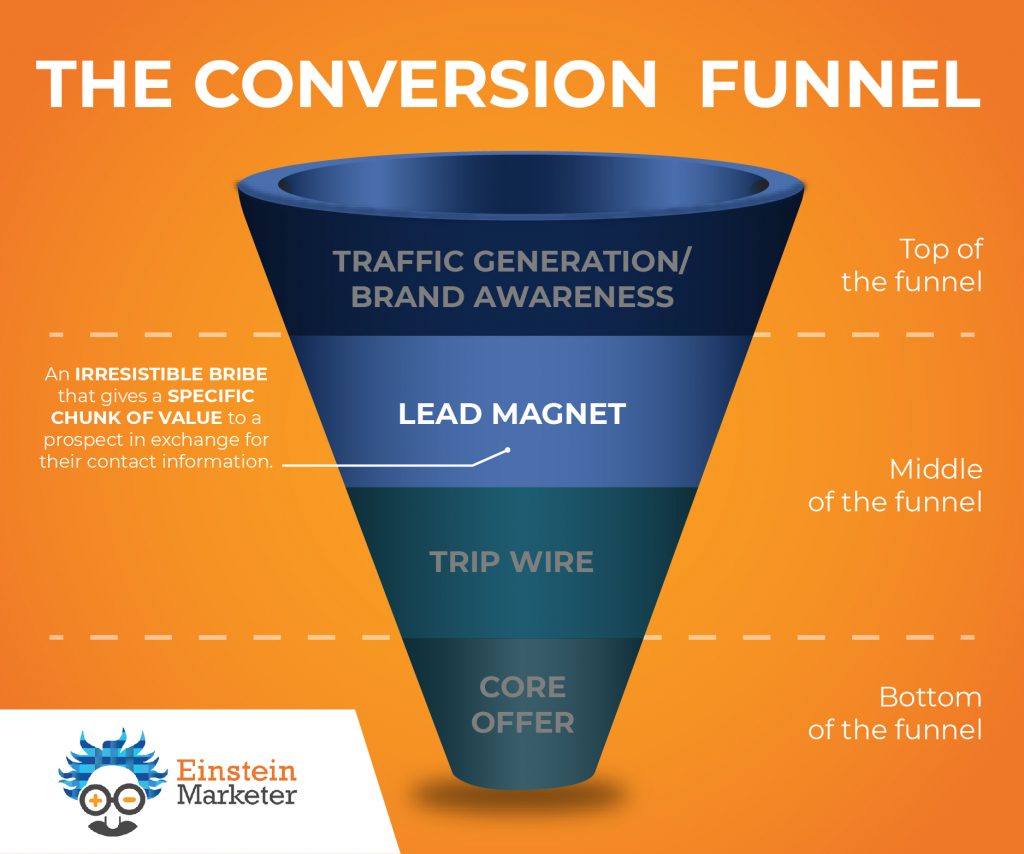 [quote type="rect"]<strong>EINSTEIN MARKETER MOMENT</strong> –A LEAD MAGNET is an irresistible bribe that gives a specific chunk of value to a prospect in exchange for their contact information.[/quote]
Let's take a look at our gardening business. The prospect has moved through our content, we've positioned ourselves as an expert in the market, and now they want to learn more.
They'll click on a link for a massive piece of valuable gardening content, let's say, 25 Must-Have Tools for your Garden and How to Use Them.
The prospect will land on a page that ONLY offers access to the content (usually downloadable) if they enter their contact information.
Remember, DON'T allow any other options on this page. No tabs for About, Contact or Products. Just the title of the content, a brief summary and an empty box, asking for their contact information.
Congratulations, you've just generated your very first digital lead.
And guess what? It's warm already.
We know the lead loves our content and they're interested in our marketplace. They're ready for a pitch. Let's give them one.
How will we do it? Drown them in sales emails? Ask them to buy our premium product?
No. The moment they accept our LEAD MAGNET offer, we'll move them onto a similar, take it or leave it page.
It is crucial that we make them this offer IMMEDIATELY. At no other stage in the marketing/sales process will we ever have 100% of the leads attention.
If we wait a day or two to send an email, we'll lose more than HALF of the leads we've worked so hard to acquire. So…
…let's make them an irresistible offer for an irresistible price.
The TRIPWIRE.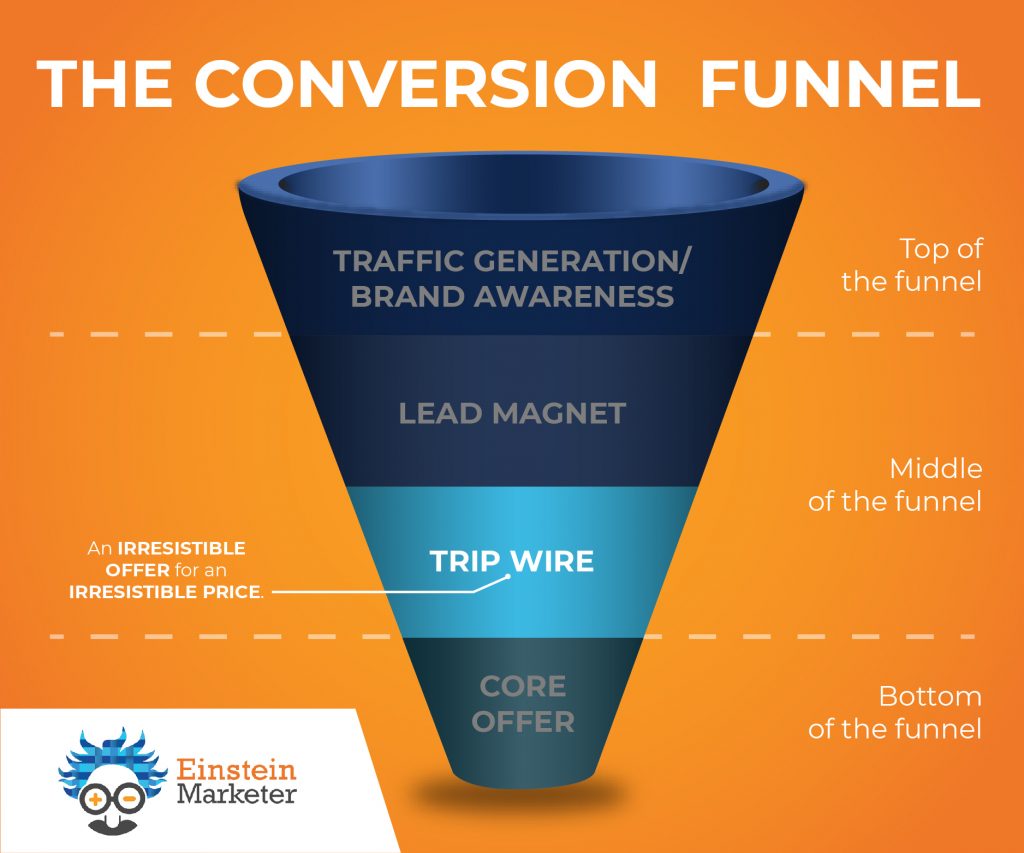 Maybe you'll offer them a book, an instructional DVD or a trial. Your target customer will make the final call on this entry-level product, but whatever it is, EinsteinMarketer recommends pitching it at FREE PLUS SHIPPING.
[quote type="rect"]<strong>EINSTEIN MARKETER MOMENT</strong> –The perfect TRIPWIRE is priced between £1-£9. Keep it a single figure, and don't worry about making millions, we'll show you how to do that shortly.[/quote]
All the lead has to do is cover our costs, it's a no-brainer, right?
Still not caught our drift? Remember that gardening service? We might offer a book to our customers containing our top gardening tips.
Maybe that book normally runs at £12.99 + shipping. We'd offer it for FREE + shipping.
That's an irresistible deal, right? If you were into gardening, you'd happily pay the shipping costs. After all, you've received an awesome, content-rich product for nothing.
What's just happened? You've opened their wallet. That's the biggest step any lead can take. Even if they are only paying £4.99.
Yes, we can hear that little voice at the back of room whispering, 'the lead has accepted an irresistible offer like any sane person would, but we've given something away for free and not sold our core product. How can any business survive like that?'
Forget about surviving. You're going to THRIVE when they move into the bottom of our funnel.
Does your Middle of Funnel need work? CLICK HERE for help.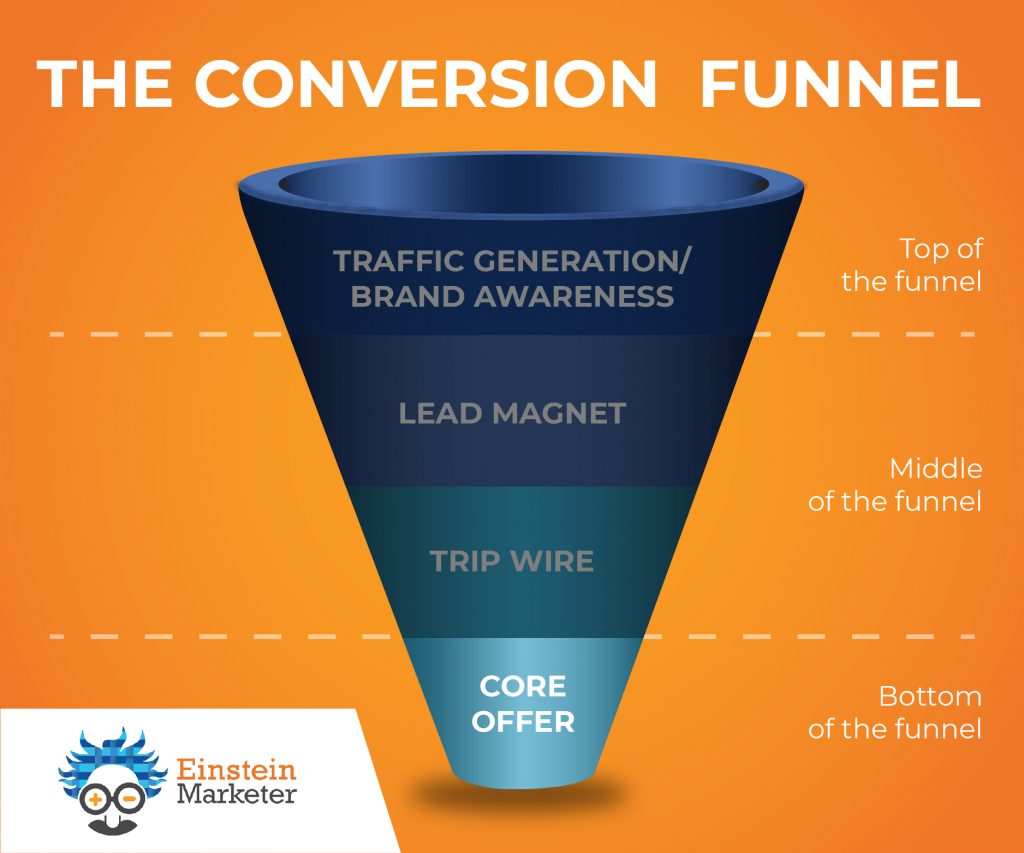 We're intimate with the customer now. They loved our awareness content, couldn't get enough of our blogs, videos and images.
They enjoyed our company so much, they were prepared to hand over their contact information and pay shipping costs.
We're rolling. We've offered that customer so much value for so little, it's time we made them an offer.
Just imagine you're walking down the street and somebody says, "Fancy buying a platinum garden service for £100 per month?"
You'd balk, wouldn't you?
Then imagine you've been through the conversion funnel. You've consumed awesome gardening blogs and photos. You've ordered the gardening book for FREE and you've received a ton of value from it.
You're thinking, I trust these guys, they really know their stuff. And I care about my garden a whole lot more than I used to.
You'd be a lot more inclined to accept the £100 offer, wouldn't you?
So, we'll make them that offer. Let's do it the same as the TRIPWIRE, and let's do it immediately after.
The Core Offer
Put them on a page, with their shopping cart open from the FREE + shipping offer, and pitch to them.
Give them two options, ACCEPT or LEAVE.
This is known as a 1 click upsell. The beauty of this is, you won't have to ask your lead for their payment details again.
Their online shopping cart is open, they'll simply click to order and be billed immediately.
The 1 Click Upsell doesn't have to be your premium £100 a month product either. In fact, it shouldn't be. Create a VALUE LADDER.
[quote type="rect"]<strong>EINSTEIN MARKETER MOMENT</strong> –A value ladder is a list of products/services that ascend in price. The further a customer travels up our value ladder (and into our conversion funnel), the more they pay. E.g. Step one- Free plus Shipping, Step two- A Gardening Tool Kit, Step Three- Our cheapest monthly service package.[/quote]
Offer them a bronze package. Our gardening service might pitch a deal for £30 per month, but with fewer benefits.
If they accept, we'll take them to the next step on our value ladder with the silver package.
[quote type="rect"]<strong>EINSTEIN MARKETER MOMENT</strong> –Your lead has already shared their contact information. If they don't accept an offer at any stage of our funnel, we can remarket to them via email and social media.[/quote]
And the conversion funnel continues.
And the funnel converts visitors into leads, and leads into customers.
You can applaud now. EinsteinMarketer deserves it.
Most businesses pay us thousands to receive a sales funnel service, and we've just handed you the winning formula on a shiny silver plate.
Now, you'll need to build one
Simply hire a designer to dress the funnel pages as you'd imagined. Then, of course, you'll have to do countless revisions with them to get it right.
Then, you'll need to find that all-important programmer to get the web pages functional. It might take four or five revisions, but I'm sure they'll perfect it eventually.
And once you've got the site ready, you'll need to perform split tests to decide what converts customers most effectively. This will only mean a month or six of back and forth with the designers.
And then, just like that, after only nine months and a wedge of cash, you'll have a mean looking EinsteinMarketer inspired conversion funnel, ready to convert.
Hang on, nine months?
Yes, we know you could gestate a human being in that time.
Got the need for speed?
Your competitors definitely have. And if they penetrate the market with a successful funnel first, your customers might have had their problem solved already, be heavily invested with a competitor, or already loyal to a rival.
No, if you're like us. You'll want that conversion funnel up and running ASAP.
Conversion Funnel Recommended Software: ClickFunnels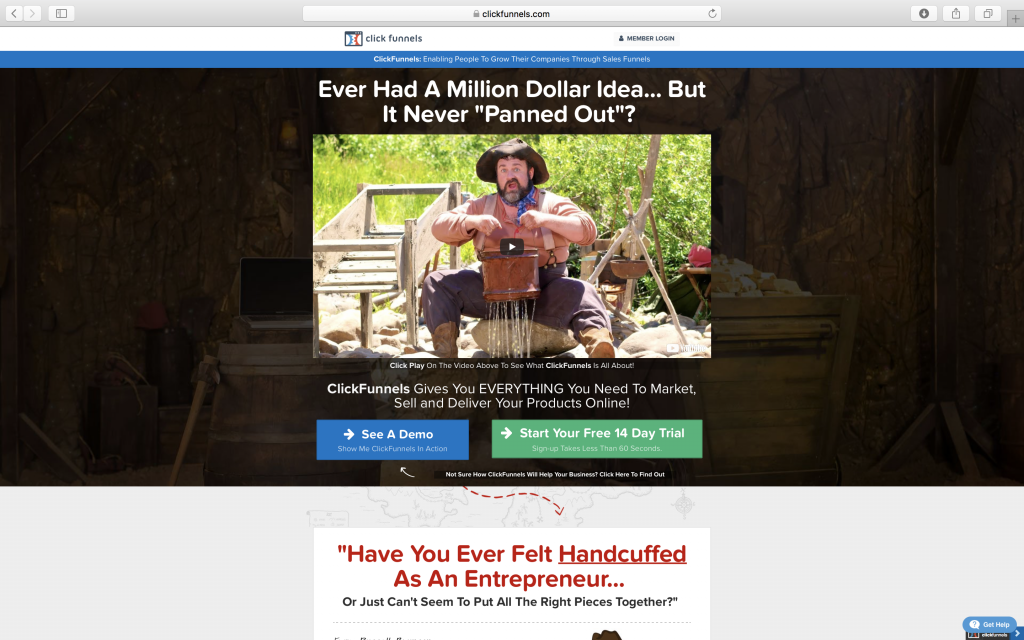 Einstein Marketer recommends ClickFunnels as the best Conversion Funnel software, but they're loads more out there.
And no, before we go any further, we don't own it, we aren't selling it. It's just awesome.
No design skills? It has templates for that. No programming skills? Drag and drop the page exactly as you want it.
Tailor your conversion funnel to suit your customer. Save yourself a pile of money and time. Use the service yourself and cut out the marketing middleman, who'll only use it for you.
They offer a free trial too. So what have you got to lose? Check them out HERE.
And with that, we're done. Need more information on suitable content? Or how to optimise your conversion funnels? Keep an eye on our BLOG HERE.
Maximise customer value. Use a conversion funnel.
Did you enjoy this blog? What do you think about Conversion Funnels? Leave a comment, or send us a message and we'll reply as soon as our Social Media Manager has arrived at work.