If you're reading this…
…we can assume you're generating traffic, creating valuable awareness around your business/products and developing a strong relationship with your customers.
Not yet? Don't get ahead of yourself. Check out our Ultimate Guide to Conversion Funnels HERE.
You are? Or at least heading in the right direction? Awesome.
Here's where you say, 'thank you Einstein Marketer, I couldn't have done it without your insightful Top of Funnel Guide.'
We'd bow, but we've done it so many times, for so many different clients, our Chiropractor has advised us against it. Repetitive strain of the spine apparently.
Let's skip the applause and figure out exactly why you're here.
Middle of Funnel Issues
Is your business suffering from one of the following problems?
-Low conversion of visitors into leads
-Great traffic but low customer acquisition
-High bounce rate
-An email list that won't grow
It is? Awesome, you're in the right place. Einstein will show you how to fix it. 
What is a Funnel?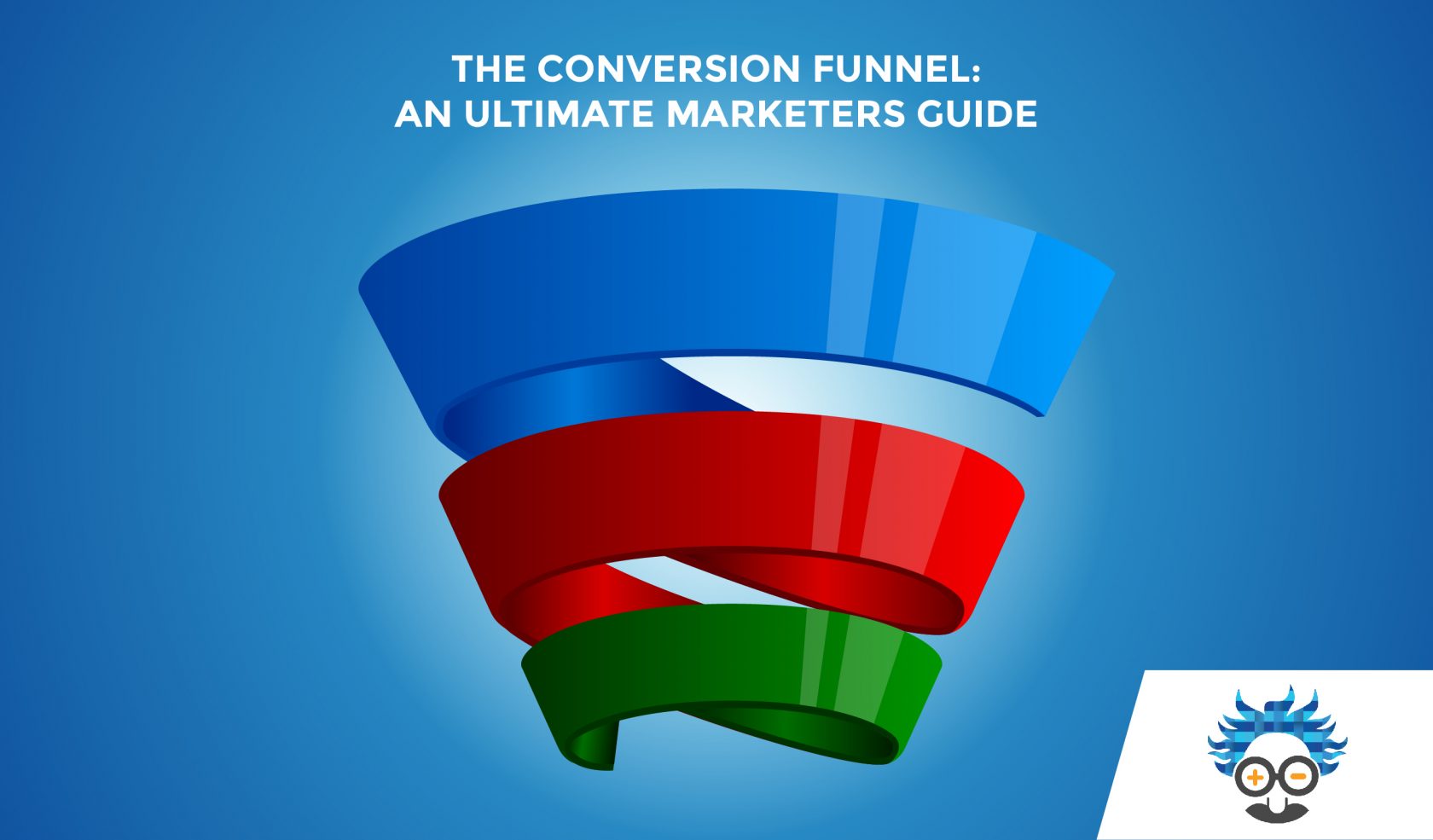 But EinsteinMarketer, I don't know what a funnel is? I've got a problem similar to those above, but I'm new to your conversion killing funnels.  
Don't panic. A funnel is a simple three step system that converts digital sales at a much greater rate than regular websites. Read more HERE.
If you've got great awareness around your business and strong traffic generation, your Top of Funnel must be slick and operational.
Your problem lies in either:
-Middle of Funnel
or
Let's take a deep dive into the Middle of Funnel, and we'll soon discover where your troubles are.
Middle of Funnel Goals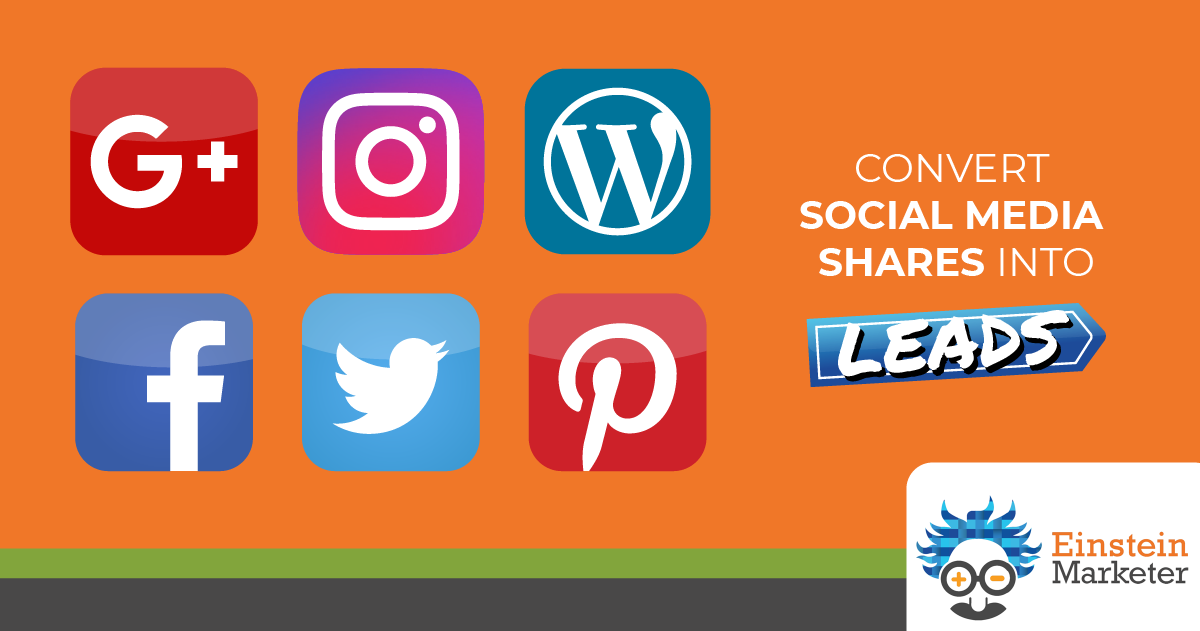 Our overall goal is to convert traffic into customers, but, as I'm sure you know, it's not as simple as it sounds.
Receiving high levels of traffic is amazing. You deserve a pat on the back. Take a moment, congratulate yourself and read on to find out how we'll make those numbers count.
How? EinsteinMarketer starts by making specific quantitative goals.
They should look a little like this-
-Increase email list/lead generation by x amount
-Increase levels of initial customer acquisition by x
-Grow retargeting lists to x by y
-Improve visitor stick rate to x
[quote type="rect"]<strong>EINSTEIN MARKETER MOMENT</strong> –Our Top of Funnel content has qualified our prospects as potential leads. Asking for contact information at this stage of the funnel will convert at a greater rate.[/quote]
Middle of Funnel Strategies
Your customer has come through the Top of Funnel. They love your content and are now aware of their problem and the solution you offer.
Congratulations, their trust has grown, they see you as an expert in the industry and they want to learn more.
It's at this point in our relationship, that we ask for something in exchange.
The Lead Magnet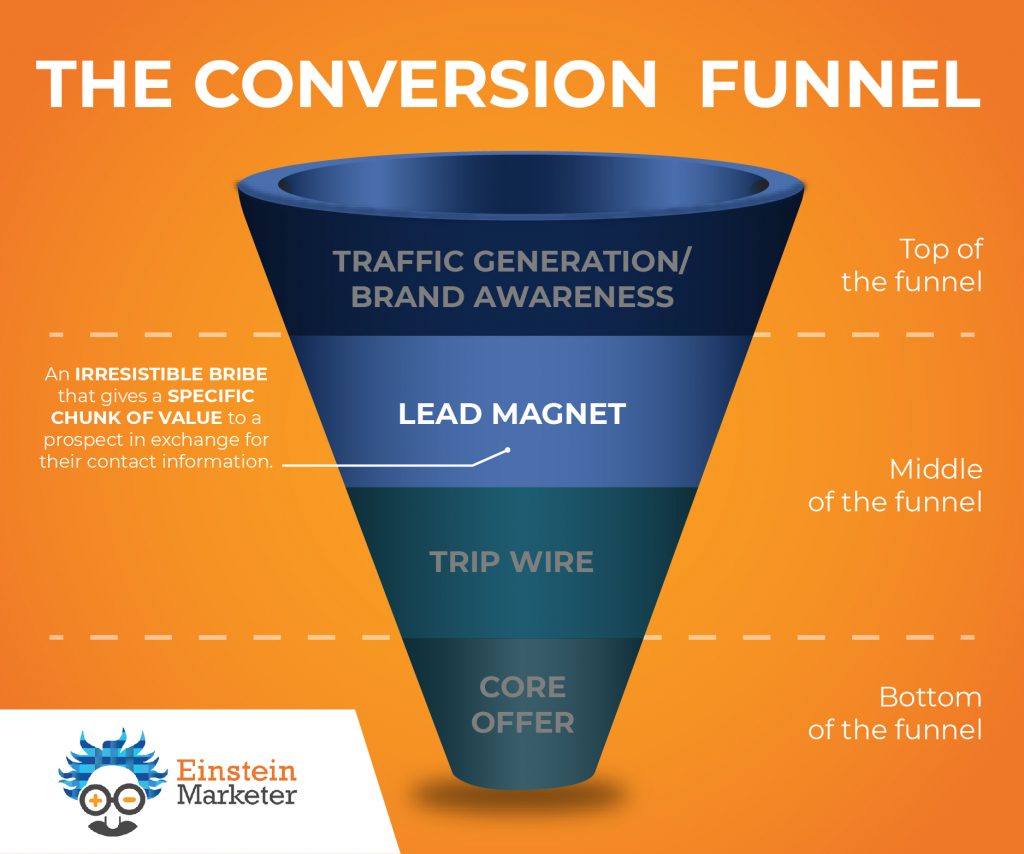 'An IRRESISTABLE BRIBE that gives a SPECIFIC CHUNK OF VALUE to a prospect in exchange for their CONTACT INFORMATION'
Sounds pretty nifty, doesn't it?
That's because it is. Nothing captures contact information like a powerful LEAD MAGNET.
Need an example?
Let's pretend we sell training courses for IT professionals. The prospect has read our blogs and seen our infographics, raising their awareness about the problems in the industry and qualifying themselves as having an interest in our solution.
We're going to make a video that demonstrates how to fix an IT problem common in the industry. An issue that takes high levels of skill to repair.
In order to watch that video, the prospect is going to have to enter their contact details.
The lead magnet page has only two options, accept our request (on this occasion, entering their name and email address) or leave.
This is called a SQUEEZE PAGE.
[quote type="rect"]<strong>EINSTEIN MARKETER MOMENT</strong> –Need help creating squeeze pages for your funnel? Use CLICKFUNNELS, a simple drag and drop software that converts visitors like nothing before.[/quote]
The prospect will enter their contact information, and guess what? We've just gained a new lead!
Need more help with Lead Magnet content? Click HERE.
The TRIPWIRE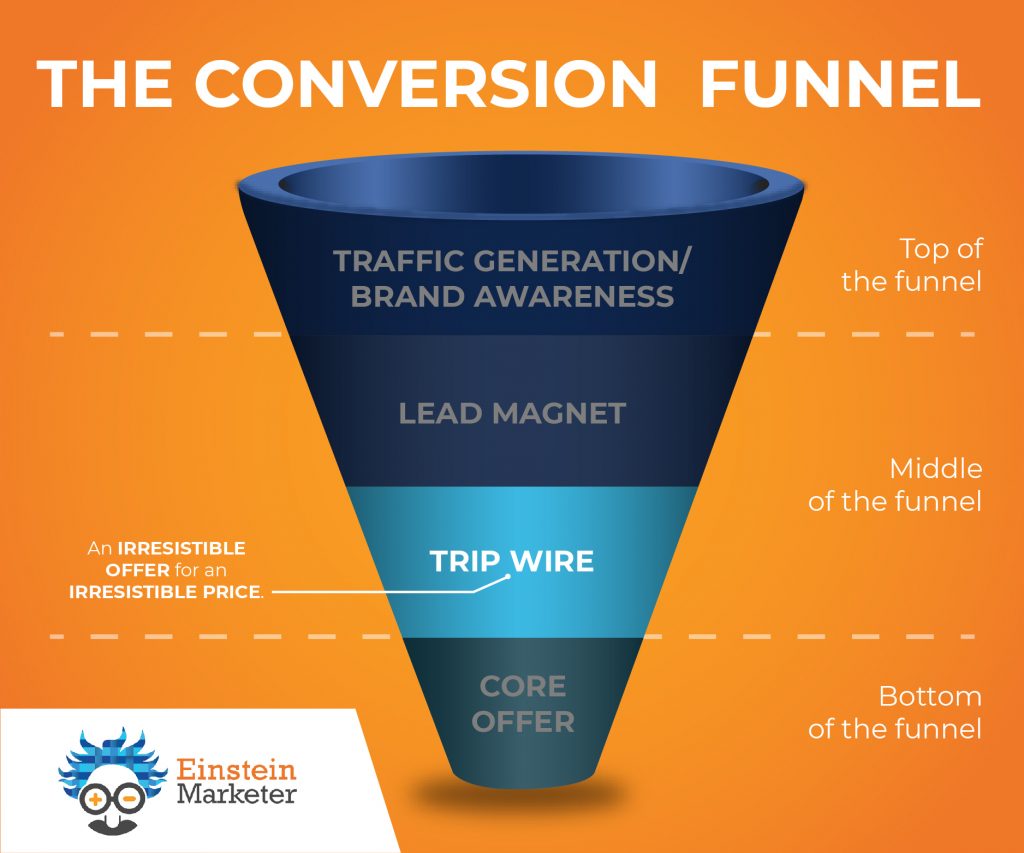 'An IRRESISTABLE OFFER for an IRRESISTABLE PRICE'
The visitor has been converted into a lead, great! Are we going to leave them to enjoy our value rich lead magnet and email them in a few days?
No. Whilst we have their full attention, and they've received our awesome FREE content, we're going to make them an unbelievable offer.
[quote type="rect"]<strong>EINSTEIN MARKETER MOMENT</strong> –Just because the prospect has entered their email information, it does not mean they are ready to spend big on our core product. A TRIPWIRE is the perfect way to warm them up for a bigger offer.[/quote]
This is called a TRIPWIRE.
Need some ideas?
-An e-book
-A free trial
-A FREE plus shipping deal
-Extended length videos
Still don't understand? Let's take a look at our IT Training Business.
The prospect has just become a lead, we're going to move them straight from the LEAD MAGENT squeeze page to our TRIPWIRE squeeze page.
Our IT Training business has a book that we usually sell at £14.99 plus shipping. It contains loads of actionable content for our leads. We already know they want to learn about IT solutions, so we're going to offer them the book at FREE plus shipping.
If they accept this offer, they will have spent money with the business (even if it only covers our costs), and will have been converted from a lead into a customer.
[quote type="rect"]<strong>EINSTEIN MARKETER MOMENT</strong> –A great TRIPWIRE creates more awareness about the prospects problem, is priced under £10- and seeds the need for your businesses core product.[/quote]
The TRIPWIRE offer will make us look like a totally awesome business and with the value of the content, the new customer is sure to return for more information.
Middle of Funnel Metrics
Are your lead magnets converting? Are your TRIPWIRES acquiring customers?
The metric measures below will tell you.
[quote type="rect"]<strong>EINSTEIN MARKETER MOMENT</strong> –Create split tests for your LEAD MAGNETS and TRIPWIRES. Compare scores and figure out what works. If you've got CLICKFUNNELS or an awesome web programmer, split test results could massively improve conversion rates.[/quote]
-Squeeze page conversion- use this simple formula– squeeze page visitors  number of opt in's, to get your conversion rate. Remember, we can always improve. Try different titles, copy and images/videos to increase your conversion.
-Number of leads- this one is pretty simple. Whatever email marketing system you use, you'll be able to keep a track on growth.  Try to analyse what's working and implement it again.
-New Customers growth- how many people accepted our TRIPWIRE offer? And why have we got those results? Did the OFFER complement our LEAD MAGNET? Was it priced too high? Was it VALUABLE ENOUGH?
Analyse the metrics to improve your conversion rates. When we know what works, we'll implement it across the board.
Middle of Funnel Conclusion
You've come on a long journey.
Einstein Marketer are impressed. The only way you'll improve your business is with passion, hard work and education.
Nobody knows this better than us. We aren't sharing all this killer information from a text book after all. We've learnt it from years in the industry.
And if you put our Middle of Funnel goals, strategies and measures into place, jiggle them around until they're perfect, you'll be well on your way to the same levels of success as some of our clients.
Not to mention the conversion of leads and new customers into core product buyers at the BOTTOM OF FUNNEL.
Josh is the Founder of We Imagine Media, an award-winning content marketer, best selling author and creator of the www.joshbarney.blog. He creates and strategises content, sharing the most successful tactics with his lovely audience. He hates writing in the third person, follow him on the social links so he can get back to writing as himself.