Imagine an ideal day creating content…
…you have a host of dazzling topics in mind, ideas are plentiful and the creation process is dreamy.
When you're finished, you have content that is primed for your audience and it fits perfectly into your strategy. It's been a good day, right?
This process (that most of you go through day-after-day) is proactive content marketing. You aren't waiting for something to happen. You're working on your own steam, making your ideas a reality.
It's a powerful process and it will undoubtedly take up almost 100% of your content strategy…
…but it doesn't have to. In fact, in today's world of content marketing, it shouldn't.
Let me introduce you to an old friend of mine who drives engagement and traffic, positions you as an expert and makes your brand relatable…
….reactive content marketing.
What is Reactive Marketing?
Reactive content works in the opposite way to proactive content marketing. Instead of formulating your own ideas, you react to breaking news, topics, trends (anything worth reacting to) and produce content around it.
These 'news, trends and topics' can be as small as a trending hashtag or as big as international news.
The reactive content can come in the form of a simple post on one of your brand's social media profiles, or a longer, more informed video or article.
It doesn't matter how you do it, as long as you're fast!
BTW: The faster you react, the greater the effects will be.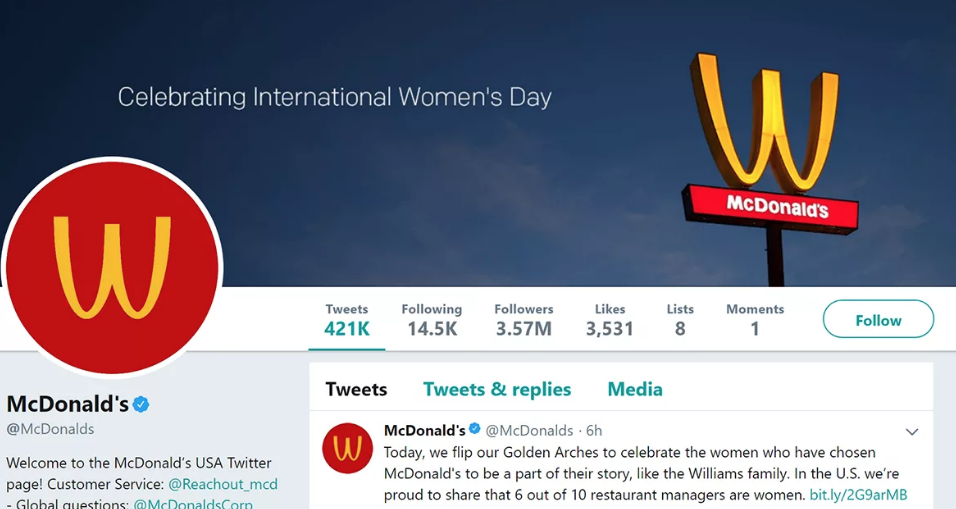 As well as being lightning-quick, you have to keep your audience in mind and focus on their desires. I often create articles that react to breaking news from within the world of marketing and social media.
(Don't worry I'll tell you how I do this very soon!)
For example, when Facebook announced that they'd be introducing paid memberships into their 'groups', I was one of the first to react with a detailed article about it…
…and that did a ton of really cool stuff for us.
Why You Should Use Reactive Content 
Let's take a closer look at that Facebook paid membership example.
I found the news on Facebook's official blog (when it broke) and immediately wrote an article and published it, before (nearly) everyone else had a chance to react.
We promoted the article on Facebook and it received tons of traffic, drove 5x more engagement than a regular post and positioned us as an expert (especially for people who saw us as the source of that knowledge).
That's pretty cool, right?
When you're able to break big industry news before everyone else, something else happens too..
…social shares.
Everybody wants to be the first to tell their peers. So, when you become the source of their ground-breaking find, they share the article and guess what? That creates greater reach, more of the sweet side-effects (mentioned above) and even more social shares!
Discover why people share on social with our guide to the Psychology of Social Sharing.
But reactive content marketing doesn't have to be like this. It can be much simpler than tearing through an article and publishing it before everyone else.
Think about the biggest (positive) thing in the news today or your most recent conversation. This can be about anything- the traffic, a TV show, the weather, a piece of music…
…as long as it's something that lots of people are talking about, you can use it.
Short on ideas? OK, it's time for an example.
Some of you might remember the Oscars last year, especially the massive mistake they made announcing the 'Best Picture'.
The awards announcer read out the winner as 'La La Land', but after the entire crew (of that movie) had made it onto the stage, he realised he'd made a mistake and had to correct his decision, announcing that in fact, 'Moonlight' had won the award.
This created a furore on social media with a ton of funny MEME's, conversations and the video going viral.
So, of all the world's brands, who do you think made this mistake into an award-winning piece of reactive content marketing?
That's right, Specsavers.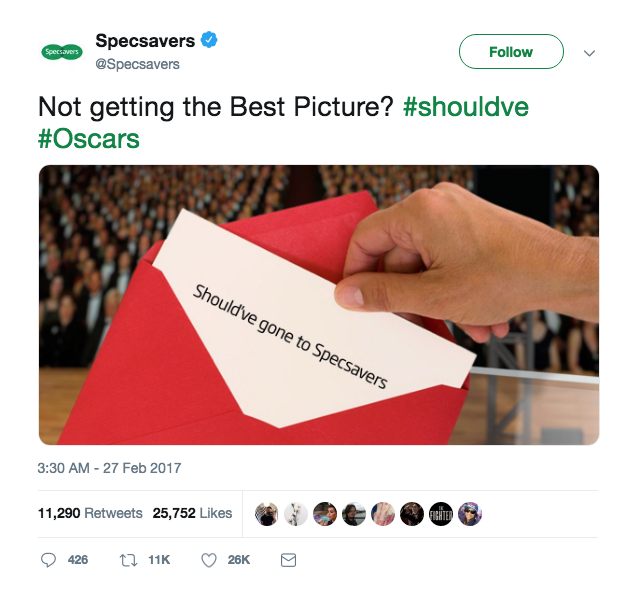 Check out the numbers on that Tweet: 25,752 Likes and 11,290 Retweets!
A simple post like that drove engagement, brand awareness, grew their following and made Specsavers relatable.
And they aren't the only ones doing it. It's almost impossible to scroll through the biggest brands social media profiles WITHOUT finding other examples of reactive content.
How To Implement Reactive Content Marketing
Reactive content marketing relies on three steps:
Listening
Finding an angle
Taking Immediate Action
Take the Specsavers post as an example:
They saw it was trending
They tied it into their brand message
They immediately posted it
Reactive content marketing might sound daunting, but in reality, it really is as simple as those three steps.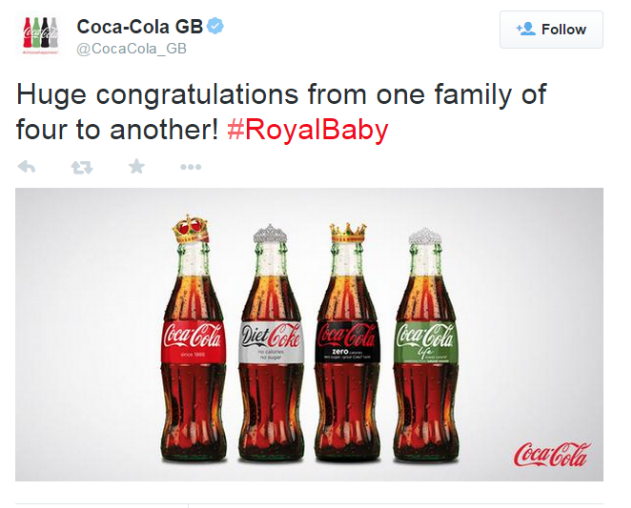 Unfortunately, I can't look into the future, guess the next big piece of breaking news and then tie it in with your brand message. (I'm good, but I'm not that good)
But, what I can do is guide you through each of these three steps, so when the time comes, you're all set to take the world of content and social by storm.
#1: Listening 
Listening is without doubt the most important step. When your listening is on point, everything else falls into place (after a little practice).
As a business owner, entrepreneur or marketer, it's crucial that you stay up-to-date with the latest news in your industry. This means following your market's decision makers and leaders, and checking on updates from them regularly.
For example, I would've never been able to break that post about Facebook's Paid Membership Groups if I wasn't checking Facebook's official blog every day. (I do this because a lot of our audience use Facebook for marketing)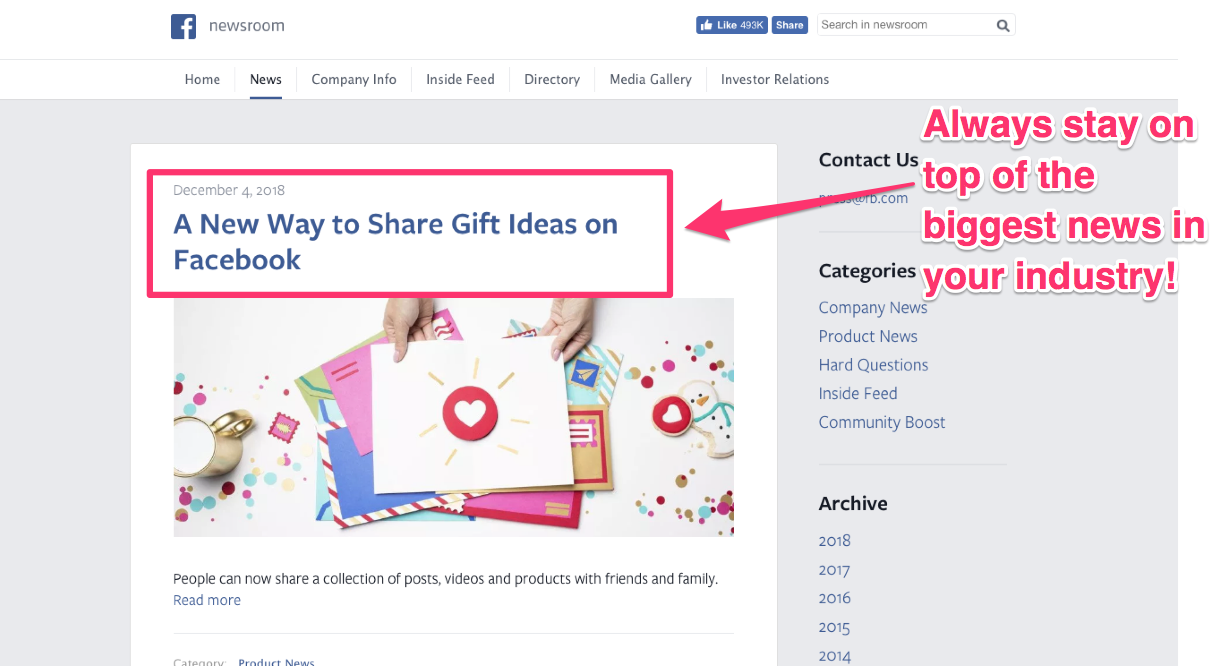 This might sound like a time-consuming commitment, but it only takes 30 seconds. All you have to do is skim through the headlines. If it's all a bunch of nothing, don't read it.
If you know who the biggest players in your industry are, check them out regularly. It'll be worth it at some point, I promise!
Another great place for listening is Social Media. There are numerous ways of utilising social to uncover killer topics for reactive content marketing, including:
Following industry influencers
Following the most followed accounts
Being a member of relevant groups
Tracking trending topics
For example, on Twitter's home screen there is always a list of trending Hashtags. This is a great place to see what people are talking about, find breaking news in your industry and what's more, they can even be tailored to your location and interests.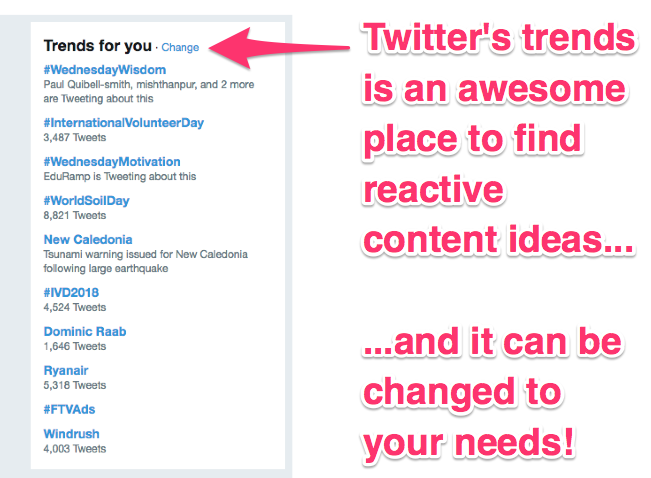 You should also keep a consistent eye on the Google Trends home screen. This awesome tool displays the popularity of certain keywords (on Google's search engine) and their homepage shows the hottest topics of the day.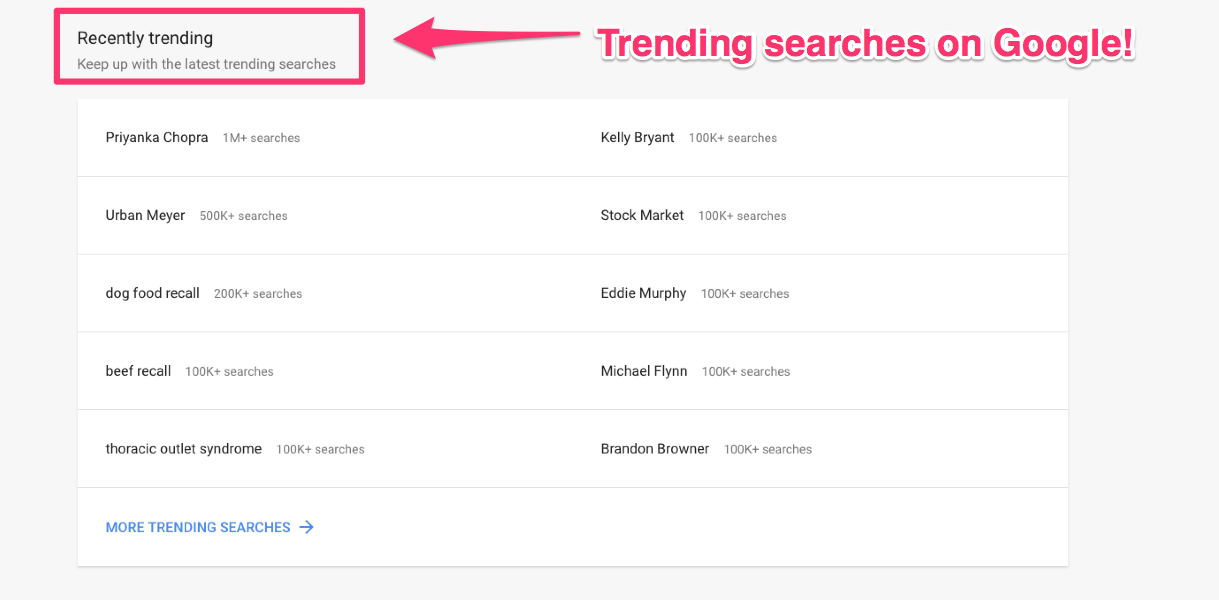 Before we move onto the next step of reactive content marketing, I need to remind you all of something incredibly obvious…
…DO NOT use topics, trends or news that are negative and will easily offend. This type of reactive content will destroy your brand. Be very careful when it comes to any news that isn't positive.
#2: Finding an Angle
When you've listened and found something worth reacting to, it's time to create an angle.
This step should slide into place, but…
….if you can't tie the topic, trend or news into your brand message, industry or products, DON'T USE IT.
Trying to manufacture or force an angle into your content is obvious and your audience will see straight through it. The content must fit.
Click To Tweet
Remember, you aren't creating content for yourself, you're creating it for everyone else. It's their opinion that matters, so make sure you are tailoring your reactive content for them!
#3: Taking Immediate Action
It really doesn't matter how amazing your next piece of proactive content is…
…if you're using a reactive content strategy, you must publish it as fast as possible.
Do not hesitate. Act immediately.
The great thing about using reactive content is that your proactive posts and articles can be moved back in your calendar, effectively bulking up your content bank.

Let's use this article as an example. This is a piece of proactive content. I can publish it any time in the next three months and it will have the same impact. So, if something happens on the day that this is scheduled to go live, I'll push it back…
…and publish a reactive piece of content in its place.
Take immediate action, otherwise your reactive content marketing strategy will fall flat.
Conclusion
It doesn't matter what industry you're in, if you use content marketing, you should implement reactive content marketing. It can propel your results way beyond a regular proactive post/article.
The biggest brands have been using reactive content on social for a while now, it's time you considered leaving gaps in your social posting schedule and followed their lead.
Trust me, the results will speak for themselves.
Have you tried reactive content marketing? What are your experiences?
Want to learn how to get ahead in content marketing? Check out our most popular articles: 
Josh is the Founder of We Imagine Media, an award-winning content marketer, best selling author and creator of the www.joshbarney.blog. He creates and strategises content, sharing the most successful tactics with his lovely audience. He hates writing in the third person, follow him on the social links so he can get back to writing as himself.