And I bet you thought it wasn't ever coming…
…that's right, after a short break and tons of requests, Storytelling Part 5 is finally upon us. 
I don't know about you but I'm excited, because today is the day we finally achieve our happy ending (stick around for an awesome treat at the end of this article too). 
Yep, by the end of this instalment, you're going to be Storytelling Kings; engaging readers, gaining social shares and building loyal audiences. 
My fingers are itching to get started, but first, we need to gently remind all those readers who've joined the party late, to get through the earlier episodes first…
…because the take-aways are worth so much more when they're tied together!
Here are the relevant links: 
Part 1, Part 2, Part 3, Part 4 
Cool…let's anoint ourselves Masters of the digital realm, Kings of Content, Storytelling Lords…
…whatever sounds best to you.
Story Placement Tips
So far, you know how to create every element of a killer story, you've got templates, strategies and a whole host of awesome tips, but, we haven't spoken about where to place these stories to get the most out of them.
This instalment is going to give you a ton of fresh ideas, alongside some awesome examples, and then, as a special treat, we're going to share YouTube's MOST WATCHED ADVERT OF 2017 (it's an amazing demonstration of all the elements of our storytelling series and definitely worth sticking around for!). 
But, before we get to the fun stuff, let's look at a few of Einstein Marketer's favourite storytelling techniques: 
Embedded Episodes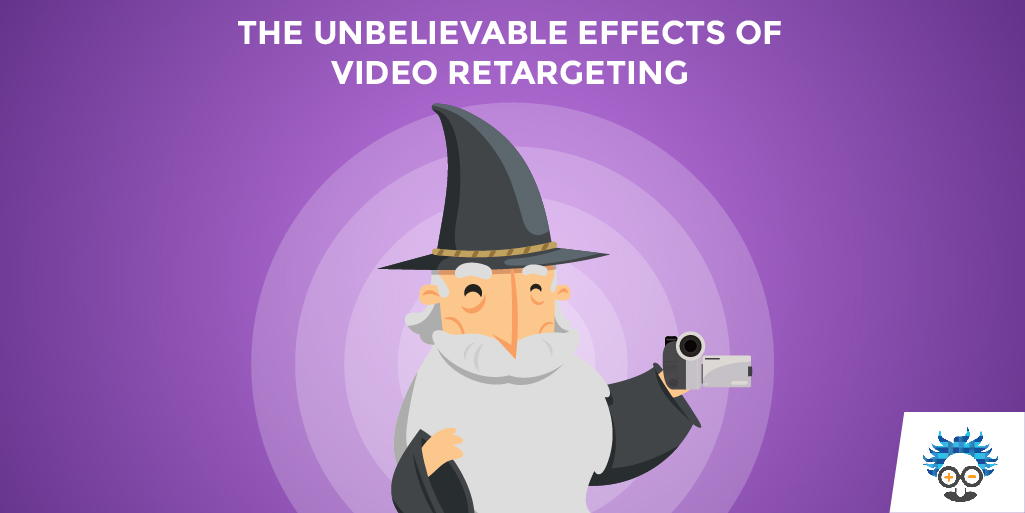 Have you ever tuned into a television show, just to watch a feature within it? 
I call these 'episodes within episodes', and if you're clever, you're able to do the same within your content. 
At Einstein Marketer, all our blogs finish with a sentence or two about what our Social Media Manager has been up to.
Here are a few examples: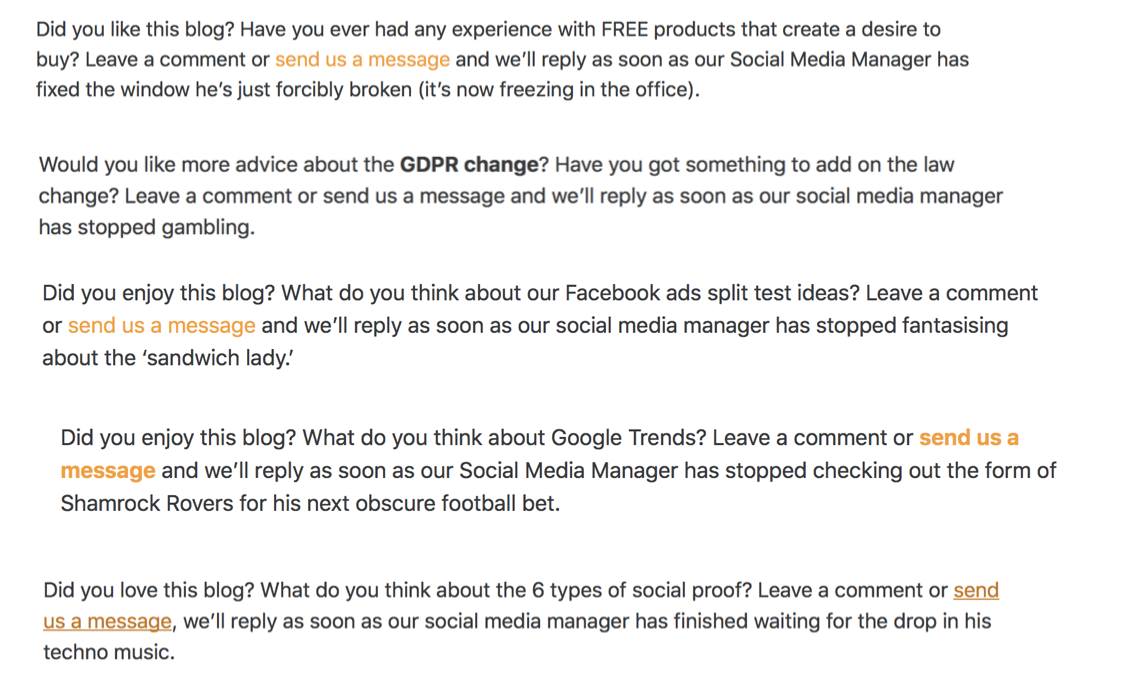 He sounds like an annoying guy, right? 
Well…
…he kind of is. 
And a large number of our audience check out our blog, purely to find out what he's been up to. 
I started running this feature when everyone in the office was waiting for him to finish a greasy pizza (he'd ordered at lunch) so we could double check something on a client's social media account…
…it was so hilariously irritating watching him trying to navigate the pizza, his greasy hands and a very expensive computer, that I just had to tell you guys about it. 
And, since then (due to popular demand) it's become a permanent fixture. 
If you are one of those many people who've messaged us asking 'who is your social media manager', I've got an added extra for you later…
…but, anyway back to embedded episodes. 
These 'episodes within episodes' act as a BONUS to readers. I've seen big results off the back of this, especially in PAGE VIEWS PER SESSION. 
In other words, people who have never seen this embedded episode, often go through all the other blogs to see if it's included in every post, and what happens in it.  
This is a stat that GOOGLE loves, and it's organically improving our search ranking. It also engages with our loyal audience, who are always sending us messages about it.  
And…this is all because we write ONE or TWO sentences at the end of every blog. 
My biggest tip for running Embedded Episodes, is to keep them below 10% of the content, otherwise you'll overshadow the importance of your topic. And to…
…pick something that humanises your brand and entertains your audience. Combine the two for a big win. 
Written, Video or Audio?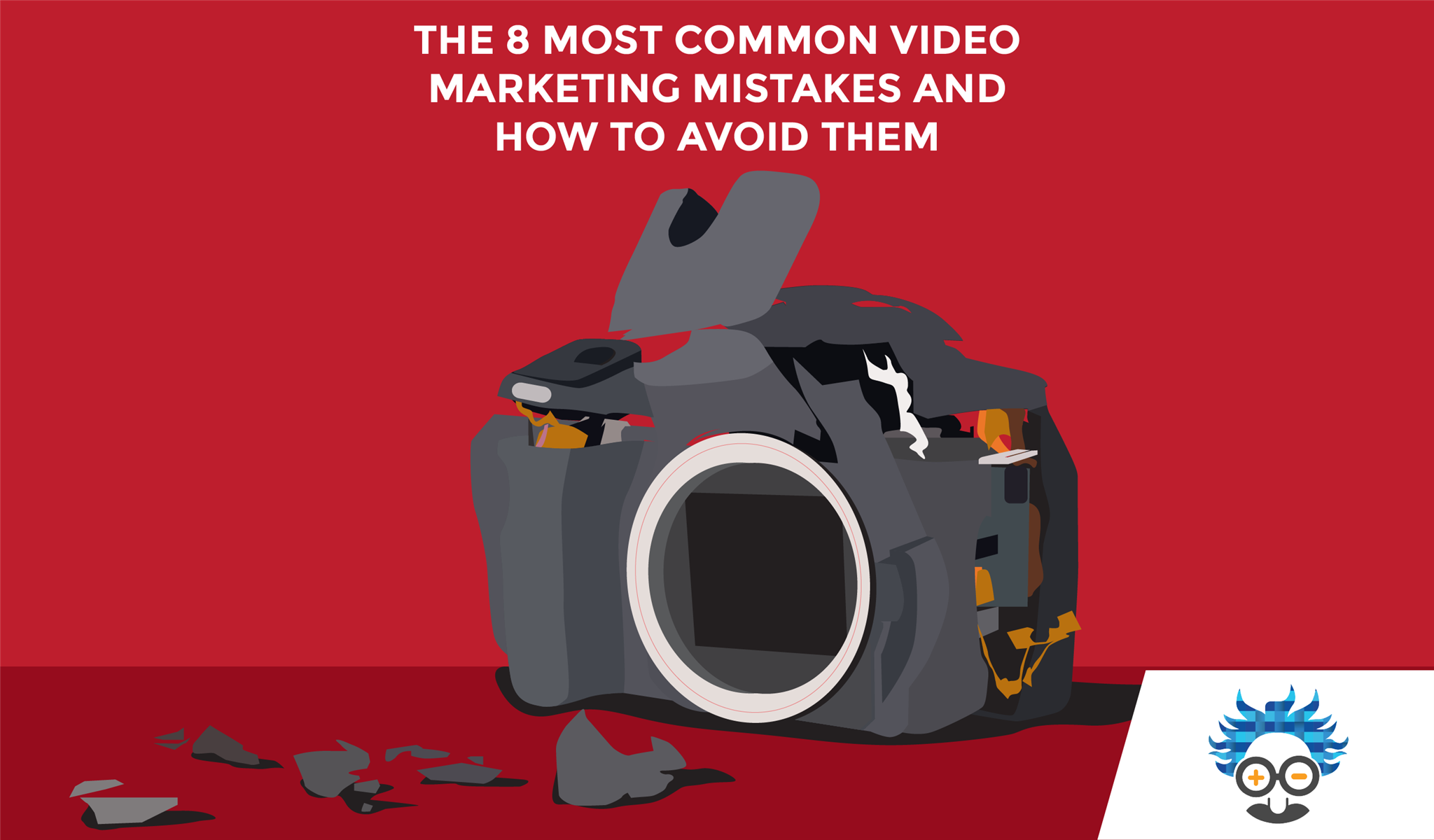 In the context of content marketing as a whole…
…you need all three. 
But, when we're talking about PLACEMENT, it all depends on your CONTENT DISTRIBUTION OUTPOSTS. 
Let's start with AUDIO. 
We record every single piece of content that's written, so we can appeal to a greater sized audience and post in places that only accept AUDIO. 
The best example of this is SoundCloud. The site and app receive over 250 million visits per month. This means our content reaches new audiences and increases our brand awareness. 

Now let's talk about the content marketing mammoth that is VIDEO.
We post all of our content stories on Facebook. This isn't anything new or special…
…EXCEPT Facebook show loads more people VIDEOS than links (to articles). 
This is because it entertains their users within their platform. 
Knowing this, we do two things…
…regularly post videos of events, tips and proven marketing tricks…
…and convert all our audio files (from blog recordings) into a video format with WAAVE. This software allows you to choose a static image, add an audio file and pick a sound bar to emphasise sound. 
This means we can hit much larger audiences, increasing our reach and content awareness. 
Here's an example of a WAAVE post we published yesterday: 

Yes, we did run this post as an AD, but the prices are so low for video views, that it's almost criminal not to. 
And finally, WRITTEN CONTENT. 
Whenever anyone in the team writes a piece of content that is valuable, exciting and chock-a-block with storytelling goodness, we publish it on Medium, StumbleUpon and Triberr. 
These sites allow you to publish an article just from a URL, meaning there's no extra work needed…
…and loads more people see it. 
Follow my new Medium account HERE to keep up to date!
Social Media Stories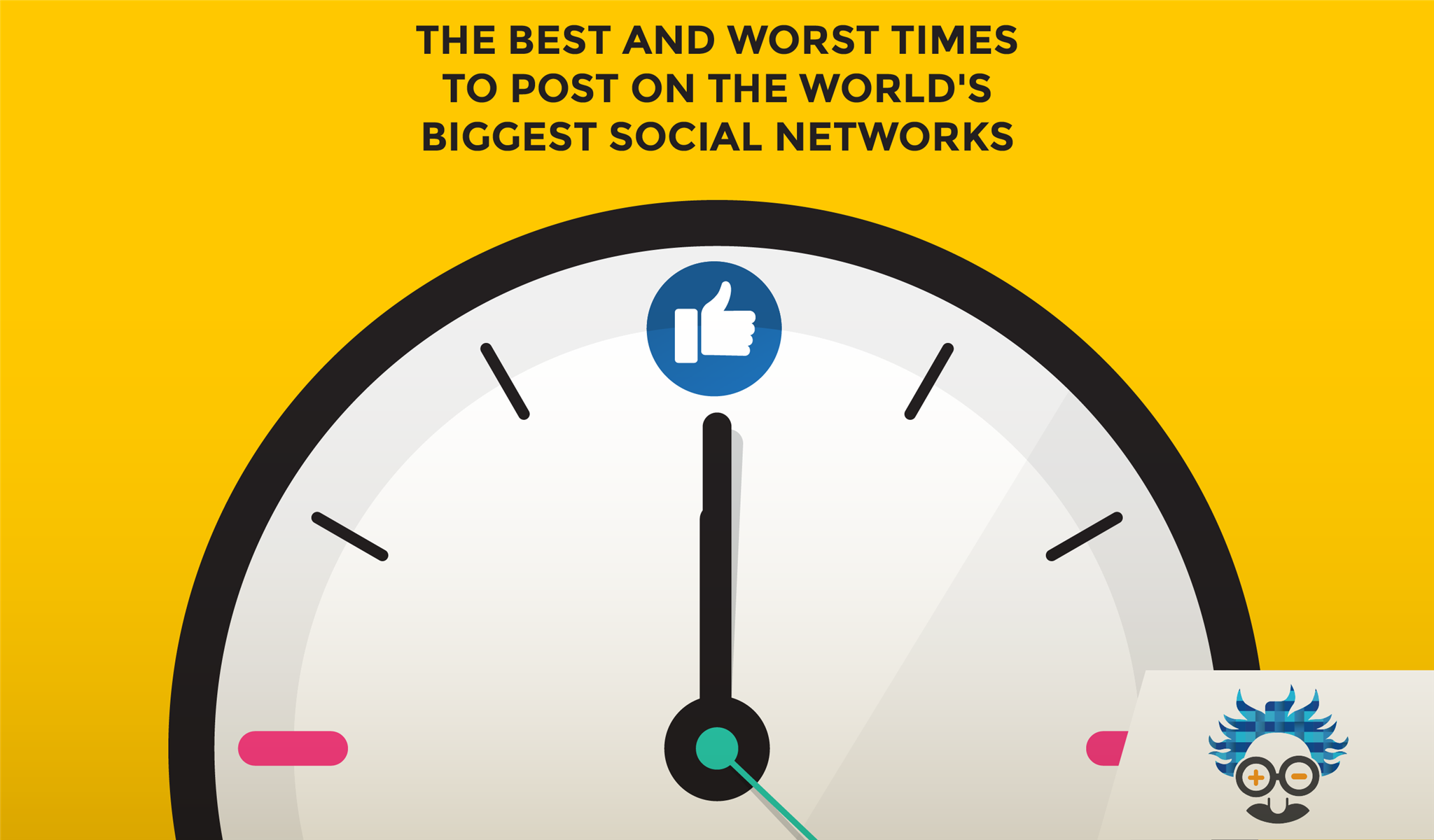 Instagram and Facebook both have STORY features on their platforms.
These come in the form of a series of photo and video uploads and are widely viewed by audiences. 
Although we can't gain any social proof via these stories, (in likes, shares or comments), they are just TOO POPULAR and CLICKABLE to ignore. 
It's widely believed that posting loads of content on Facebook and Instagram will result in more followers…
…but, it can mean quite the opposite. 
Many users don't like having their feeds clogged with business posts and shares…
…so, they UNFOLLOW. 
Einstein Marketer suggests that instead of posting all that hard-earned content on your profile, use it to CREATE INSTAGRAM/FACEBOOK STORIES!
And then drip feed your story content onto your profiles over time. 
This recycles valuable content, allows you to benefit from all the bonuses a STORY creates and gains your content twice the exposure…
…pretty cool trick, right? 
Conversion Time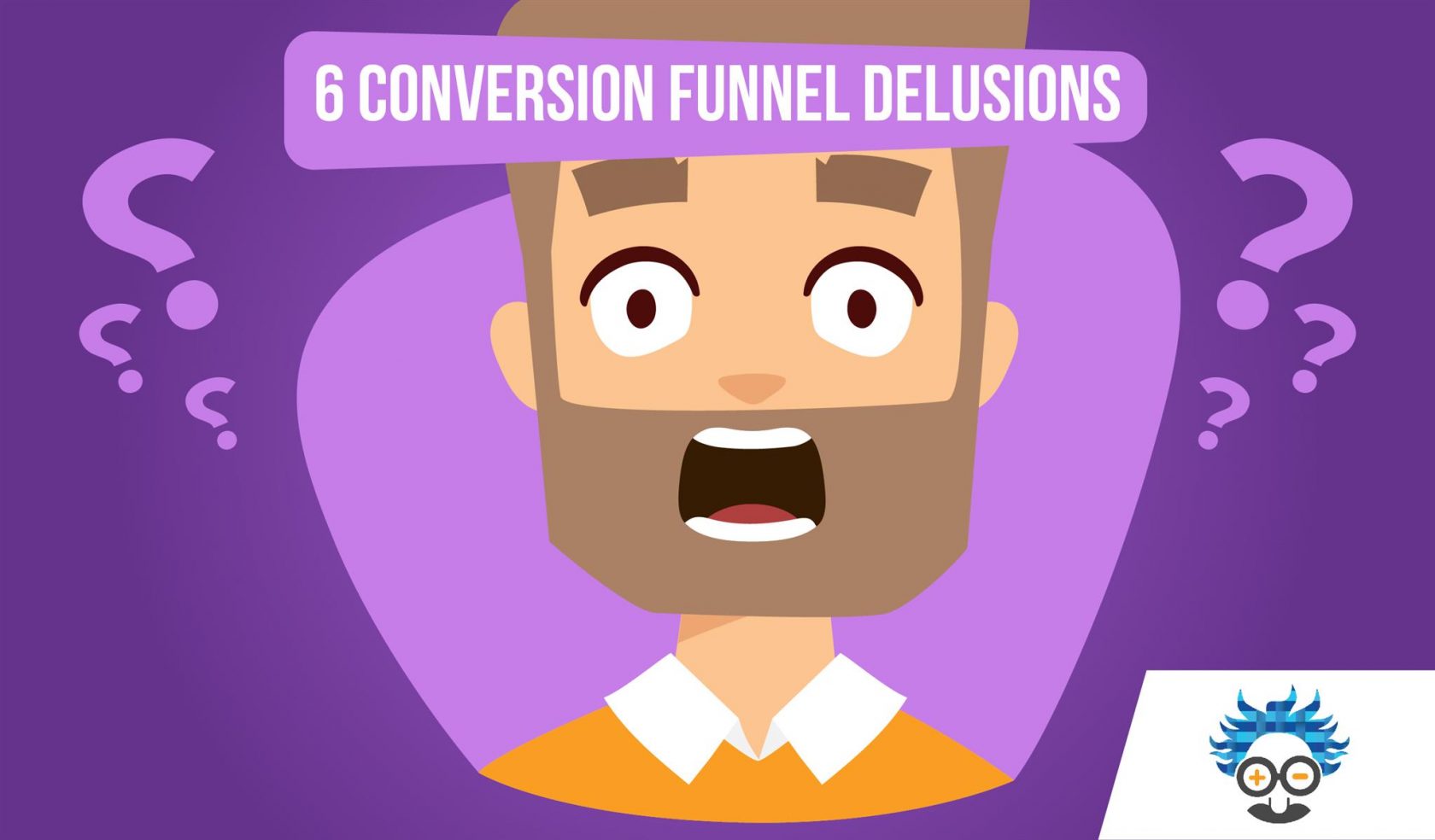 Right at the bottom of your funnel, when your potential customers are considering purchasing a product, signing up for subscription or dilly-dallying over comparisons…
…it's time to tell a story. 
 But, this isn't going to be your story. It's going to be a customer's. 
Customer stories work because they relate to your target audience and increase your business's trustworthiness. 
If a prospect can see that your solution has solved a problem for somebody who was in the same position as them…
…they'll bite your hand off for it. 
But, how do you get these customer stories? 
Sheer luck? Threats? Kidnap? 
There's no need for any of that. JUST ASK. 
Follow up with previous customers, asking for a review or story of their journey with your product. Those that are really satisfied will respond. If that fails, offer them an incentive, like a discount on future purchases. 
These content stories are super valuable and definitely worth a cut in your profit margins here or there!
AirBnb have used this exact type of content to rapidly grow their community: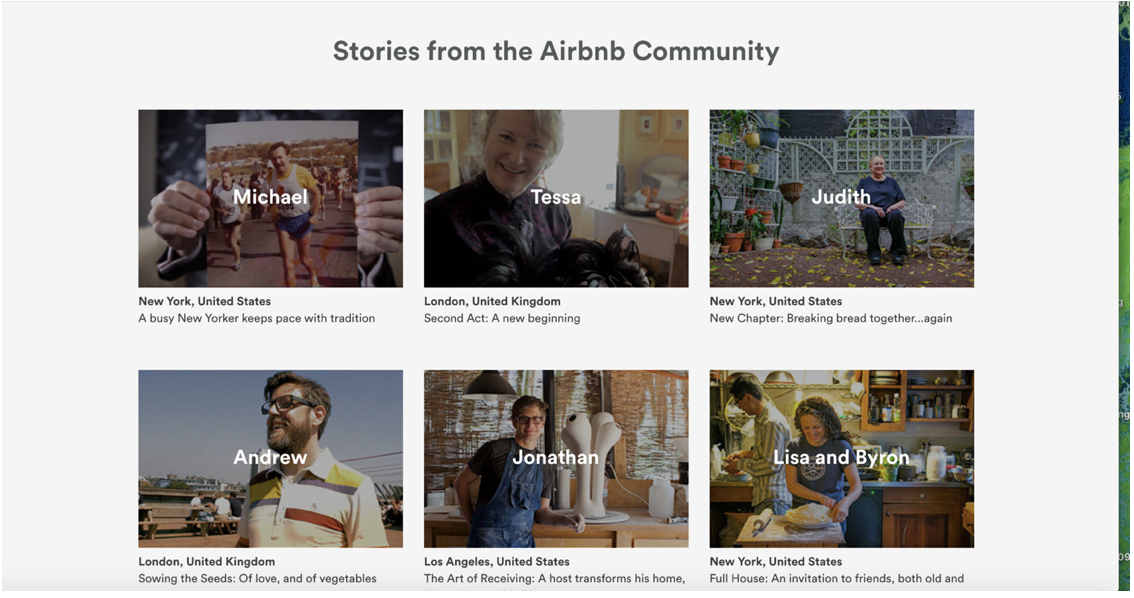 Series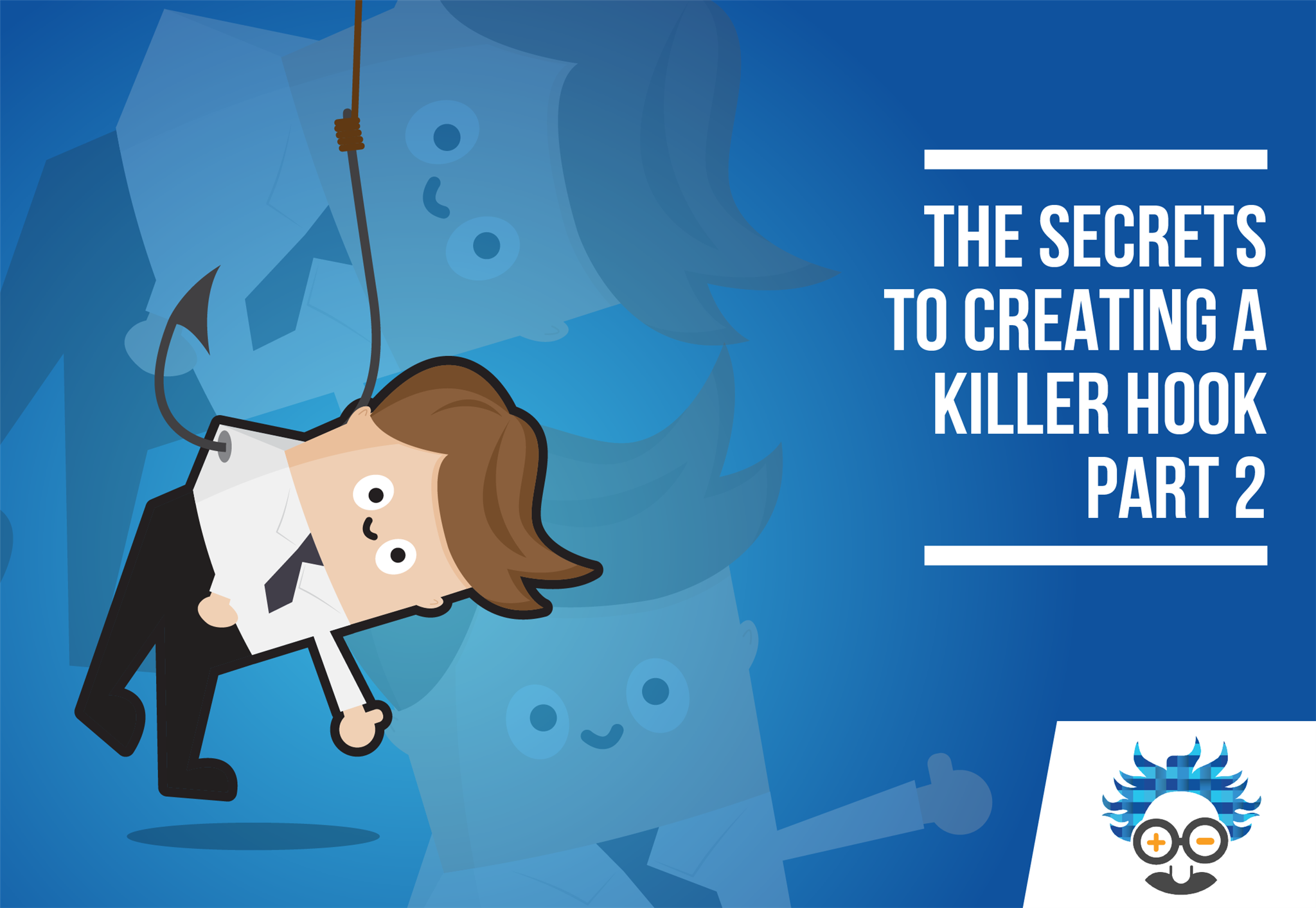 I've already covered Serialised stories in a previous instalment of Storytelling for Marketers…
…but I didn't speak about placement. 
(I won't go into the tactics or strategies here because most of you have already read them!)
Breaking stories into separate blocks (usually 3), draws audiences back for more on a consistent basis. 
When we're faced with unanswered questions, unfinished articles and open loops, our monkey-brains become DESPERATE for closure…
…so, whenever you've got tons of insights and tips on one particular topic, spread it into separate posts…
…this will increase read rates and return visits. 
I'd suggest doing this in podcasts, blogs, social media posts and vlogs. 
Remember, it's crucial to close every LOOP that you OPEN, and only create a series if it's worthwhile! Audiences will never return to your site if they feel unsatisfied. 
Storytelling for Marketers: Your Happy Ending and BONUSES
Because you've been so diligent: returning, reading and taking on board 5 different instalments of storytelling for marketers…
…we've got a couple of bonus extras (on top of all this content marketing super-juice). 
Let's start with fans of our Social Media Manager. There won't be a mention of his antics today…
…not because he hasn't done anything strange or annoying, but because we've got a special, hush-hush (he doesn't know about it) Social Media Manager edition in this post…
…visit our ChatBot and type KYLE. You can do this by clicking HERE. I hope you enjoy this as much as we did putting it together. 
And for all the other story lovers out there, we've got the most watched advert on YouTube in 2017. 
It comes from the mighty content marketing power of Samsung and their story of a broken TV.
It might be in a foreign language (it's subtitled anyway), but trust us, you really should watch to the end:
And that's it! Thanks for all the love over the course of these five posts! Stay tuned to the blog. Either me or the team will be back with loads more insightful marketing strategies and news soon! 
Did you enjoy the final edition of our storytelling series? Leave a comment or send us a message and we'll reply ASAP. 
RELATED POSTS-
Josh is the Founder of We Imagine Media, an award-winning content marketer, best selling author and creator of the www.joshbarney.blog. He creates and strategises content, sharing the most successful tactics with his lovely audience. He hates writing in the third person, follow him on the social links so he can get back to writing as himself.