Give your eyes a break, listen to the audio version:
Today, we're going to let you in on a secret…
It's literally Einstein Marketer's favourite tool. And for good reason.
This FREE website can do things you never thought possible, and trust us…
…when you visit this site for the first time, you won't be able to leave.
It's THAT GOOD.
Right click this link to SIMILARWEB, open it in a new browser or tab, and keep reading. We'll explain exactly how you can make the most out of it.
What Makes SimilarWeb So Awesome?
Whenever we get a new client, we run a SimilarWeb analysis, but…
…we use it in a way you might not have ever considered.
If you use this website the way Einstein Marketer's going to explain, you can 10x your traffic scores.
SimilarWeb runs web traffic analysis. It tells us a ton of stats and facts about every URL in existence.
This doesn't mean we should get over there and check our scores, although this data is fairly useful for optimising our best performing entry points.
It means we can search for our COMPETITORS DATA.
When we know exactly what they're doing, we can use it.
Pablo Picasso once said, 'Good artists copy, great artists steal.'
We don't want good. We demand GREAT.
SimilarWeb gives us the opportunity to steal ideas and optimise them.
Still with us? Let Einstein explain.
SimilarWeb: The Stats You Need

Once you've made a search for a competitor, or BIG PLAYER in your industry, you'll be presented with a whole host of KILLER data.
Einstein Marketer's going to show you how to use it:
Referrals 

The first massively valuable slice of data you'll come across is referrals.
EINSTEIN MARKETER MOMENT –A referral is a visit to a website from an external source, usually via a hyperlink.
But, why should we care what websites our competitors are getting traffic from?
Because they're aiming for the SAME TARGET MARKET as us!
If they're getting referrals, we can see where our target market is congregating.
Research the top performing referral sites for your competitors. What are they doing to gain the referrals? How much of their traffic comes from these sites? Why do they have a presence on external sources?
When we can answer these three questions, we can HIJACK their traffic.
They've probably put hours into finding these referral sources. You've just found it in one SimilarWeb search. Use it to your advantage. Create a presence on that referral site and steal their traffic.
Search

SEO is slow and boring, and not a strategy that should be at the forefront of your plans, but…
…CONTENT MARKETING is a must in 2018.
Continually posting high quality content will naturally ELEVATE you to a high rank on search engines.
That's what your competitors are doing to gain organic traffic, and it's something you should be doing already.
When we're at SimilarWeb's search stats we will see two opposing sets of data: ORGANIC and PAID.
Are your competitors receiving more for Organic or Paid? Why?
If ORGANIC is the answer, look at their top 5 KEYWORDS. These are the most successful entry points for your competitors on SEARCH ENGINES.
Now that we know what our target market are searching for, we can product valuable content that focusses on them.
EINSTEIN MARKETER MOMENT
–
If your website uses WORDPRESS, get the YOAST PLUGIN, use it to create focus keywords for your content and follow its steps to optimise your content for search.
If your competitors are KILLING it on PAID TRAFFIC, use those keywords to produce content (the same as ORGANIC). And consider paying for the same (or very similar) keywords yourself.
Social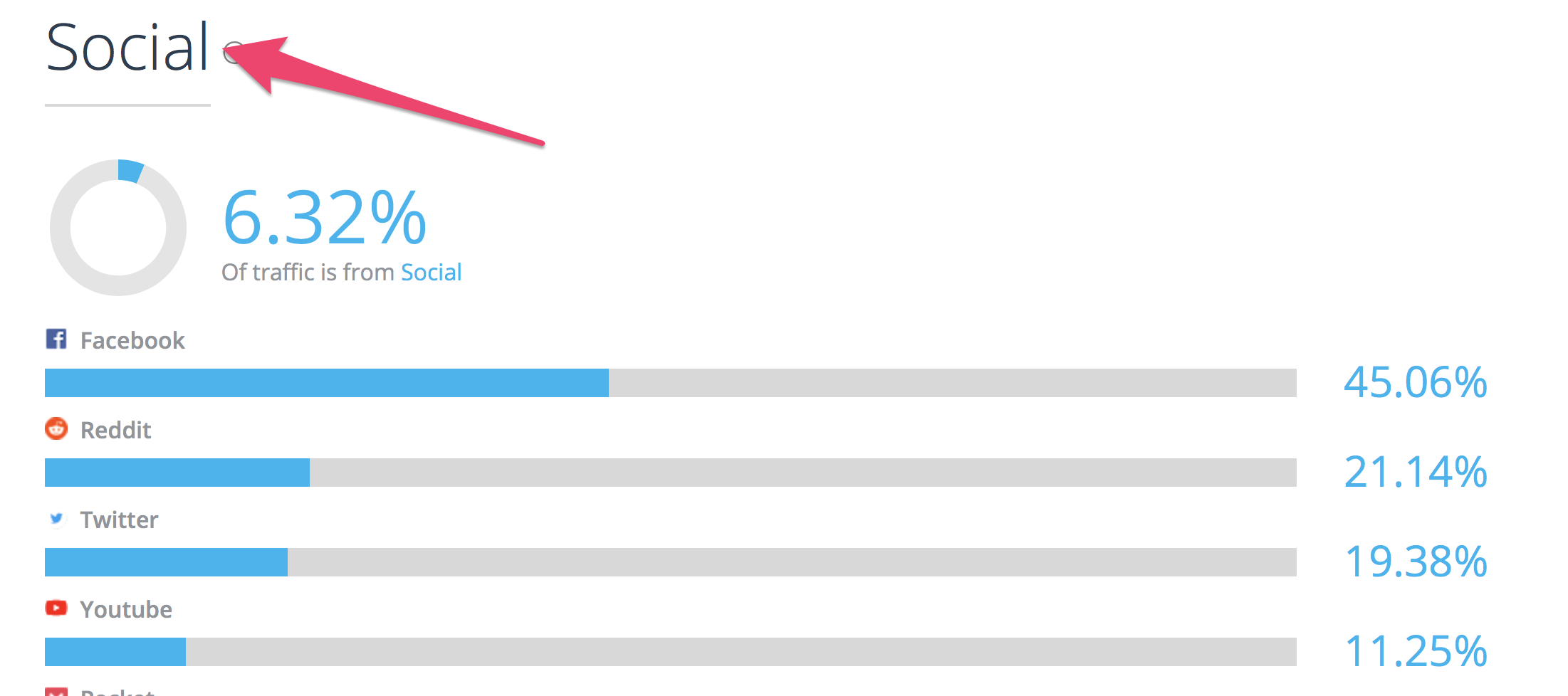 Are your competitors/big industry players receiving traffic from the same networks as you? Where are the bulk of their visitors coming from? What are they using that you aren't?
Social Media is crucial to any digital marketing strategy.
By analysing your competitor's data you'll discover which networks your target market congregate on.
This is MASSIVE.
When you know where they are, visit your competitors' profiles. Look at their posts, content, headlines and try to find out if they are running ads.
If they are, you should too.
Facebook is the number 1 platform for PAID TRAFFIC. Discover Einstein Marketer's step by step guide to creating a Facebook Business Manager Account, and then Optimise it with our Must Have Tool Post, and our 3 Big Questions BLOG.
Display Advertising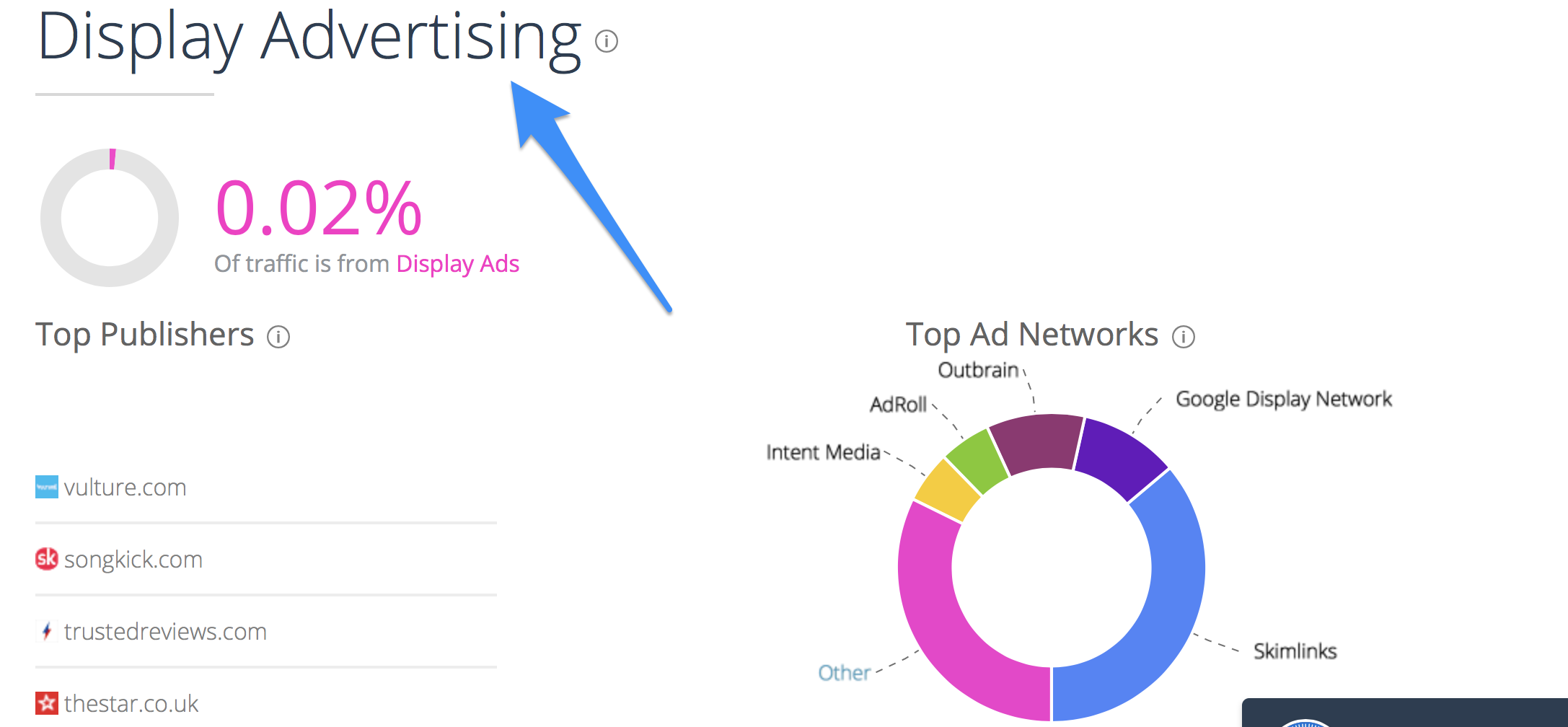 This is where SimilarWeb really comes into its own.
If you were to search for sites that host your competitor's ads, you'd be lucky to find 5 in a solid month of internet scrolling.
SimilarWeb does it in 2 seconds.
Why is this useful?
Using this data, we can find the most successful places for ads, and place ads there ourselves!
And…
…we can use the ad designs they've spent hours perfecting and testing and STEAL (not COPY) their ideas with our own branding!
If it works for your target market, who are you to argue?
Audience Interests

Yes, we know it's a lot to take in, Einstein Marketer's almost finished, PROMISE.
We should already have a solid understanding of our target market's interests from our CUSTOMER AVATAR…
…but, maybe there's something you've missed, or hadn't thought about.
If that's the case, SimilarWeb's Audience Interests will provide you with ideas for your next piece of content, or paid traffic campaign.
Competitors

 Our final piece of advice comes under Competitors.
Discovering what our competitors biggest competition is, will give us so much more valuable data for all of the above!
It means you're lucky enough to go back through every point we've just mentioned with different websites.
Yes, it can take a little time, but if you AGGREGATE the data, your results will be so much more valuable.
Einstein Marketer suggest going through all of these COMPETITORS and searching for the REALLY BIG hitters in your industry.
You'll have tons of different strategies and tactics by the time you're finished.
SimilarWeb: The Free Tool Nuclear Bomb
Now, you know all of our biggest tips for this website, you probably won't be able to take your eyes off it for the next week.
The good thing is, it's time well spent.
SimilarWeb is applicable to any industry and doesn't just work for businesses. It can be primed for just about any website.
Using this tool as we've described can easily 10x your traffic, if not more!
Get over there and refer back to this blog for our awesome SimilarWeb strategies.
What do you think of SimilarWeb? Have you heard of it before? Leave a comment, or send us a message, and we'll reply as soon as our Social Media Manager has figured out how to use Instagram.
Related Links:
The 3 Big Questions You Need to Answer
Josh is an award winning content marketer and the Director of Content at Einstein Marketer, previously working as a content manager, freelance copywriter and marketer. He writes, edits, proofs and strategises content for Einstein Marketer's agency and their clients, sharing the most successful tactics and strategies with his lovely audience. He hates writing in the third person, follow him on the social links (above) so he can get back to writing as himself.