In the history of marketing, there has never been a more cost-effective time to increase awareness, build a brand and make conversions direct from advertising…
…this is all thanks to the power (and fruitfulness) of Facebook advertising.
Facebook's Q1 report (2020) tells us that there are currently 2.6 Billion monthly active users, regularly scrolling through their newsfeeds, waiting for something to grab their attention.
This MASSIVE, engaged audience has not gone unnoticed, with over $17.4 Billion spent on Facebook advertising in the latest quarter (yes, I did say $17.4 Billion in three months!).
These enormous numbers are all well and good, but what can we learn from them?
Advertisers spend approximately $6.69 per Facebook user
But more importantly…
It must work
If Facebook advertising didn't work, advertisers wouldn't spend so much of their hard-earned money on it…
…and it's not just the digital-age giants who can make the most from the platform.
Gone are the days of having to spend serious £££ to run a national or international advertising campaign.
An effective Facebook advertising campaign can be set up for as little as $5 a day!
Facebook Campaign Objectives
That was a lot of numbers. Let's get this guide moving with a few meaningful words:
You'll only gain amazing results from your #Facebook Ad campaigns, if you know how to use Facebook Campaign Objectives. #marketing #facebookads
Click To Tweet
Read that again.
Don't worry, you're in the right place to learn. As an agency, Einstein Marketer currently spends £250k+ per month on Facebook advertising.
If you've tried Facebook advertising and couldn't make a return, stick around.
If you're just getting started, don't go anywhere.
If you want to level-up, this is the place to be.
In this ultimate guide to Facebook campaign objectives, all 11 of the objectives will be broken down with clear explanations on what they are, how and when to use them and as always, a bucket-load of examples.
Excited?
Let's learn how your ads can make a return
Facebook Campaign Objectives: Awareness
The awareness category is specifically used for top-of-funnel marketing campaigns.
#1: Brand Awareness

What is it?
This Facebook ad campaign objective is pretty easy to explain, it's used to increase a targeted audience's knowledge of your brand.
#Brandawareness will aid your brand lift and your audience's recall of your #business when they're interested in something in your industry
Click To Tweet
Whilst this objective might sound amazing, it probably isn't suited to you. In fact, using this ad objective is one of the biggest rookie mistakes we see! (More on this in a minute)
Even if your advertising objective is Brand Awareness, it's more than likely that this is not the objective for you. (Don't worry, there are 10 other Facebook campaign objectives!)
Brand awareness will make more people aware of your brand, but it won't increase click-throughs, purchases, opt-ins or engagement.
When Should It Be Used?
Even if you're working in an amazing start-up or small/medium business and really want to increase your brand awareness, DO NOT select this option.
It's a great way to build an audience, but not nearly as effective as some of the other campaign objectives we'll cover (later on).
This ad objective works best when used by HUGE businesses who want to prompt users to reengage with their brand.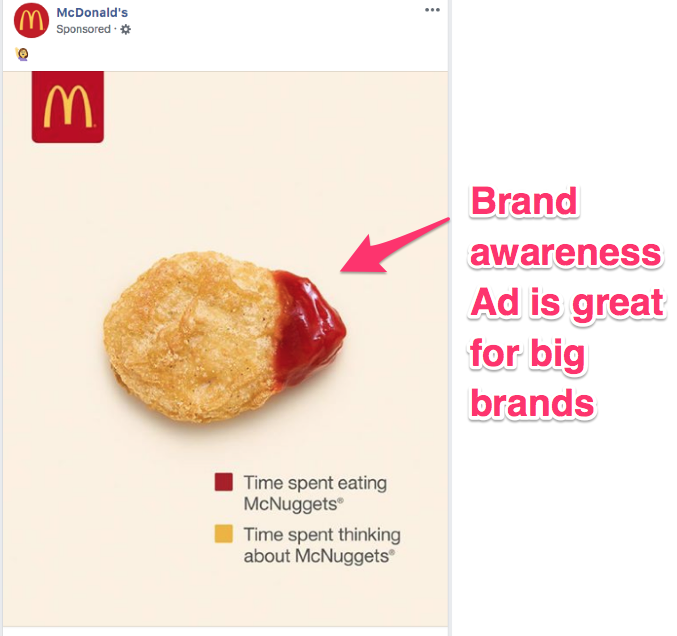 It works by showing a generic brand ad to a targeted audience (selected by you) and then repeatedly showing this branded ad to anybody who engages with the post.
This works wonders for big businesses who want to stick in the mind of their target audience, but, unless you've got a mega budget, this Facebook ad campaign objective is nothing more than a luxury.
Big brands like McDonalds, Nike and Coca-Cola use this type of ad. Unless you work in a business with a marketing budget of that size, leave the Brand Awareness option alone.
Ideal For
Big brands with large budgets, trying to dominate their industry
Ad Formats
Image
Video
Carousel
Slideshow
#2: Reach

What is it?
The reach objective is an interesting one. As has been well documented, Facebook collect data from their users, especially when they interact with an ad.
So, when you pick an objective like Engagement, Facebook targets people within your target audience who have a have history of engaging (liking, sharing or commenting).
Facebook's ad manager does this for all their objectives, except Reach.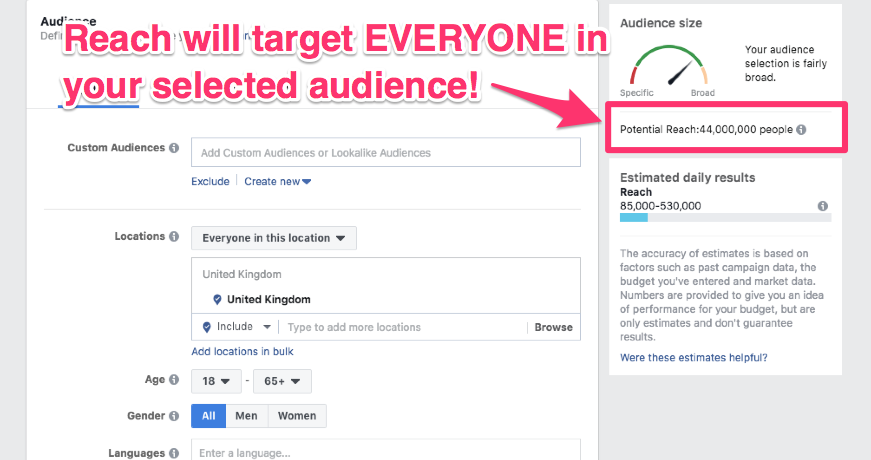 This Facebook ad campaign objective targets EVERYBODY within your target market, regardless of whether they engage, click, purchase, register – there are no restrictions.
The Reach objective is great if you want to get the maximum amount of impressions, for the lowest price.
It's important to remember that regardless of how amazing your ad is, some people NEVER spend more than a second of their attention on anything that looks like an ad. A reach objective campaign will show your ad to these people anyway.
When Should It Be Used?
Reach is a great objective when you'd like to increase your brand awareness within a small, ultra-specific audience.
This Facebook ad campaign objective will not reduce your audience's size dependent on their historic actions, making it great for niche industries and localised businesses.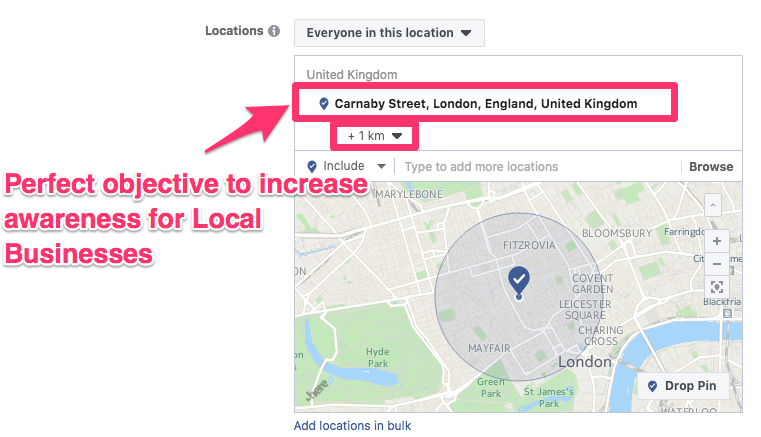 If you're involved in a local or brick and mortar business and would like everybody within your area to see an advert for your business, Reach is the objective for you.
It guarantees more views than a local paper or radio ad, it's cheaper and you can track its progress (more accurately).
Use Reach to increase awareness within ultra-specific audiences, not for anything else!
Ideal For
Local businesses trying to increase brand awareness in their geographical area
Ad Formats
Image
Video
Carousel
Slideshow
Facebook Campaign Objectives: Consideration
The 'Consideration' category drives a desired action from your target audience.
#1: Traffic

What is it?
The Traffic objective is used purely to drive more visitors to the link in your ad/boosted post.
Facebook targets users who regularly click on links within your target audience, regardless of the actions, or lack of action, they take on that page.
More traffic might sound like an amazing thing for your business's website, but you must be aware that it doesn't guarantee anything else, including sales, registrations or on-page-engagement.
The traffic objective does exactly what it says, so don't be surprised if your on-page behaviour metrics like bounce rate, session duration, exit rate and conversion rates take a hit.
BTW: Receiving tons of extra traffic can be a good thing, but it can also hinder your growth. You can learn more about this in our guide, Is More Traffic Really a Good Thing?
When Should It Be Used?
If you're selling, luring prospects to a killer lead magnet, or chasing registrations, Traffic is not the Facebook ad campaign objective for you.
Traffic might be in the 'Consideration' category of Facebook's campaign objective, but it is much more suited to 'Awareness'.
Yes, it targets ad-clickers, but that doesn't guarantee anything else other than greater digital awareness.
If you're chasing movement and action, don't go for this objective. There are plenty of others in the Consideration category that you'd be much better off using.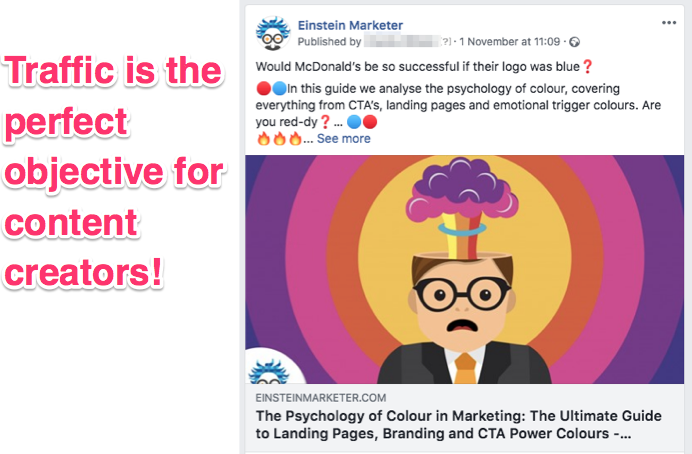 However, traffic is a great campaign objective for content creators.
Driving people to a page with valuable content (when you aren't seeking anything else), is a great way to introduce new people to your brand and position yourself as an expert.
If you're writing blogs, sharing videos, recording podcasts or displaying amazing visuals and you desire greater website awareness, this is the objective for you.
Ideal For
Content creators seeking more readers, viewers and listeners.
Ad Formats
Image
Video
Carousel
Slideshow
Collection
#2: Engagement

What is it?
Engagement is without doubt, one of the most valuable Facebook campaign objectives. Anybody serious about Facebook advertising will agree.
This Facebook ad campaign objective is split up into three different sections, 'Post Engagement', 'Page Engagement' and 'Event Responses'.
Each has its own specific applications (I'll explain each one very soon), but before we get into these sub-categories, let's talk about the Engagement objective as a whole.
Engagement drives users to take action within Facebook, more specifically, this relates to likes, shares and comments.
When this objective is selected, Facebook shows your ad to people who have a history of engaging (liking, sharing, commenting) with ads.
Ads that have high engagement do really well because they contain the power of Social Proof. This elusive and interest-peaking factor, encourages new users to spend more time on a post.
For example, what do you think you'd spend more time watching:
A video advert with 2 likes, 0 comments and 0 shares
A video advert with 425 likes, 104 comments and 98 shares
If you're like everybody else, the answer is number two.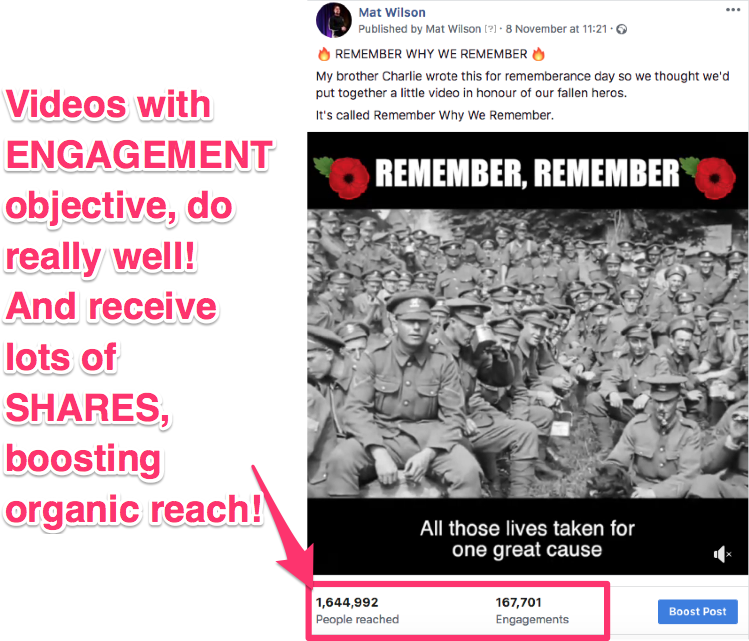 Another amazing and super-valuable plus point of posts with high engagement is retargeting.
Using Facebook business manager, you can retarget (show more ads to) people who have previously engaged with your posts.
This is an incredibly powerful way of converting (especially when you use a Conversion campaign objective, we'll cover this later).
And, when you build these 'retargeted' audiences up in size, you can create Lookalike audiences.
This creates a completely new audience from your retargeted audience (by their interests and actions), effectively doubling your reach (or more, depending on how many lookalike audiences you decide to create!).
When Should It Be Used?

Each aim within the Engagement objective has its own specific function. Let's take a closer look at the uses of each.
When Should You Use Post Engagement?
Post engagement is the objective to use if you want your Ad to gain social proof.
Implementing the Post Engagement objective will target people who regularly engage with ads. This results in tons of likes, shares and comments on your ad.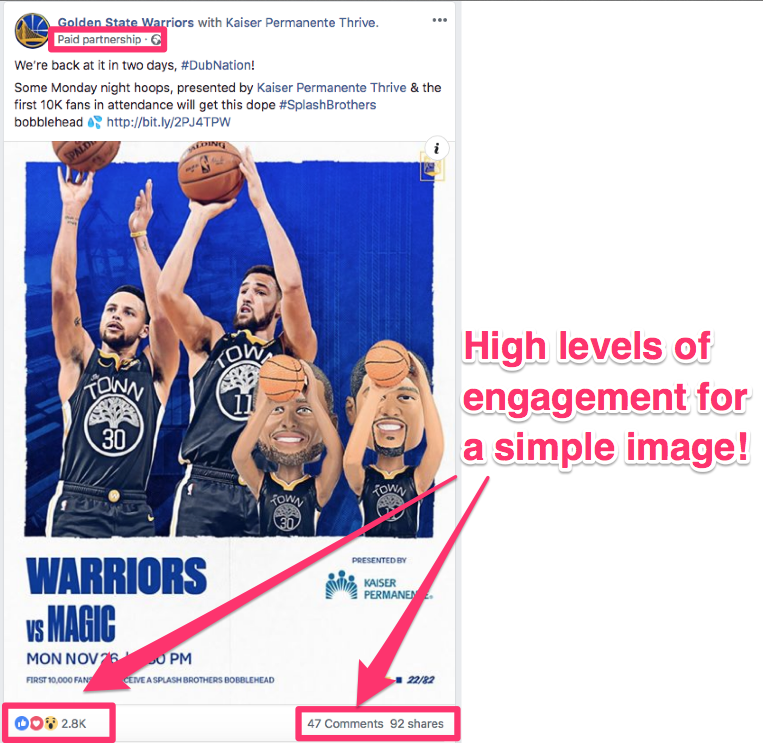 Using this tactic will create curiosity (users become interested because they wonder why it's been liked, commented and shared so much!), build a retargeting list and broaden the reach of your ad.
Facebook's algorithm favours posts that receive tons of engagement, so when the likes, comments and shares (obviously) rack up, they show your post to more people!
You can also transfer this engagement to another post (probably conversion) when the engagement metrics have ballooned, by copying the Facebook Ad ID – making conversion campaigns much more effective.
Ideal For
Increasing reach and awareness.
Creating retargeting lists
Social proof
Creators who want to go 'viral'
Ad Formats
When Should You Use Page Engagement?
The Page engagement category is a great way to boost your Facebook following and the organic reach of your posts.
This Facebook ad campaign objective is used to increase Page Likes, by targeting people who are most likely to like your page.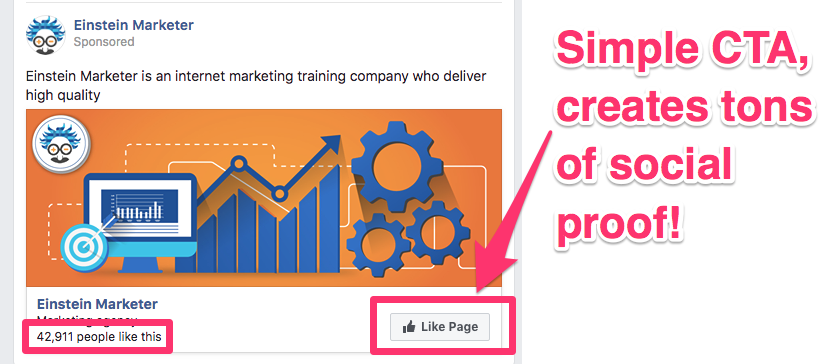 High page likes are a crucial trust signal for new users and a Page Engagement campaign is something that all new businesses should perform.
It serves as great social proof, encourages others to move with the crowd and proves to prospects that you're a brand they can trust.
If you have enough space in your budget, I would encourage every business who's serious about Social Media Marketing, to run a continuous Page Engagement campaign ($5 a day will make a difference in the long term).
The difference in a prospects opinion of a business with 127 page likes and 25,000 page likes is enormous. Use Page Engagement to increase your credibility.
Ideal For
Brand Awareness
Increase in followers and post reach
Social Proof
Ad Formats
When Should You Use Event Responses?
If you're hosting an event, seminar or selling from stage, you'd probably think that Event Responses is the Facebook ad campaign objective for you…
…you'd be wrong.
Event Responses encourage engagement within Facebook, in essence asking somebody in your target audience to accept an invitation to an event on a Facebook page.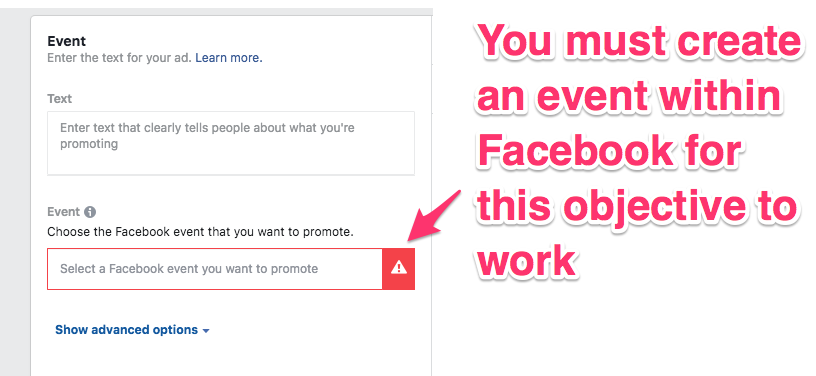 There are a ton of things wrong with this technique.
First of all, Facebook will target people who regularly accept invitations to events. That might sound amazing, but not when you turn up on the day to an empty room.
This is because of the commitment factor. Asking somebody to say 'Yes', 'No', or 'Maybe' within Facebook doesn't require enough commitment from your potential attendees.
If you're serious about hosting events, having a high attendance rate and filling rooms, DO NOT use this objective.
Ideal For
Parties
Product Launch parties
NOT business events (especially to a cold or warm audience)
Ad Formats
#3: App Installs

What is it?
App Installs is an incredibly specific Facebook ad campaign objective, so we'll keep this one short and sweet.
This objective is used to increase the number of installs of a mobile app.
Facebook does this by targeting people within your target audience who have a history of clicking App Installs ads and installing the advertised app (obviously).
An App Install objective is unique because it links directly to an App Store (with different links depending on a device's operating system).
When Should It Be Used?
The App Install objective should only be used on one occasion: if you've got an App that you'd like more people to install.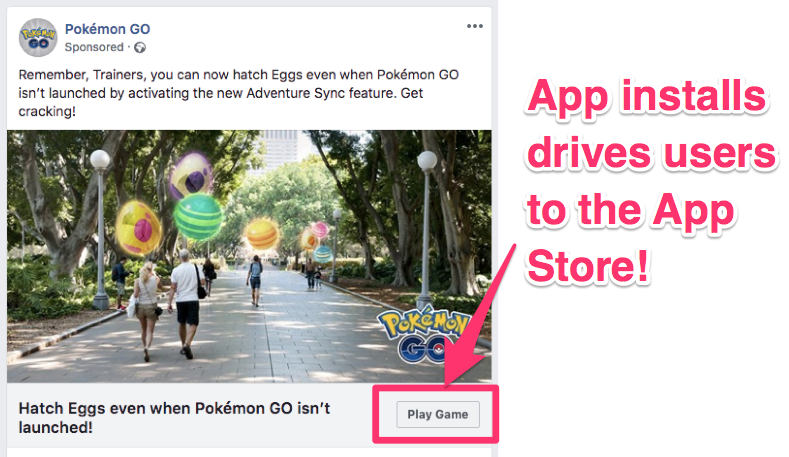 This objective is no good for anything else!
Ideal For
App developers
Ad Formats
Single Image
Single Video
Carousel
Slideshow
#4: Video Views

What is it?
If you've got a video you'd like to promote, this might be the objective for you.
I say 'might' because the Video Views objective does exactly what it says on the tin, it gets you video views (but doesn't guarantee anything else).
If you're using video to sell a product, generate leads or encourage people to engage, Video Views (probably) won't be as successful as some of the other, more specific objectives.
However, if you're trying to increase your social media presence and create more brand awareness by using a video, this could be the one for you.
Facebook targets people who watch lots of videos with this campaign objective and similarly to the Traffic objective, Facebook does not narrow the audience by their actions after watching…
…this means the maximum amount of views, for the lowest price (without any guarantee of monetary return or actions post-viewing).
Video views is a powerful ad campaign objective for building custom audiences and running retargeting campaigns.
Click To Tweet
This description might turn a lot of you off, but Video Views does have another powerful effect: retargeting.
By using this objective you can retarget those people who watched a certain percentage of your video (e.g. 25%, 50%, 75%, 100%), or more than a specific amount of time (e.g. 3, 10, 30 seconds).
People who have watched 100% of your video have been introduced to your brand and are much more likely to be interested (and hopefully convert) by a retargeted ad.
When you build these retargeting audiences out (by showing the video to more people), you can create lookalike audiences, which is an awesome way to scale your ad campaign.
When Should It Be Used?
Videos are the most popular form of online content and their popularity is growing.
This Facebook ad campaign objective is perfect for brands looking to increase their awareness by seeking as many views as possible.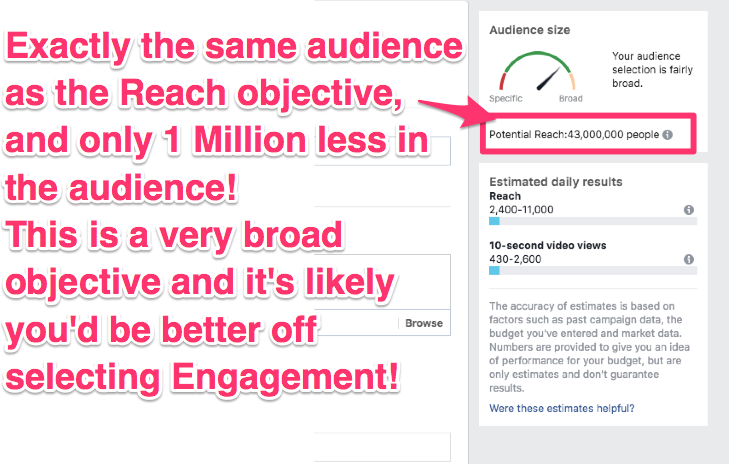 Showing your video to as many relevant people as possible is a great way of introducing yourself. You are able to easily explain a problem and build trust with an audience.
Video Views is a very popular campaign objective, but personally, I'd suggest trying out an engagement campaign first – you'll still get the views and build the retargeting list – but you'll also receive more social proof.
Ideal For
Brand awareness (targeting cold audiences)
Introducing a new product/service and retargeting from it
Building brand trust
Ad Formats
Single Video
Slideshow
Carousel
#5: Lead Generation

What is it?
Lead generation is another interesting Facebook ad campaign objective. Instead of sending prospects to a lead capture form or an external web page with a lead magnet, everything is hosted within Facebook's platform.
Facebook shows your ad to users who are likely to accept your proposition, exchanging their contact details for your offering on a Facebook pop-up form.
This type of lead generation results in high conversion rates, as it requires a low amount of effort from users.
Prospects don't have to leave the Facebook platform and because Facebook already has all their details, the forms are immediately prepopulated e.g. their email address is already in the email box, phone number in the phone number box etc.
When Should It Be Used?
The Lead Generation Facebook ad campaign objective might sound amazing (because of its high conversion rates) but it comes at a cost.
This type of lead generation requires very little effort or commitment from a prospect and this means they don't need to be very interested in your product to exchange their details.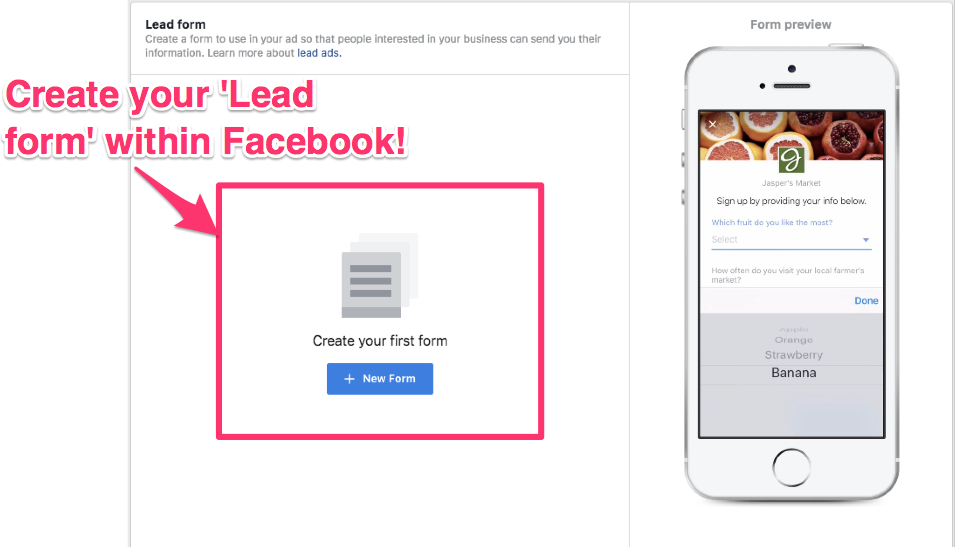 After accepting your lead offer and exchanging their details, a lot of these leads will be less likely to take anything else you market to them.
However, Lead Generation is an amazing way to build a list from scratch, or rejuvenate a dying marketing list.
It should only be used when a prospect already knows about your brand (in the consideration stage, Middle of Funnel), making this a great retargeting ad objective.
Ideal For
Building a marketing list from scratch
Increasing lead conversion
Retargeting
Rejuvenating a dying list
Ad Formats
Single Image
Single Video
Carousel
Slideshow
#6: Messages

What is it?
As an agency, we've had loads of success using this Facebook ad campaign objective.
'Messages' drives users to Facebook Messenger, where they can send your business page a direct message.
This is incredibly useful, as Facebook Messenger is fast becoming the most successful form of lead generation and prospect outreach.
To get the most from this ad objective you'll need Messenger hosting software. This will collect your audiences information, allows you to create a BOT (which can hold basic conversations with your audience).
Messenger is a great way to collect more leads and use conversational marketing techniques.
When Should It Be Used?
The Messenger objective should be used when you want to generate leads.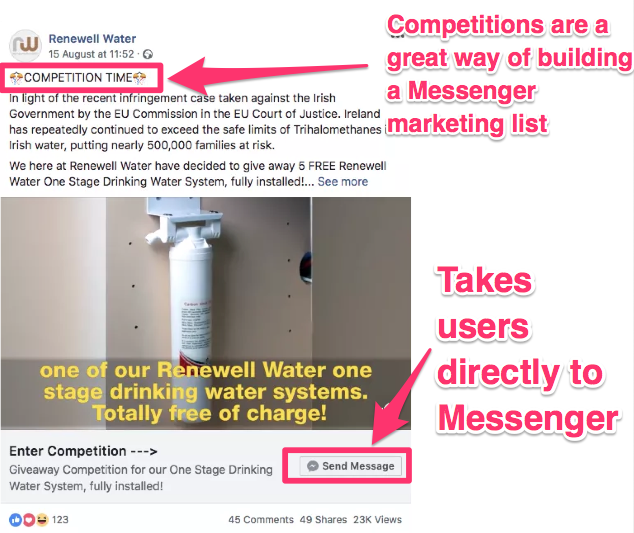 They're ideal for businesses who are seeing low returns from their existing marketing list, or who'd like to generate leads (Messenger can also be used to collect contact details like email and phone number).
An entire marketing funnel can be built out using the Messenger platform, and with average open rates around 90% and CTR's standing at around 50%, it's easy to see why this channel has grown in popularity.
If you'd like to learn more about Messenger marketing and its incredible ROI (and list building potential), check out our case study in The Ultimate Messenger Marketing Guide (with Winning Case Study Template).
Ideal For
Competitions
Lead generation
Building brand trust (via interaction)
Ad Formats
Image
Video
Carousel
Slideshow
Facebook Campaign Objectives: Conversion
The conversion category is the perfect way to convert prospects into customers. Use an objective from Conversion at the Bottom of Funnel.
#1: Conversions

What is it?
The ultimate aim of any marketer is to get a prospect to take their offer. So, after all your brand awareness, lead generation and retargeting growth, Conversions is the holy grail of Facebook campaign objectives.
At this stage, we're effectively telling Facebook to only show your ads to people who are likely to convert.
In order to do this successfully, you MUST install a Facebook pixel on your website (find out more about Facebook Pixels).
This pixel allows Facebook to track every user's interactions with your website, including registrations, sign-ups and purchases.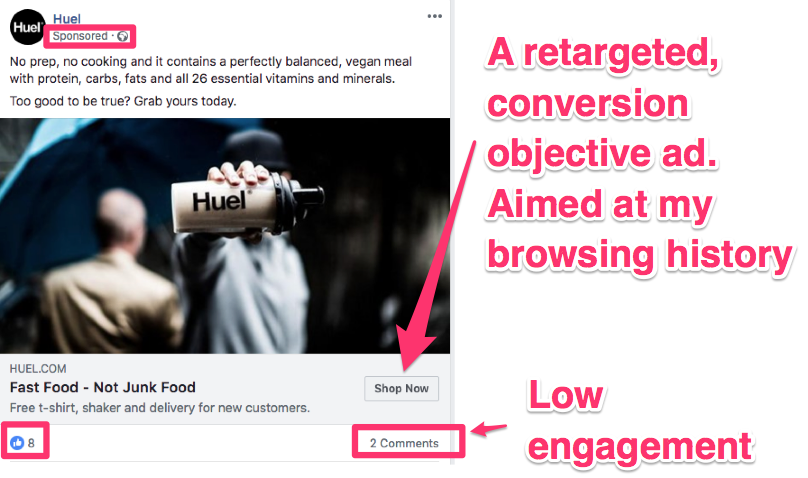 The second stage to optimising your Conversions objective, is to start converting (from your ads) at least 15-25 people per week.
When you have installed the pixel and convert AT LEAST this number, Facebook will automatically show your ads to people who are most-likely to convert.
And, as more people convert (via your Conversions campaign ads), Facebook will better optimise your ads!
If you can get conversions up to 100+ per week, you'll be in an awesome position to push down your CPA (cost per acquisition).
A Conversions campaign doesn't necessarily have to be about sales, it is also relevant for registrations and lead generation. If there's an offer on your page and your Facebook pixel is firing, you're in a strong position to use this campaign objective.
When Should It Be Used?
Conversions is Facebook's most popular campaign objective for 2 reasons:
It's awesome
Brands make the mistake of forgetting everything else and jumping straight here!
It's a lot harder to convert cold traffic into customers than people who have already interacted with your brand.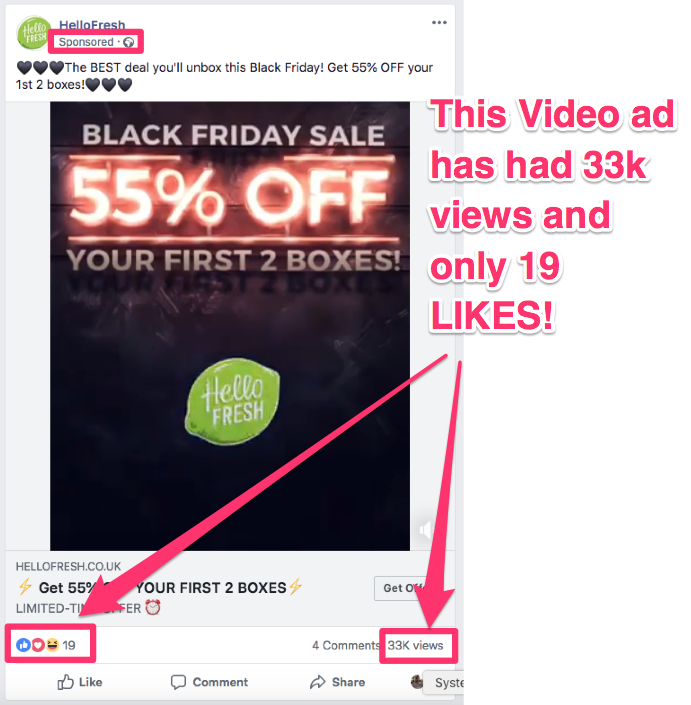 In order to give your Pixel and conversions campaign the best chance of optimising, you should build brand awareness and use objectives in the Consideration category (e.g. engagement).
When you have enough data and Facebook understands who actually converts on your offer, you are much more likely to succeed…
…and when you start to succeed, you can further optimise your Conversions ads, duplicate them (horizontal scaling), increase the budgets (vertical scaling) and create lookalikes.
Ideal For
Lead generation
Sales
Subscriptions
Testing landing pages
Ad Formats
Image
Video
Carousel
Slideshow
Collection
#2: Catalogue Sales

What is it?
The Catalogue Sales objective pulls in various products from your website and displays them in a dynamic ad format (multiple moving images).
Facebook are only able to do this if you've set up a product catalogue feed on their platform. This allows them to constantly pull new products from your site and show them to your target audience.
Just like the Conversion Facebook ad campaign objective, Catalogue Sales are primed to sell, but they can only truly optimise if you're making conversions on your website (and you've setup your Facebook pixel).
This objective automatically keeps your ads fresh with your newest products, pricing and product descriptions all being rotated.
When Should It Be Used?
The Catalogue Sales objective can be very hit or miss for eCommerce companies.
Yes, it advertises your latest products, but because it automatically rotates these offers using dynamic ads, it can often show irrelevant products to the wrong audience.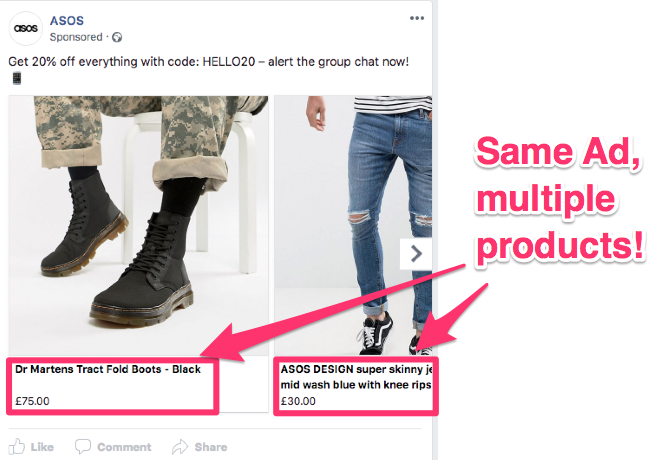 If you've got a small/medium store and a marketing budget that reflects this, you'd be a lot better off targeting specific products at specific audiences with the Conversions campaign objective.
However, if you've got a large eCommerce store that has lots of products, plenty of traffic and a decent conversion rate, Catalogue Sales can keep your Facebook ads fresh and engaging for your existing customers.
Despite this objective featuring in the Conversions category, you shouldn't use it for anything other than physical products.
If you're trying to generate new leads or you're selling 'black box' products (things that cannot be seen or touched before purchase, e.g. information, subscription accounts) stay away from Catalogue Sales.
BTW: You can discover the audience targeting tactics of any advertiser on Facebook.
Ideal For
Large eCommerce businesses who are aiming to draw back existing customers with fresh products.
Recognised brands with high traffic scores.
Ad Formats
Image
Carousel
Collection
#3: Store Visits

What is it?
This Facebook ad campaign objective is perfect for businesses with physical locations and works in a very similar way to the Reach objective (explained at #3 of the Awareness section).
Store Visits targets everyone within a specific radius (chosen by you) of your business. If you have multiple store locations, Facebook will target everyone within your set radius for each address.
Facebook holds no prejudices who it shows your ads to, as long as they are within your chosen radius and have geo-location turned on (on their mobile phone).

But be warned, Store Visits will only be effective if you've entered your business address on your Facebook profile (and it's up to date).
Look at Store Visit ads like local newspaper ads (only a whole heap better). You can be location specific with your content and really reach out to the people in your area.
When Should It Be Used?
Unlike the other two Facebook campaign objectives in this category, Store visits does not guarantee sales.
The ads are not optimised to be seen by the people most likely to buy, but they are geographically targeted and this will save you lots of time building out geographically relevant audiences (especially if your business has multiple locations!).
If you've got a local store, or a brick and mortar business that requires customers to visit your location (e.g. a restaurant), this is a great objective to increase awareness and encourage more store visits.
Ideal For
Local businesses
Brand awareness
Ad Formats
Image
Video
Carousel
Slideshow
Collection
Facebook Campaign Objectives: Testing
You might think that you've already got the correct objective, perhaps this guide even backs it up, but if it isn't making a positive return it's time to get testing.
There are definitely objectives that you should stay away from (depending on your needs), but there is always more than one objective that will produce results.
BTW: Discover how to create ads that convert in our Complete Guide to Facebook Ad Creatives and Copy.
It's incredibly important that you test, especially if you aren't making an ROI.
However, if you're already making a return, don't change anything!
From here you can either scale up your budget (vertical scaling) or duplicate your audiences on the same budget (horizontal scaling)…
…but that's a different guide for a different day. (Don't worry, I'll be working on that very soon!)
Conclusion
Facebook campaign objectives can make or break your marketing.
Get it right and you'll make crazy ROI's, but get it wrong and you'll be carelessly throwing your money away.
Use the information in this guide to optimise your campaigns and make sure you stay away from the rookie errors listed in this article.
What campaign objective are you using? Have you got any additional advice for our audience? Let everyone know in the comments!
If you enjoyed this article and you're serious about Facebook marketing you should definitely check out:
Or Learn more about Increasing Your Instagram Reach and The Best Social Media Posting Times.
Josh is the Founder of We Imagine Media, an award-winning content marketer, best selling author and creator of the www.joshbarney.blog. He creates and strategises content, sharing the most successful tactics with his lovely audience. He hates writing in the third person, follow him on the social links so he can get back to writing as himself.